Up Your Makeup Game with Sedona Lace Vortex Synthetic Professional Brushes
Hello Everyone,
I have been addicted to Makeup brushes lately and have been planning to buy each one of them to see which one of them works best for me. I recently added Brushes from Real Techniques to my collection. I already own a makeup brush set from Sedona Lace and was pretty impressed with the quality and now I have added another one from their Professional range, Sedona Lace Vortex Synthetic Professional Brushes.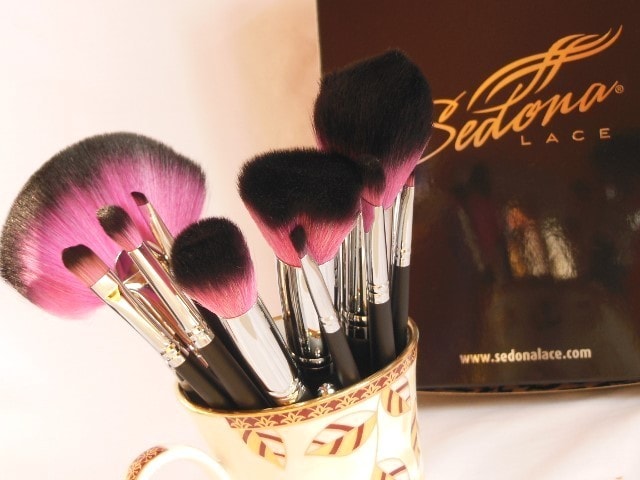 Product Claims: The Synthetic Vortex Collection exclusively designed by Renelyn Monteloyola of Makeup by Ren Ren for Sedona Lace. This pro line of brushes takes makeup application and technique to the next level. All of the brushes are multi-purpose and versatile. The pink and black colors on the bristles is a registered trade mark of Sedona Lace
Price:- $99.95, now at $79.96  – Use  "beautyandmakeup" for $4 Off
Packaging: Sedona Lace Vortex Synthetic Professional Brushes comes in a simple satin matte finish handles with silver metallic ferrules and their signature Pink and black bristles. Brush numbers are engraved on the brush handles so in no way they will get erased. Most of the big face brushes comes with a plastic sleeve to keep them in shape and the coding they have used for their brushes.
FB = Face Brush
EB = Eye Brush
LB = Lip Brush
My experience with Sedona Lace Vortex Synthetic Professional Brushes:-
Sedona Lace Vortex Synthetic Professional Brush set consists of 13 brushes including Face, Eye and Lip brush. The brushes in the set are put together with a purpose and not just randomly bunch of brushes. The brushes are made of synthetic bristles and are soft on skin. They wash without any bleeding or fall out.
Let's see how these brushes do their job:
Jumbo Fan Face Brush- FB 01: I love Fan brushes like anything, though I may not use them so often but I just love to fan these brushes around my face.  The brush is fluffier than most of the other fan brushes I have. It can be used to brush off eye shadow fall out and you use it for soft contour as well. I love to use this to apply highlighter on my cheek bones
Tulip Contour Face Brush – FB 03: This brush has a unique tulip shape is supposed to be a contour brush but I feel it's a little too big for working as a contour brush. Though it does have a pointed tip which will fit in cheek contours but I don't feel comfortable using such a bug brush for that. It might work best for setting under eye concealer with a loose powder for me
Dome Contour Face Brush – FB 05: This is a small brush with tightly packed bristles and a very tiny dome shape at the top. I love to use it to blend cream contour in stippling motions. It does work well with powders too.
Flat Top Buffer Face Brush – FB 07: This is an amazing brush. It is quite similar to SIGMA F80 but the bristles are a lot fluffier which makes buffing in the foundation into the skin much easier. It is great for all types of foundations for a soft airbrushed look. I prefer it with cream and liquid formulas though
Universal Blender Eye Brush – EB 09: It is a big fluffy flat brush which can double up as a flat shader and blending brush, something if you mix SIGMA E55 and E25 together. It can be used in so many ways like patting eye shadow, blending for defined crease, contouring nose and even for cheek highlighting.
Flat Synthetic Eye Brush – EB 11: This is like a regular flat brush which work for patting eye shadow on lids whether cream or powder formulas or even applying concealer under the eyes.
Synthetic Blender Eye Brush – EB 13: It is a fluffy blending brush with a slightly tapered tip which makes it perfect for blending. I didn't own any such brush and I love how it can be used for blending almost everything I can think off on my face. Probably my favorite brush from the set. Love it!!
Pointed Crease Eye Brush – EB 15: It is thinner and is more tapered at the top compared to EB 13 which means more precision. So, if you are going for cut crease look or want defined blending.. it works magic.
Detailed Shader Eye Brush – EB 21: It is a tiny flat shading brush and is great for precie application like applying glitters in the centre if the lids, applying eye shadow on lower lash line or inner eye corners.
Angled Detail Eye Brush – EB 23: It is like a regular angled liner brush but I feel it is slightly fluffy than I would have liked and it doesn't give that thin sharp edge rather a thicker line. I like it if I plan to do thicker liner though. It also works well at working on the lower lash line for applying eye shadow
Bent Liner Eye Brush – EB 19: This is probably my least favorite from the brush set because the bristles are quite loose and not so pointed at the tip for a precise application.
Brow Spoolie Duo Eye Brush – EB 17: It is a dual side brush with a spoolie on one and a small angled shape on the other end. The angled side isn't that thin for a controlled application but love the spoolie.

Capped Lip Brush – LB 25: I love the packaging of the brush. It comes with a silver metallic cap which is essential for a lip brush so that the lip colors don't transfer at random places. Just fix the cap at the end and you will have your regular size brush. The bristles could have been thinner and pointed but still it does a good job at lining lips and filling them in.Sedona Lace Makeup Brush – Capped Lip Brush LB 25
Recommendation: Sedona Lace Vortex Synthetic Professional Brush set is a complete brush set including all the essential brushes for a full face makeup look. The quality is excellent and all of the makeup brushes are soft and gentle on skin. The brushes are well built and show no signs of bleeding or shedding even after multiple washes. I liked most of the brushes here especially the blending brushes which are simply awesome though some of them could have been better like that bent tip and angled liner brush but overall a great brush set with lots of multi-purpose brushes. It might seem a bit pricey for $99 but Sedona Lace hold sales quite often and you can grab them ar fairly lesser than that. Recommended!
Rating: 4/5
Have you tried Sedona Lace Vortex Synthetic Professional Brushes? Which is your favorite makeup brush set?
PS: Product sent by brand for consideration