Unboxing: Veet Sensitive Touch Electric Trimmer
I am always on the go and with my super hectic schedule (Being a Mom and a Blogger) I don't have the time to go to parlour and get myself sorted. And if there is a last minute event invite, a family function or a spontaneous trip I don't want to step out without looking at my best and of course I don't want to say No! The solution to my hair removal concerns could be something that will help in getting rid of unwanted hair easily.  Something that is easy to use and deliver visible results with minimum efforts.
And today I am talking about this new Veet Sensitive Touch Electric Trimmer. I really love when brands come up with new innovative products. Veet has been a pioneer in hair removal with their hair removal creams. And this addition of Electric trimmer to their range is the newest addition, shining armour in my arsenal to tackle my monthly hair woes.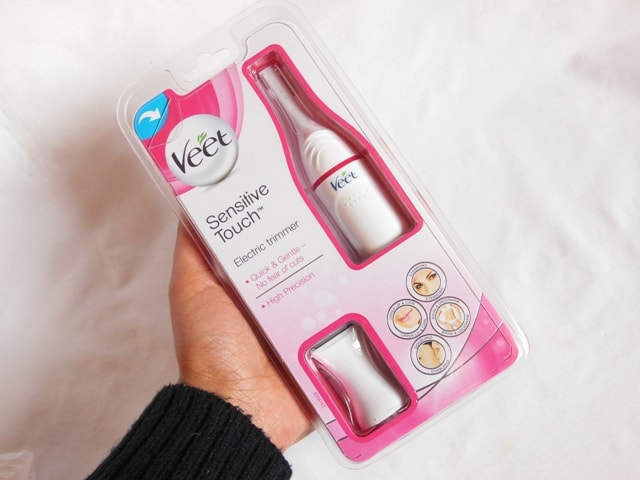 Unboxing video is now live:
Let's unbox this beauty together and see what all we get in this Veet Sensitive Touch Electric Trimmer.
Product Claims: With new Veet Sensitive TouchTM you can now easily achieve the precise look you always wished for. It quickly and gently cuts and shapes your hair on sensitive and delicate body areas such as face, bikini line and underarms
QUICK & GENTLE: easily remove any unwanted hair in one go with no fear of cuts.
HIGH PRECISION: dedicated accessories to get precise shaping and styling
Also ideal also for quick touch-ups
Water rinsable. See tutorial for more tips & instructions
Price: Rs 2250 ( Buy on Amazon.in )
Unboxing Veet Sensitive Touch Electric Trimmer – Step by Step:
So, let's just get started with unboxing and see what all we have!
Pull Down the Plastic Sheet: There is an arrow mark on the top left of the box indicating to pull down the covering sheet. The sheet is fixed with the base with dots which makes it easy to pull it down and reach the actual product. Now, I don't have to sacrifice my nails while opening the packaging which is so very thoughtful of Veet.
Accessories: Once the sheet is down, remove the paper insert and have a look at all the accessories that come in the box. This Veet Sensitive Touch Electric Trimmer is like an Army in itself. It comes with a number of attachments with each one having a specific purpose. Let's just talk about all the details of the accessories and packaging.
Leaflet/ Instruction Manual: There is also a leaflet inside, that gives details about the product and how to use it. So, its easy for anyone to understand the product and how to use it.
Box Contains:
Face:
1 x 2 Sided Trimming head – 16mm and 6mm: The star accessory of all, the eye brow shaper. This instrument has 2 trimming heads in different sizes that allow close and precise hair removal around the eye brows..
1 x comb attachment (2mm & 4mm) to uniform hair length: A plastic comb with variable length to comb the hair before removal.
1 x Styler cap – To protect the accessories and instrument from dust.
Other Body Areas:
1 x 1 sided Trimming Head (20mm) – A larger trimming head for emergency situation where one needs to remove hair from Underarms or Bikni line
1 x comb attachment to uniform hair length – This trimmer is paired with a comb which helps in hair removal by combing hair and hence easy removal.
Other Accessories:
1 x Cleaning brush- Absolutely love Veet for providing this cleansing brush which will be useful for cleaning the trimmers and the device after every products
1 x Beauty pouch to take it with you anywhere: The attachments won't make a mess in my handbag as I have this beauty pouch to carry everything along with me conveniently.
1 x AA Battery – One of the best addition in the Box is this battery which makes the device easy to use anytime anywhere.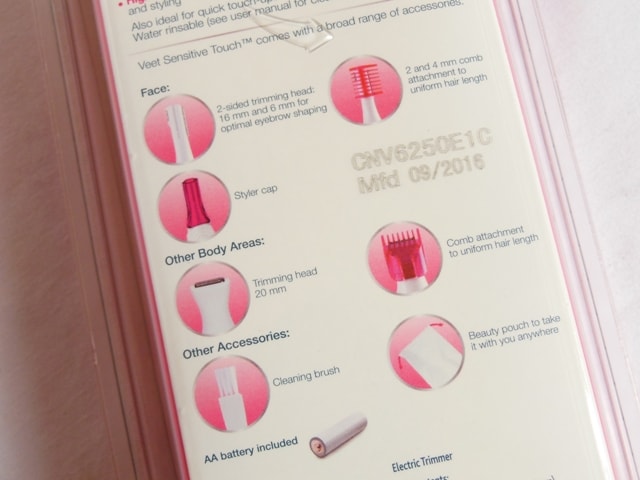 I also like that the packaging itself is useful for storing the product for future use. Kudos to the innovative packaging! Also, I absolutely love compact size of this Electric trimmer which makes it a perfect travel partner as it fits into a hadbag easily even the smaller ones. This Veet electric trimmer package includes 1 precision head, 1 bikini head, 2 combs, 1 beauty cap, 1 cleaning brush, 1 beauty pouch and 1 AA battery. And these parts are water rinse-able… wohooa!! Isn't that awesome!!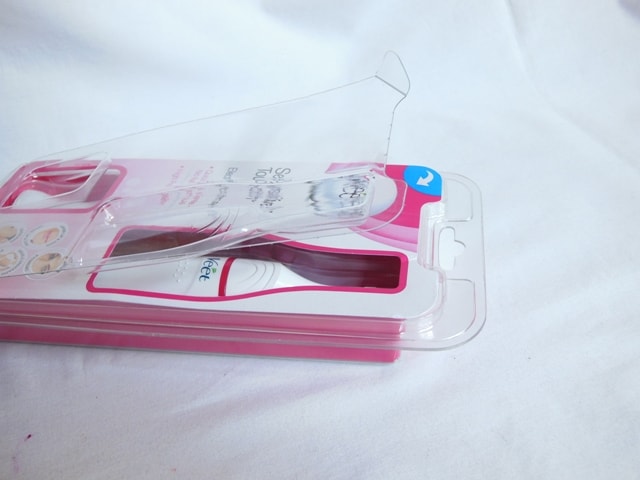 Overall, the packaging is very compact, handy and travel friendly. I can easily toss the device into my hand bag without any apprehension. The product is specially made for sensitive body parts like upper lips, eye brows and bikini lines. The cutting blades feels soft on hands and have no direct contact with the skin. So, the trimmers are indeed gentle on the skin and remove hair without any fear of nicks & cuts. Range of dedicated accessories makes it easy to get precise styling and shaping of brows and grooming other parts of body.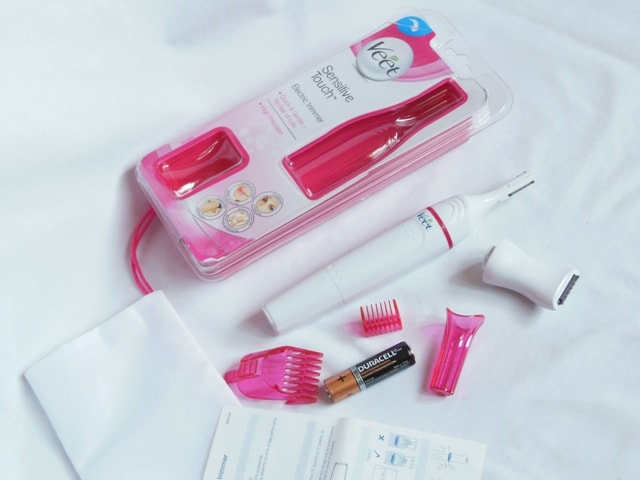 Veet Sensitive Touch Electric Trimmer is absolutely Ideal also for quick touch-ups wherever you go. Can't wait to try this myself and see the results!!
Don't Miss to Checkout:
Stay tuned guys.. will be coming with a detailed review pretty soon..
Have you tried Veet Sensitive Touch Electric Trimmer? Which device you use for Hair Removal?