Tvakh Shampoo and Hair Growth Concentrate Review
I am obsessed with natural skin care these days and I am always on the lookout for new stuff to try. Because all the natural products are chemical free and do no damage to the skin. So, Today I am going to share my experience with the natural hair care range from TVAKH. I got to try the Tvakh Antioxidant Shampoo and Tvakh Hair Elixir. Lets see what I feel about these products.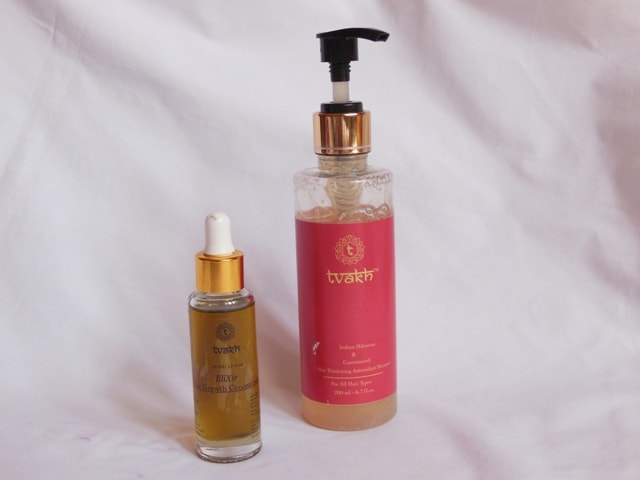 Product Description: Tvakh's Antioxidant Shampoo is a luxe, sulfate-free shampoo that restores moisture while protecting hair from colour fade, daily stresses, and pollution.
Oxidative stress caused by free radicals has multiple effects on hair health and result in damaging hair proteins at cellular level, this unique formulation with Antioxidants and Amino Acid complex targets Strand Building Proteins – Keratin and thus delivering essential nutrients to the hair's interior cortex, it nourishes and strengthens strands and fills in gaps and tears in the damaged cuticle, reconstructing this protective layer to ensure that nutrients do not escape, leaving the hair strong, healthy, shiny and fully restored.
A plant- derived complex of Indian Hibiscus extract and Vitamin A Antioxidant beta carotene, enriched with Hair soothing polymers,and an Omega-6 essential fatty acid derivative that fortifies and texturize thinning hair.
Key Benefits
Strengthens, Smooths, and softens
Nourishes the bulb
Intensely nourishing and repairs each strand
Price: Rs.325 for 200 ml
Ingredients: Aqua , Capryl Glucoside**, Glycerin, Cocamidopropyl Betaine,  Aloe Barbadensis Leaf Juice*, Polyquaternium-39 , Sodium Cocoyl Taurate**, Soy Lecithin , Acrylates Copolymer, Polyquaternium-10, panthenol (Pro vitamin B5), Daucus carota (Carrot Seed) Oil*, Arginine, Sodium Benzoate and Potassium Sorbate, Mentha Piperita (Peppermint) Oil, Hibiscus Sabdariffa (Hibiscus) extract ,Parfum.
How to use: Take 2-3 pumps and massage right into the scalp and run through the hair. Leave it for 5 to 10 min and wash.
My Experience with  Tvakh's Antioxidant Shampoo:
Tvakh's Antioxidant shampoo comes in a clear plastic bottle with a pump dispenser which makes it really easy to use. The shampoo is a light creamy translucent gel with a medium thin texture, almost runny. I love that it doesn't have any weird fragrance just a mild floral one which actually feels really soothing.
The shampoo doesn't lather much but if diluted with water it lathers well. I have to shampoo twice on my oiled hair but it has nice cleansing action and it takes away all the oil and dirt from the scalp without leaving any residue.
Results: I feel my hair feel super clean but they are a bit dry so I have to apply a rich conditioner to make them smoother. They definitely look much shinier and lighter than the usual chemical-based shampoo but as the shampoo is silicone free one has to go for a heavy conditioner to smoothen the dry ends. Overall, I really liked the way it made my hair feel, so lightweight and shiny but if you have super dry hair make sure to use a conditioner.
Tvakh Hair Elixir-Hair Growth Concentrate
Product Description: Tvakh's Hair Elixir is a potent concentration of 16 unique herbs and specialty ingredients that work in synergy to nourish the Hair in all three phases of growth. Active ingredients include Onion Bulb Extract which is extensively acknowledged for treating problems like Alopecia, Mung Sprout protein that matches equally to the amino acid rich Keratin structure and provides hair density.
Restructuring Bhrahmi extracts, Hibiscus, Henna, Pumpkin and Green Tea oils that instantly stimulates the scalp for all round treatment for Hair loss, premature greying, split ends. Licorice and Rosemary oil act as Anti fungal and Anti-Inflammatory agents that prevent scalp infections. Can be used directly or mixed in an carrier oil, this Elixir works as magic to seal the damaged hair ends while protecting dry and lifeless hair, leaving it full of vitality.
Key Benefits:
100% Natural
Instantly add moisture and double hair s strength
Relieves Hair loss
Vitamin E, Immediately restores moisture balance to scalp and hair
Promotes Hair Growth
Relaxes and Restores
Ingredients: Cocos Nucifera, Sesamum Indicum Seed Oil, Amla (Emblica Officinalis) Oil, Avena Sativa, Centella asiatica, Eclipta alba, Hedychium spicatum, Mung Sprout Protein, camellia sinensis leaf extract, glycine soja (soybean) seed extract , allium cepa (onion) bulb extract/Sulphur, glycyrrhiza glabra (licorice) root extract, Cannabis Sativa (Hemp) Seed Oil.,  (Cucurbita Pepo) Pumpkin Seed Oil, Chrysopogon zizanioides, Rosmarinus Officinalis (Rosemary) Oil.
How to use:
Apply a small amount to fingertips or directly onto dry scalp and hair.
For more massage, add this concentrate to carrier oil like mustard oil, coconut oil or olive oil. Take 4-6 drops and add in any carrier oil
Massage formula throughout scalp in circular motion
For best results leave on as night treatment and rinse with mild shampoo
Price: Rs 520 for 30ml    
My experience with Tvakh Hair Elixir – Hair Growth Concentrate:
Tvakh Hair Elixir is pale yellow coloured oil with a medium thin consistency. It doesn't feel sticky or heavy at all. It is a hair growth concentrate so needs to be mixed with a carrier oil like Coconut Oil or Almond Oil. I usually mix 6-7 drops of this oil in Almond Oil and massage it well on my scalp. I don't use it for oil along the length of the hair as it is particularly effective in scalp issues.
I love that this hair growth Concentrate doesn't have any peculiar scent, unlike regular hair growth serums. I am really impressed with its ingredients list which contains onion bulb extract, Pumpkin Seed Oil along with many oil natural oils and extracts which help in strengthening hair and soothing scalp
Results: I have used this oil quite a few times now and I love that my hair already feels so much better. I can't say that it stopped my hair fall completely but it definitely reduced it to a certain level and my hair feels stronger. It has improved the overall health of my hair making them shinier, smoother and stronger.
Recommendation:  Tvakh Hair Care Range is infused with nature's goodness and unique ingredients to help in improving the hair texture and scalp health. If you are looking for a Silicone free and Paraben free shampoo or a Hair serum that helps in reducing hair fall definitely try these from Tvakh. They also many other skincare products to offer which I am now excited to try!
Have you tried Tvakh Hair Care Range? Which is your favourite Natural Hair care brand?
PS: Product sent by brand for consideration but honest and unbiased opinion