Tried and Tested: Livon Hair Gain Tonic for Women
Hello Everyone,
One thing we all have in common is Hairfall.. if not all, I am sure its more than 90% of us facing this issue. I have heard so many of my friends, relatives and myself crying over the number of hair strands we are loosing on daily basis which gets worse every time there is a weather change. Hair dictates how we look so they are extremely important and need all the love and attention that they get!
I have seen such hair tonics in the past but I guess basically all of them were meant for men and we didn't have anything specific for  women's hair but then LIVON came to our rescue and launched this Livon Hair Gain Tonic for Women. Livon has launched this hair gain tonic few months back but I was testing it for months so couldn't review it before I could see any results.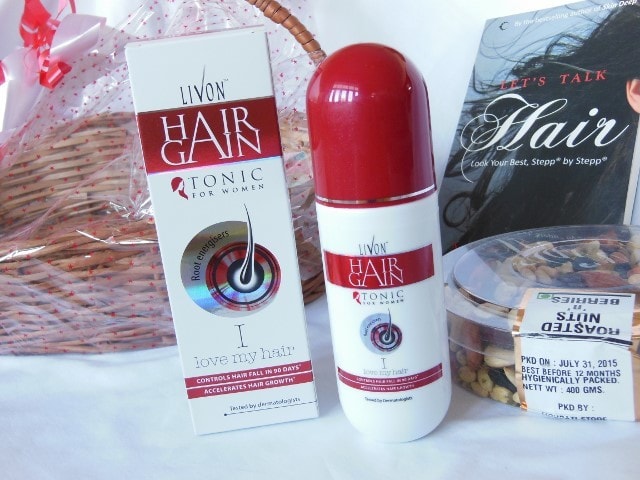 Product Claims: (Pictures below)
Direction for Use:
Apply directly on sclap with bottle nozzle or using your fingertip.
Gentally rub the tonic over the sclap.
Apply twice a day after bath and before going to bed for best results.
Recommended quantity per application: 4-8 ml or as per required
Price: Rs.685 for 150ml
Shelf Life: 2 years from the Mfg date.
Packaging: Livon Hair Gain Tonic for Women comes in a cylindrical plastic bottle with a deep Red cap. The bottle has a long nozzle dispenser with a push open cap to keep the liquid secure and avoid spillage. I really liked the packaging because its easy to use and apply.
My experience with Livon Hair Gain Tonic for Women:-
Livon Hair Gain Tonic is a pale yellow colored liquid with a thin watery consistency. It has a strong musk scent but it doesn't last too long and if you love such scents then.. Yayyy! 😉
I really liked how this liquid seeps into the skin in a flash of seconds without leaving any residue behind. It is super light weight and doesn't feel like I have applied anything. It can be easily used on daily basis without worrying about hair turning oily or greasy.
It's absolutely weightless and has non-sticky texture.
Results: Coming to the results, It claims to reduce hairfall in 90 days and I think it does that quite effectively. I have seen a significant decrease in hair after around 30 days od use. I wont say it made my grow dramatically but it does help in improving the hair health. For some considerable difference I have to keep using it for another few months.
Recommendation: Livon Hair Gain Tonic for Women is a great product to fight hair fall issue which occurs due to weak roots. It doesn't have an enticing scent but I like that the formula is super light and gets absorbed within seconds into the roots and starts working on them.

Hairfall can occur due to various conditions so make sure you keep a check on that as well. Along with the tonic if you start eating healthy and do a bit exercise on a daily basis the results may fasten up. You need patience with such products to show results but it does really work so..Recommended! .
Rating: 4.5/5
Have you tried Livon Hair Gain Tonic for Women? Which product helps you rescue from hairfall situations?
PS: Product sent by brand for consideration