Tresemme Split Remedy Shampoo Review
Today I will be reviewing the shampoo that smoothened out my rough hair when they were at their worst.. yes I had been skipping my hair cut session for months and you could just imaging the split ends and roughness I have been carrying.. :P. So, here is my experience with Tresemme Split Remedy Shampoo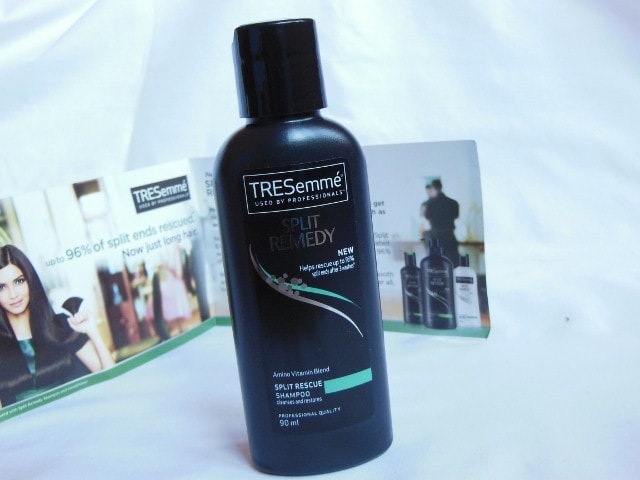 Product Claims: The TRESemmé Split Remedy™ Shampoo & Conditioner system gently cleanses and moisturizes so hair is healthy-looking and manageable, all while reducing split ends up to 80% after just three uses*. This unique system, with our innovative Reconstructing Complex™, binds split ends—and with continued use, this system fixes damage as it occurs. This hair care for split ends leaves strands looking salon fresh: soft, smooth and easy to style..
Direction for Use:-
Coat wet hair with a liberal amount of shampoo.
Gently massage the scalp and roots with fingertips to work into a lather. Avoid roughing up to reduce tangling.
Lightly squeeze the shampoo from roots to ends and rinse thoroughly.
Finish with TRESemmé Split Remedy™ Conditioner and Split Remedy™ treatments and styling products.
Ingredients: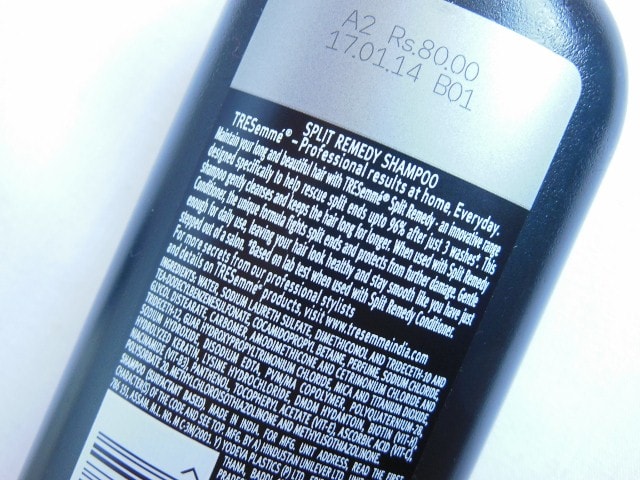 Price:- Rs.135 for 215ml
Shelf Life:-  24 months from the Mfg date.
Packaging:- The shampoo comes in an opaque sturdy black plastic bottle packaging with a press flip-top cap.
My experience with Tresemme Split Remedy Shampoo: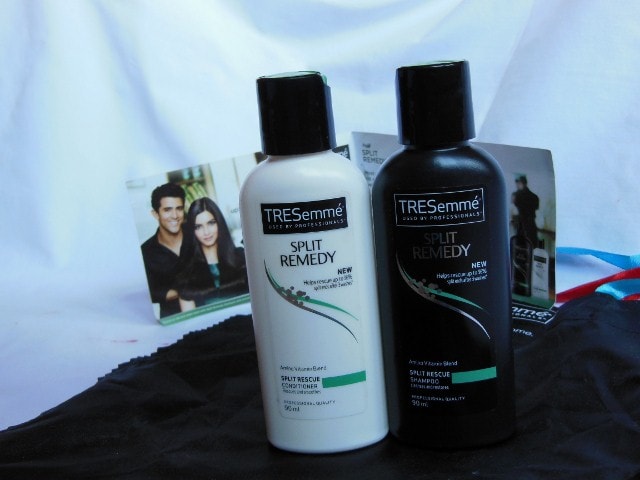 Tresemme Split Remedy is pearly white colored shampoo with tiny silver shimmer dust suspended in the formula, similar to most of the Tresemme shampoos. The consistency is thin and slightly runny, compared to its HairFall range which eases out the application even more. It gets applied smoothly and 2-3 dollops of shampoo are enough for single application on my heavily oiled hair. It works up to rich lather on massage.
It has ripen fruity fragrance quite likeable, similar to other's from the brand and isn't overwhelming. The shampoo gets rinsed off quickly and takes away all the oil and dirt along with it leaving behind no residue.
It gives squeaky clean feel without drying them out but a conditioner is a must to tame fizzy hair strands. It imparts a luscious shine and a healthy volume to my hair. They feel utterly smooth and softer than ever before and stay oil-free for next 3 days. (I follow shampoo with Sunsilk Natural Recharge Conditioner occasionally)
Coming to their claims to split ends rescue, I have been using it for more than a month now and I can surely say that it makes my hair feel smoother and softer but not without a conditioner but if you think it is going to cure the split ends then you might be expecting a miracle to happen. It's just a shampoo that can give you a feeling of smoother hair but for split ends go get a hair cut done.. 😛
Pros of Tresemme Split Remedy Shampoo:-
Applies smoothly
Mild fruity fragrance
Lathers well.
Removes oil and dirt efficiently
Hair feels silky soft and smooth
Imparts glossy shine to hair
Adds a little bounce as well
Also available in smaller and bigger packaging.
Affordably prices
Cons of Tresemme Split Remedy Shampoo:-
Contains Silicons and sulphates
Not a herbal products, hence contains a lot of chemical ingredients
Need to follow with a good conditioner
Not a cure for split-ends
Recommendation:- Tresemme Split Remedy Shampoo gives a lovely silky smooth finish with a voluminous look but only with the help of a conditioner. It lathers well and cleanses hair efficiently without drying out my hair strands. I have an oily scalp and it kept the oil under control for 3 days post hair wash. It works well on smoothening out the rough texture but can't alone cure the split ends.
Rating:- 3.5/5
Have you tried Tresemme Split Remedy Shampoo? Which is your favorite shampoo? Do you like Sulphate/Silicon free shampoos more?
 PS: Product sent by brand for review