Traditional South Indian Bridal Makeup Looks
Today's Guest Of Honour : Harine from CrazyForCosmetics
I am extremely elated to write this post for my best friend Poonam for the friendship week special in Beautyandmakeupmatters. .
Though India has a lot of variations in terms of culture, one event unites every Indian household – A big fat Indian wedding. Indian weddings are so colorful with brilliant flower decors, bright sarees & lehengas, wonderful rituals and of course the sumptuous food.
A bride always dreams of looking her best on this wonderful day of her life and Today, I am going to do 2 Traditional South Indian Bridal looks:
Morning Wedding (Muhurtham) and 
Evening Reception look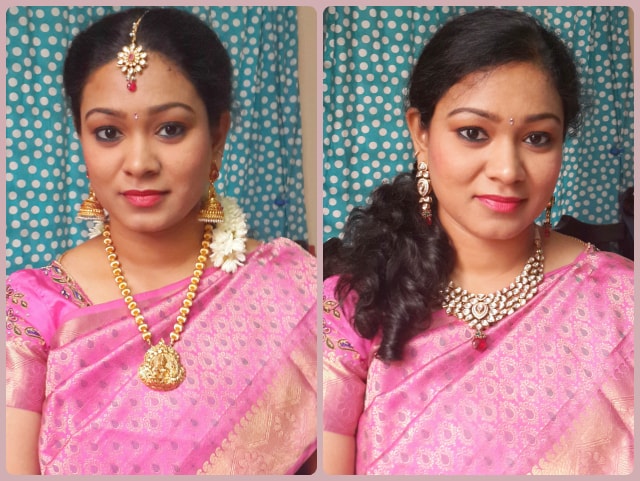 I have insisted on the word traditional because, these days for Reception, everyone prefers to wear Lehenga, Designer Sarees or Anarkali.The silk saree has its own charm and adds to the glitz quotient along with traditional gold jewelry.
South Indian weddings have a lot of customs and usually there is a saree change for every ritual. The makeup has to compliment the different sarees that the bride is going to be wearing. There is no way the bride can undergo a complete makeover within the time available.
Usually the Pandit will be calling out for the bride several times and its all chaos with so many ladies in your dressing room trying to help you with the saree change. Jokes apart, I am sure every bride will be cherishing those moments later on…Lets get started :
The main idea here is how a single silk saree can be worn as both morning wedding saree and reception saree for the evening by changing jewelry and hair style, retaining the same makeup. For instance if there a function in the evening where the look has to be traditional & immediately change over to greet guests for your reception, you can adopt the following look. I am wearing a pink silk saree here.
Look 1 : Morning Wedding Look
Steps to achieve the look:
Step 1: Apply a long staying matte finish foundation for your face & neck. I used MAC Fluidline foundation in shade NC 40 here.
Step 2: Cover up your dark circles using a color corrector if your dark circles are very prominent or a concealer would do. Since I do not have much pigmentation under my eyes, I did not use both. I applied some powder below the eye area, so that it is easier to remove any fallouts from eyes hadows.
Step 3 : Prime your eyelids using a good primer. You can go for Urban Decay primer potion or NYX primer. If you do not want to invest in expensive primers since its only for one day, you can use a cream eyeshadow in the same color as your eyeshadow to act as a base.

Step 4 : Use a

flat shader brush

to apply a golden/bronzy eye shadow in the inner 2/3 rd of your eye. I have used

MAC Amberlights

. I feel its one of the best bridal eye shadows.

Step 4 : Using a

rounded tip eye shadow brush

to apply a golden pink shade to the outer 1/3 rd of the eyelid and blend it slightly inwards.

Step 5 : Take a

blending brush

& take a

matte brown shade

(I used a matte bronzer) & blend the shades in the crease area using wind shield wiper motion.

Step 6 : Take a

black gel liner

& line the upper line of the eyes. I did not wing it out since I wanted a simple look for the morning. Use the same gel liner to define the lower lash line & waterline. Fill in the gaps. I used Maybelline Gel liner.

Step 7 : Take a small flat shader brush & some

purple eye shadow

& blend along the lower lash line.Apply some shimmery

gold eye shadow

to the inner tear duct area & beneath the brow bone to highlight the eyes.

Step 8 : Use an eyelash curler & curl the lashes. Use a mascara to give your lashes a fuller look. I did not use false lashes since it was a morning look.
Step 9 : Clean up the excess powder under your eyes. Apply a matte face powder using a powder applicator brush.

Finished!!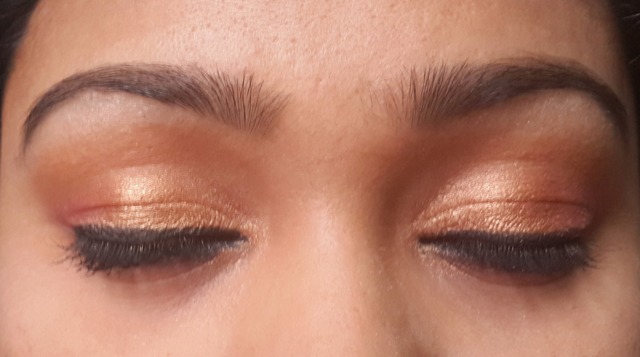 Step 10 : Use a coral blush & apply them starting at the mid of the apple of the cheeks & extend it till your hairline upwards if you have a round face like mine.
Step 11 : Use a red based lipstick since its always beautiful for brides to wear red lipsticks.
Step 12 : Plait your hair using extensions if needed and don't forget the hair accessories.
Step 13 : Use jasmine flowers to complete the look. Wear your favorite temple jewelry for the mornings & tada the morning look is complete with a beautiful Bindi.
Step 14 : You can spray some setting spray so that the makeup remains intact for many hours.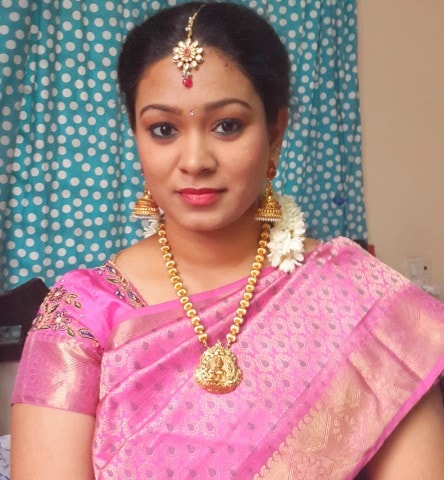 Look 2: Evening reception Look
Steps to achieve the look in 10 minutes:
Step 1 : Remove your plait & Put up a simple side hairdo.
Step 2 : Change your jewelry from traditional to a polki necklace which add to the glam quotient of the evening.
Step 3 : Change your lipstick and you are set to rock the stage !!!!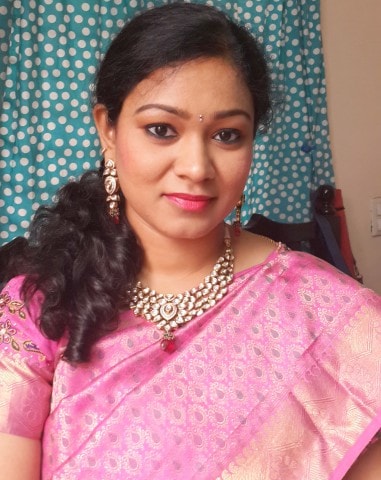 Products used:
Face :
MAC Prep+prime BB cream in Medium Plus
MAC Fluidline foundation NC 40
Kanebo M Media Face Powder
Eyes :
MAC eyeshadows Amberlights & Expensive Pink
Purple & Matte Black shade form Sleek Oh So Special Palette
Sephora Bronzer for Blending
Maybelline FAlsies Mascara
Eyelash Curler – no brand
Lips :
Revlon Lustrous lipstick Cha Cha Cherry for first look
Sephora Shade no 12 for Second look layered on top of Cha Cha Cherry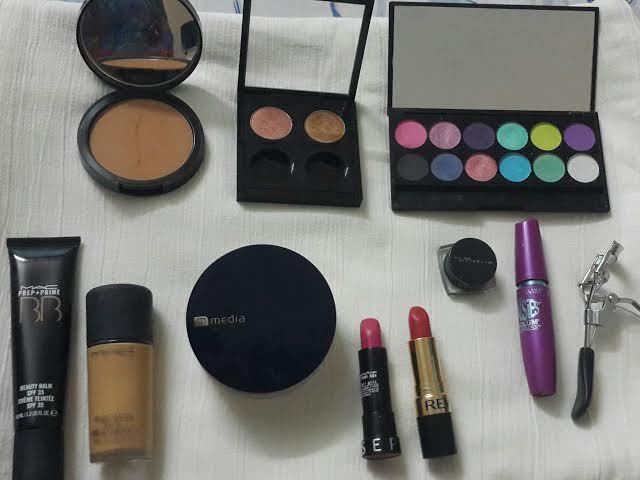 About Author: Harine is the owner of the lifestyle blog www.crazyforcosmetics.com. She pens down here travel tales , her shopping and latest makeup purchases & their reviews in her blog.
BMM Says: Hey Harine, I am little late to update here but I am awe with your looks, such a lovely transition from wedding to reception with the least effort on make up part. The pink silk saree is so pretty and you did such a gorgeous complimenting make up with gold and rose gold shades… loved itt!! I am falling for your Jhumkis as well.. need to buy something similar soon.. 😉