Top 10 Travel skin care tips That'll Change Your Life
Love travelling but skin doesn't support you and turns all dull, dry with occasional breakouts?? Then these are the Top 10 Travel skin care tips That'll Change Your Life.
Whether one is travelling by plane, train, or car, the Travel Stress wreaks havoc on skin and hair. Every one of us falls in the same situation sooner or later when our skin gets trapped in the Travel trauma and behaves wonky.
Keeping skin and hair look nice and fresh on a long trip is not an easy thing and most of the travelling leaves us with frustrating beauty issues like dry skin, chapped lips, puffy eyes and flat hair.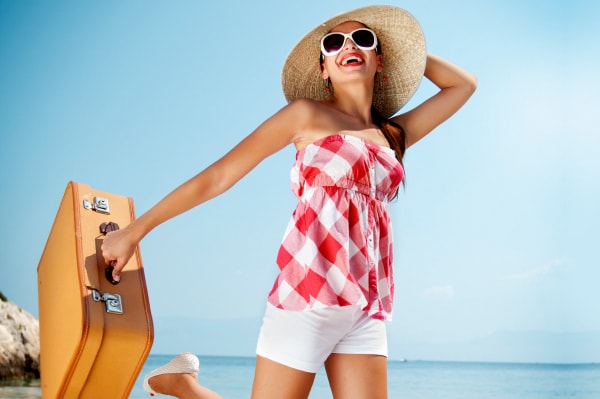 But I will be sharing my Top 10 Travel skin care tips that will help you look as fresh as Duchess of Cambridge, Kate Middleton when you arrive at your destination.
Top 10 Travel Skin Care Tips:
Moisturize Skin: This is the most important part of travel skincare especially if you are travelling by plane or car, in an AC environment. Carry some Face Mask sheets or Light Weight Moisturizers with you that will boost skin hydration on a long trip. Also, don't forget to apply an Night Time Intense Moisturizer the night before travel to maintain skin moisture level.
Wear Sunscreens: If you are travelling during day time or headed for a beach holiday don't forget to carry your Favourite Sunscreen / Sunblock along with you. It is advised to pick a minimum of SPF 50 to help your skin protect from sun damage. You can go for a Sunscreen mist like Neutrogena Body Mist Spray SPF 30 Sunscreen  as it is easy to apply.
Slather Lip Balms: Apart from skin moisturizers you must carry some good lip balms with you whenever you are travelling. Lips tends to get dry and flaky during travel so it's best to avoid applying any dry formula like Matte Lipsticks or Liquid Lipsticks. Pick a nourishing lip balm with SPF to protect lips from sun damage.
Don't Touch Your Face: Avoid touching and scratching your skin during travel. As we sit idle with no access to phones ( well almost because No Wifi) we tend to touch our face every now and then which transfers acne causing bacteria to face and hence breakouts. So, keep your hands off your face and its best to carry some Face packs, acne treatments along to fix those monsters.
Hand Cream is a Must: Never forget carrying a good hand cream in your bag while leaving home. In a hurry to pack and go, we usually neglect our hands and they are left to suffer. Hands turn all rough and dry without any moisturiser which is very uncomfortable so always make sure to slather a good nourishing hand cream and keep them soft and smooth.
Avoid Base Makeup: I love makeup too but I usually avoid layering my skin with any foundation or concealer during long trips and let my skin breathe. However, if you have to attend some event just after arrival. It's best to do makeup on flight before landing and look fresh and flawless.
Exfoliate: Exfoliation is you best buddy to bring back the glow and refresh look to the skin after a tiring journey. You can go for a multi-purpose face wash with exfoliating grits to cleanse and exfoliate at the same time or go for Face Scrub to remove all the dead skin cells and get that bright complexion back.
Goodbye Puffy Eyes: Travelling can be very tiring and all that is much visible on eyes. Because of errant sleep schedule eye look puffy and sleepy so to reduce the puffiness and for that awake look splash chilled water on eyes or Use a Eye mask. You can also try Ice-Mask by placing some ice cubes in a washcloth and applying it on eyes for a minute or two.
Stay Hydrated: Even though you moisturize your skin heavily from the outside but its best to keep nourished from inside too. So, to keep your skin hydrated drink plenty of water. Always carry a water bottle with your even of you are travelling just for an hour. It will transform your skin in long run!
Take your Beauty Sleep: Last but not the least, SLEEP. Try to relax and sleep during travel so that you wake up all fresh and charged up.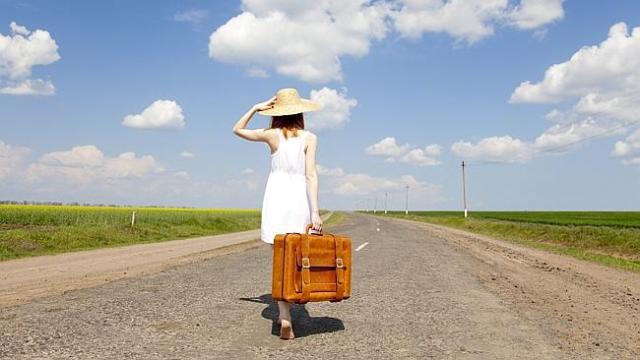 So, these are my Top 10 Travel skin care tips which will help you look relaxed and fresh even after long hours of travel. So what are you waiting for.. Pack your bags and Gooo… 😀
Quick tip to lighten Travel baggage:
Pick Travel skin care sets instead of full sized products to reduce your baggage weight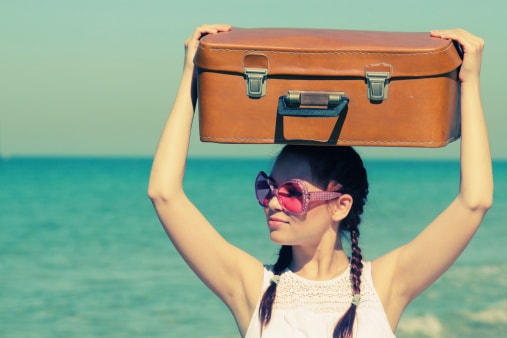 Pic Courtesy:Google.com 🙂
Which is your favorite Travel Skin care Tip? Do Share in comments below..