10 Most Stylish Pregnant Bollywood Celebrities
Bollywood celebrities always have to be on their toes regarding their looks. And why shouldn't they, they're always in front of the camera. And being pregnant never came in the way of looking stylish for our gorgeous Bollywood celebrities. In fact they carried their pregnancy in the most elegant and graceful manner. So, I though why not share with you're the Top 10 Most Stylish Pregnant Bollywood Celebrities. They truly inspire pregnant ladies and help with ideas on how to look stylish during pregnancy.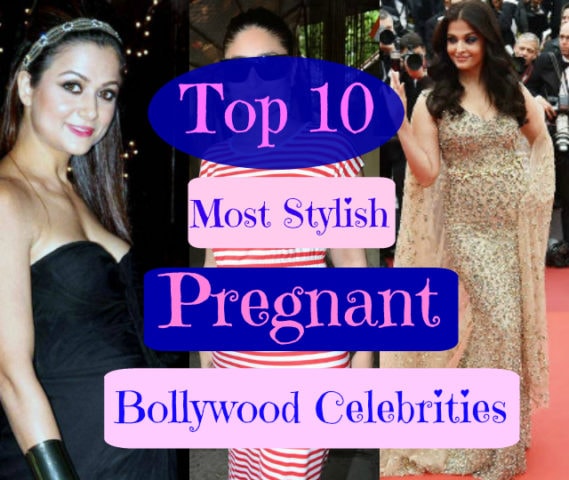 Look good, feel happy and flaunt the baby bump in style. So, let's see who all made it to my list of top 10 Most Stylish Pregnant Bollywood celebrities.
Top 10 Most Stylish Pregnant Bollywood Celebrities
Kareena Kapoor– Kareena Kapoor is a fashionista and a trendsetter herself. When the news of Kareena Kapoor pregnancy came, it created a buzz and why not, she is the queen. Kareena Kapoor was spotted on many occasions flaunting her baby bump. The picture of Kareena Kapoor baby bump went viral on the net. She was seen sporting maxi dresses in the most stylish ways possible. I am quite excited for Kareena Kapoor Khan child.. not sure why 😛
Genelia D'souza – From giving birth to her first baby boy, Riaan to being pregnant with her second child, Genelia always kept it together. She was seen in gowns and Indian traditional dresses looking stylish as ever.
Aishwarya Rai Bachchan– Aishwarya Rai pregnancy is definitely the most talked about pregnancy in the history of Bollywood. Aishwarya Rai didn't make many public appearances during her pregnancy. But when she did, she made sure she was the most stylish person in the room. Though, the news of Aishwarya Rai pregnant again is making rounds in the air.
Arpita Khan– After a few months of her marriage with Aayush Sharma, Arpita was confirmed pregnant. And she flaunted her baby bump in the coolest ways. She was also seen in a photo-shoot with hubby, post pregnancy.Undoubtedly, she looks super cute with that baby bump
Shilpa Shetty Kundra– Shilpa Shetty, the gorgeous actress, known for her great sense of style was really open about her pregnancy with her fans and media. Shilpa Shetty was spotted in many traditional outfits during public appearances with a glow on her face during her pregnancy. Shilpa Shetty pregnancy is a thing of past now as she has returned to her Slim self. But she does make sure to spend ample time with her son!
Avantika Malik– Avantika Malik, wife of Imraan Khan gave birth to her daughter Imaara last year, Avantika didn't shy away from the cameras and gave public appearances showing off her baby bump. She indeed looked pretty.
Konkana Sen– Konkana Sen didn't only flaunt her pregnancy bump in public but she went ahead and did a bare bump photo-shoot for the cover of a magazine. Her bold choices make her so special.
Kajol– Sure some time back, but Kajol looked gorgeous in Anarkalis with a baby glow on her face when she made appearances back when she was expecting.  Kajol pregnancy was an low-key affair but she totally deserves an applaud for her stylish choices.
Amrita Arora- This gorgeous celeb was seen on different occasions showing off her pregnancy bump. Amrita Arora sported Anarkalis, lehengas and dresses looking chic as ever. I still can't get Amrita Arora pregnancy pictures out of my mind when she attended Kareena Kapoor's wedding in a White Lehenga with a big Baby Bump
So, these are the Bollywood actresses who got pregnant after marriage and flaunted their pregnancy in the most stylish way. There have been news of Vidya Balan Pregnancy too but it came out to be just a rumor.
Don't Miss to Checkout:
My favorites from the Top 10 Most Stylish Pregnant Bollywood Celebrities are Kareena Kapoor, Shilpa Shetty and Amrita Arora.
Which is your favorite from these Top 10 Most Stylish Pregnant Bollywood Celebrities?
Author Bio – Pushp Bhaskar. I live in Bangalore and Love to write. I have 2 grown up daughters.
PS: Images are taken from Pinterest for reference purpose only