Top 10 Makeup Revolution Products
Indeed, Makeup Revolution is making a revolution in the beauty world by launching drugstore dupes to some of the most hyped and top-rated beauty products. The brand became really popular pretty recently and is ever-growing, due to its affordability and superb quality! If I could go on and on about this brand, I definitely would, but this post would be too long for you to read. So, without further ado, let's check out the Top 10 Makeup Revolution Products that are worth trying out.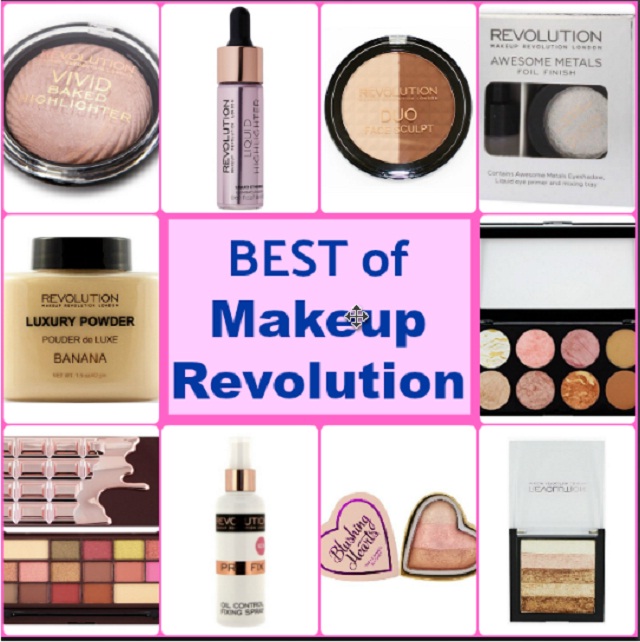 Top 10 Makeup Revolution Products:
Makeup Revolution Vivid Baked Radiant Light- Price: INR 650/£3.00
The Vivid Baked Highlighters are creamy enough to blend into the skin giving you that beautiful glow from within feel. The highlight is not overpowering and makes the skin look luminous. The staying power is a good eight hours and the pigmentation is awesome as well. Overall, one of the best affordable highlighter to own and comes in three shades to choose from!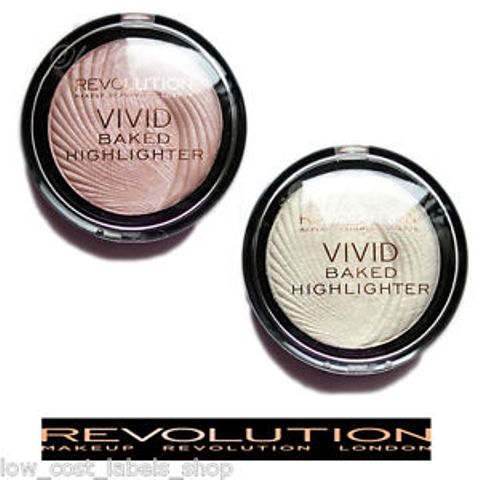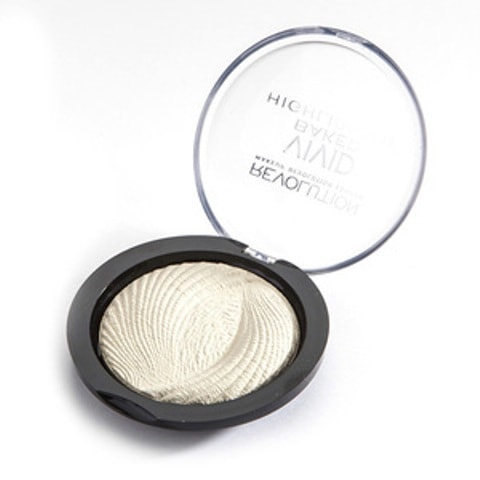 Makeup Revolution I Heart Chocolate Palette- Price: INR 1350/£7.99
If you have been eyeing the Too Faced Chocolate Bar palette but could never really get your hands on it, the Makeup Revolution I Heart Chocolate Palette is a very close replica of it, it offers beautiful pigmentation alongside good staying capacity. The colours are almost similar to the Too Faced ones and it is super affordable. Definitely one of the best Affordable eye shadow palettes but now they have come up with a Rose Gold Palette in this line which can be a close dupe of Huda beauty Rose Gold Eye Shadow palette too.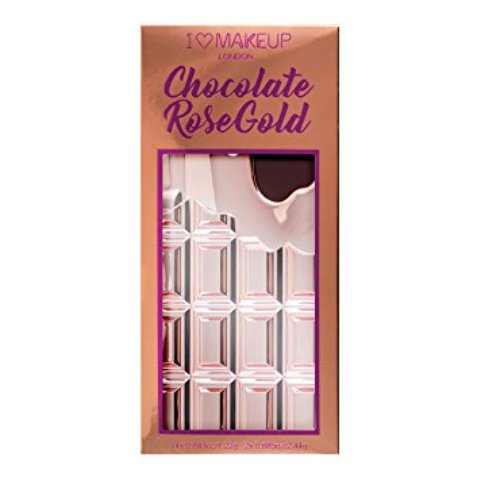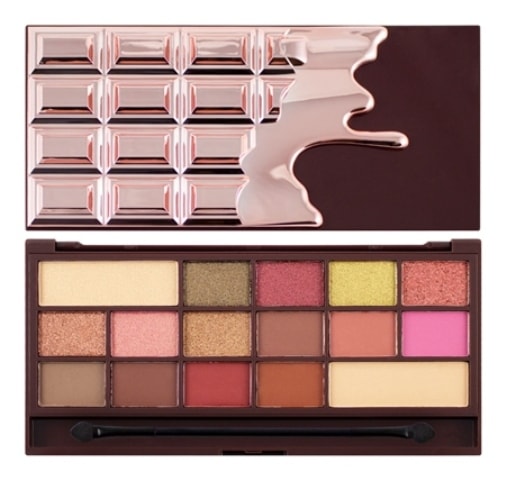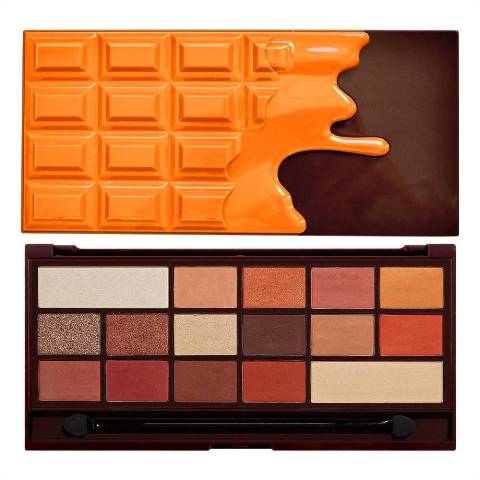 Makeup Revolution I Heart Makeup Blushing Hearts Triple Baked Blush- Price: INR 1050/£4.99
The packaging is similar to Too Faced blushes and is extremely pretty! It is composed of three shimmery shades in one compact, from light to dark. They can be used alone or swirled together! Love how the blushes adds a nice glow without making you look like you just hit your face in a shimmer pot! The shimmer is not over the top, the staying power is great and the colour pay-off is gorgeous! One of the cutest heart blushes and a must have from Makeup Revolution.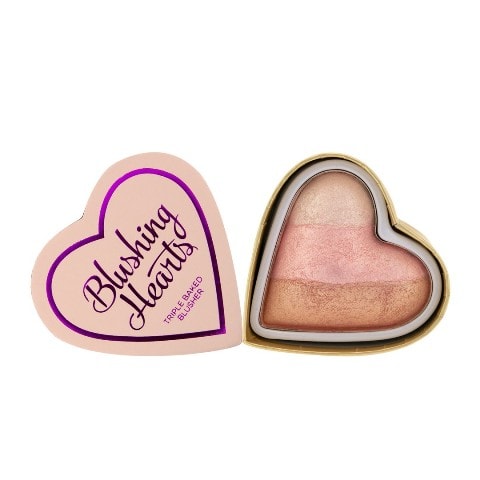 Makeup Revolution Pro Fix Makeup Fixing Spray- Price: INR 1000/

£

5.00
The Makeup Revolution Pro Fix Makeup Fixing Spray is nicely packed in a white coloured spray bottle with a transparent lid. The spray is great for controlling oil on the face and makes your makeup stay in place for long. It is travel friendly and affordable! The finishing spray can be a great substitute for MAC fix+.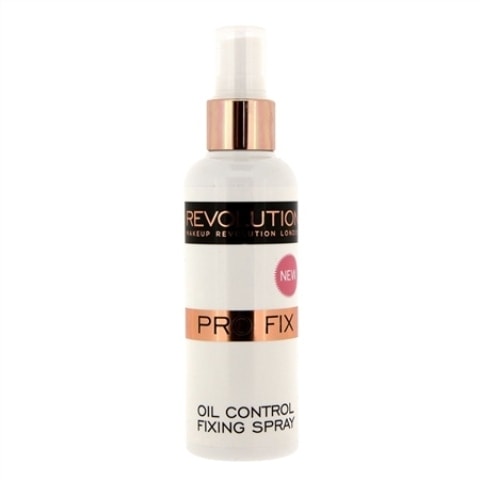 Makeup Revolution Ultra Blush and Contour Palette- Price: INR 1080/£6.00 
These Makeup Revolution Ultra Blush and Contour Palette are available in 3 different shades. I really like packaging of these and they give such a variety of shades to play with! It is a great kit to own for beginners in makeup as you get the goodness of a blush, bronzer and highlighter in one. The finish offered is great, the longevity is superb on oily as well as dry skin and pigmentation is awesome too! One of the best Blushes and contour palette for beginners.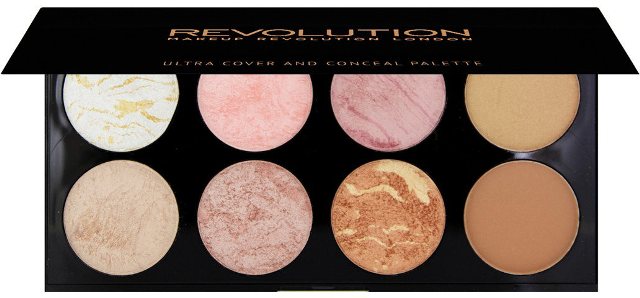 Makeup Revolution Liquid Highlighters- Price: INR 893/£6.00
The Makeup Revolution Liquid Highlighters are available in 8 different shades to find your perfect shade of glow. Mix into your favorite foundation for a more dewy and illuminous finish. Mix into your body lotion and creams for a gorgeous all over glow .These concentrated highly pigmented highlighter is a must have for all lovers of glow! A must have highlighter for glow lovers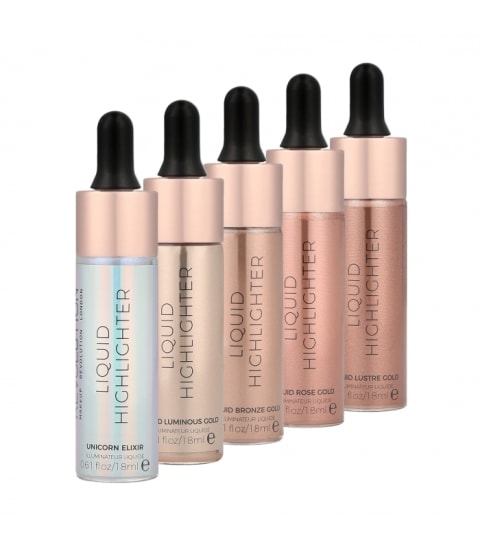 Makeup Revolution Awesome Metals Eye Foils- Price: INR 875/£5.00
Shimmer is so IN these days and we love how it makes the eyes look a million times prettier! The Makeup Revolution Awesome Metals Eye Foils come in five different shades which offers high pigmentation, without being gritty and giving that seamless metallic finish. One of the most affordable option to get metallic lids with a pat of finger.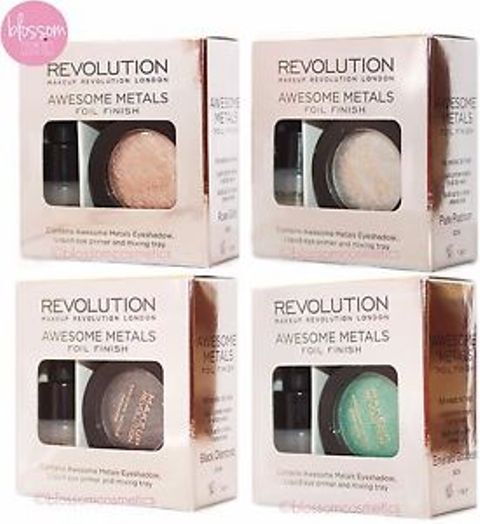 Makeup Revolution Luxury Powder Banana – Price: INR 680/£5.00
The Makeup Revolution Banana Powder is a great option for oily skinned people to set the under eye area. This is one of the best affordable baking powders that mattifies the skin and avoids creasing of the concealer.  It gives a flawless looking finish to the skin. Available in different shades for different skin tones and have a translucent version as well. Perfect dupe of Ben Nye Banana Powder.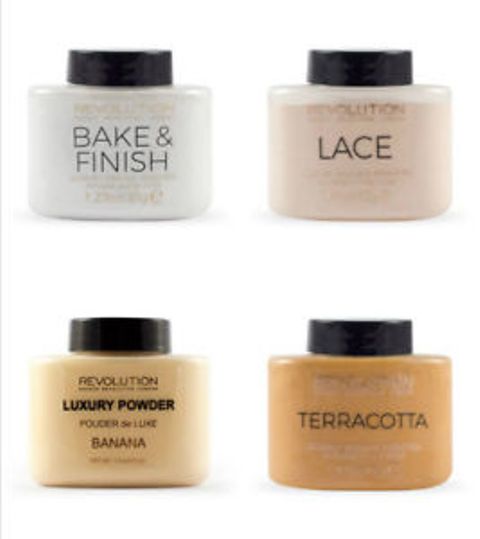 Makeup Revolution DUO Face Sculpt – Price: INR723/ 

£4.00
The Duo Face Sculpt provides effortless contouring in one duo palette. An all over powder which is easy to blend that goes on matte. And you can build up the contour powder to add definition to your face. Silky and easy to blend formula! Love contouring but still learning then this is a perfect pick for your makeup bag.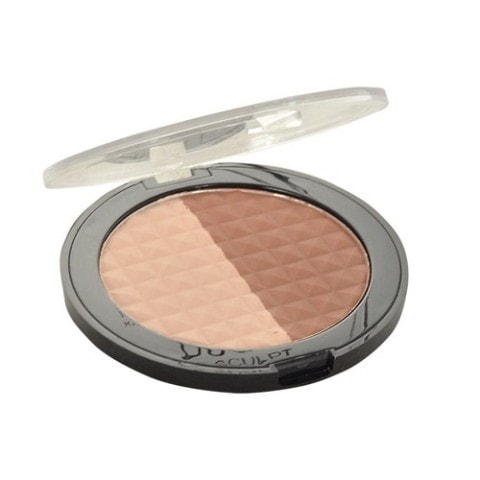 Makeup Revolution Vivid Shimmer Brick Highlighter– INR 650/£3.00
With everyone going crazy over the strobing trend, and every brand coming up with their strobing/ highlighting products, making a choice is pretty difficult! Bobbi brown shimmer bricks made a grand entry and after that almost every brand launched their shimmer bricks and Makeup Revolution shimmers bricks are a close dupe of Bobbi Brown Shimmer bricks. Available in 3 different shades and a multi purpose product which can be used a blush, Highlighter or an eye shadow. These are super soft and creamy for a dreamy application. One of the Must have products from Makeup Revolution.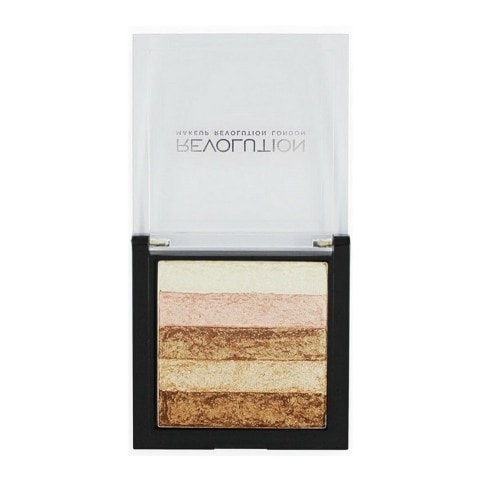 There are more amazing launches from Makeup Revolution that are currently trending in the makeup world like their dupes of Tarte shape tape concealer which is one of the best Drugstore Concealer, the Makeup Revolution Conceal and Define concealers and the Makeup Revolution Reloaded Palettes which are dupes of the Viseart eye shadow palettes. These launches are yet to come to India but hopefully soon we can experience these beauties.
Don't Miss to Checkout:
Conclusion: Makeup Revolution is the Jack of All Trades when it comes to launching dupes as the quality offered is comparable to the higher end brands! Soon, the higher end brands will have to find a tiny corner in your vanity because it will definitely be flooded with products from Makeup Revolution! Why spend so much money, when you get the same for cheaper? Now easily available in India
Which of these Top 10 Makeup Revolution Products have you tried? Which is your favorite Makeup Revolution Product?