Too Faced X Nikkie Tutorials Collaboration Makeup Collection, Prices and Launch date
Youtube Makeup Gurus are making it big and you can very well understand their reach by the amount of subscribers/followers they have on their channel.  It feels like Jacklyn Hill's collaboration with BECCA for the most infamous Champagne Pop was just a starting. There have been more and more collaborations coming out and each one outdo our expectations..
It's time to talk about the newest collaboration between NikkieTutorials and Too Faced who will rock your world with their newest makeup collection launch.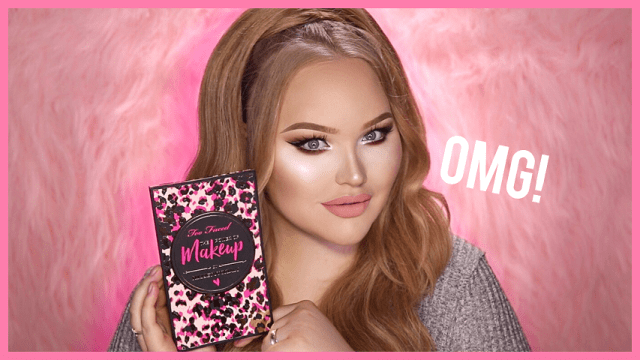 Who is NikkieTutorials?
If you don't know her.. you don't deserve to be called a makeup addict .. 😛 . Well, If you are a makeup addict you must be already following Nikkie Tutorials and if not .. then you are definitely missing it. NikkieTutorials is a 19 year old Youtuber, from Netherlands with some extra ordinary makeup skills. She got viral with her "The Power of Makeup"  video last year where she talked about how makeup can help you enhance your features, wearing makeup only to one half of the face. But makeup doesn't define you and you should love you with or without makeup. I so just loved the though behind it! Undoubtedly, that the most popular video on her channel and a must watch I would say..
Follow this tag to see some awesome transformations #PowerOfMakeupChallenge.
She has over 4 million Youtube Subscribers now and I am sure she is going to be bigger and better. So, go and checkout out her Youtube Channel right now.  She does super amazing makeup tutorials. Check out her other majestic makeup videos on her channel, Nikkie Tutorial's YouTube channel
NikkieTutorials and Too Faced Collaboration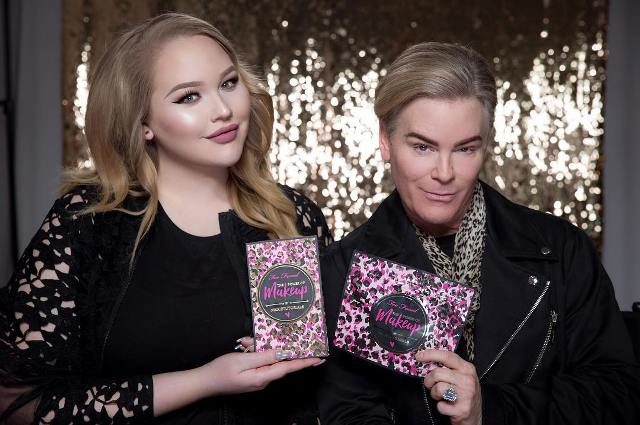 It's high time for us, The Makeup Addicts and all the NikkieTutorials fans as she is coming out with her first ever collaboration Makeup Collection with Too Faced Cosmetics, one of the most beautiful makeup brands.
NikkieTutorials collection is definitely one of the most awaited makeup collaboration. She revealed all the products from their collaboration on her Snapchats (Yes I stalk her everywhere) and I was just so mesmerized by the beauty of them.. It's nothing but perfection.
I loved the fact that the Too Faced and NikkieTutorials Collaborations contains a whole range of products. She is known her "The Power of Makeup" makeup trend, so she named the collaboration Makeup Collection as "The Power Of Makeup"
First Look at the NikkieTutorials and Too Faced Collaboration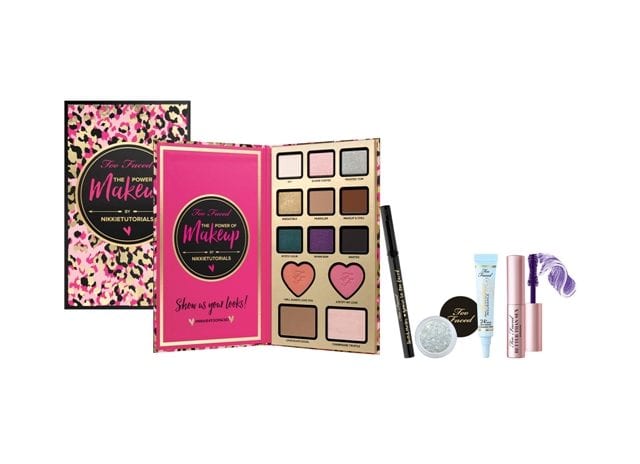 Products included in NikkieTutorials X Too Faced Collaboration
Too Faced Shadow Insurance Primer: To make the eye makeup last all day long!
Better Than Sex Mascara – Purple: A rich eggplant purple because Nikkie loves purple and we too 😉
Black Stretch Marker – Black: A brand-new liquid liner with which you can draw wings as sharp as knife.. and its "full size"
Loose Glitter "Glitterarly": Silver Toned Glitter with orange, Burnt Orange, Gold, Green, Purple reflex for th bedazzling eye makeup look.
"The Power of Makeup" Palette: I kept the best for the last the most coveted The Power of Makeup Eye shadow palette by NikkieTutorials. The palette has a collection of specifically crafted shadows, face products, and Too Faced staples. It's the perfect blend of both Nikkie and Too Faced.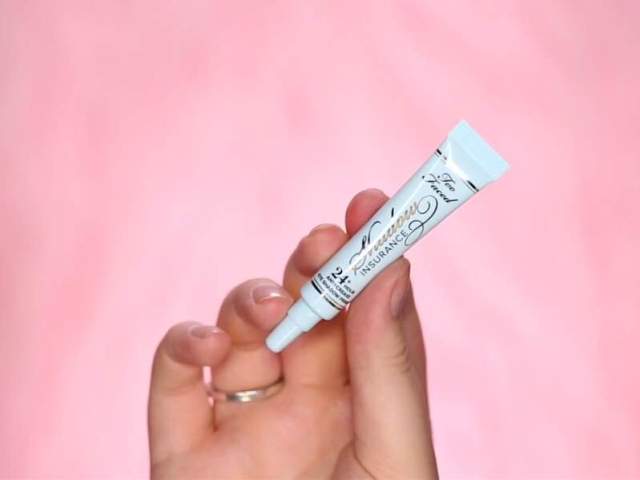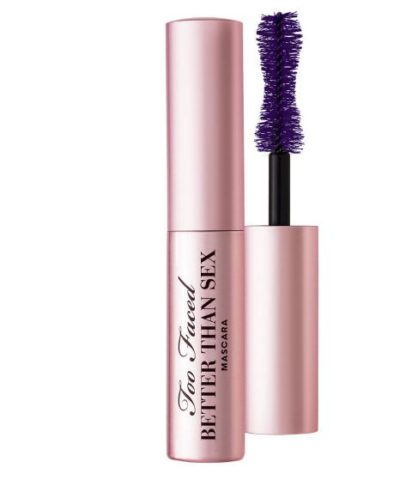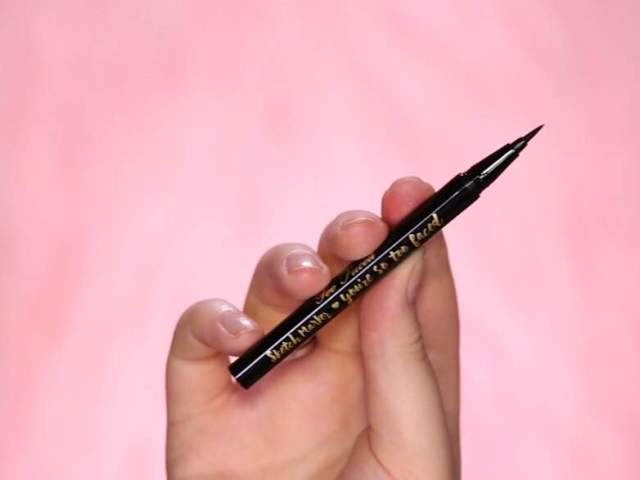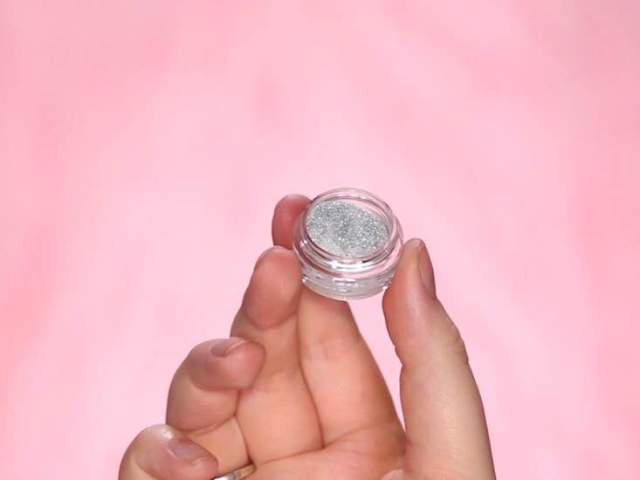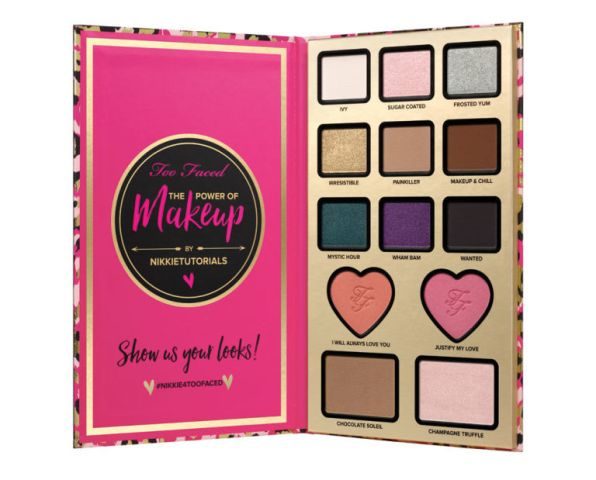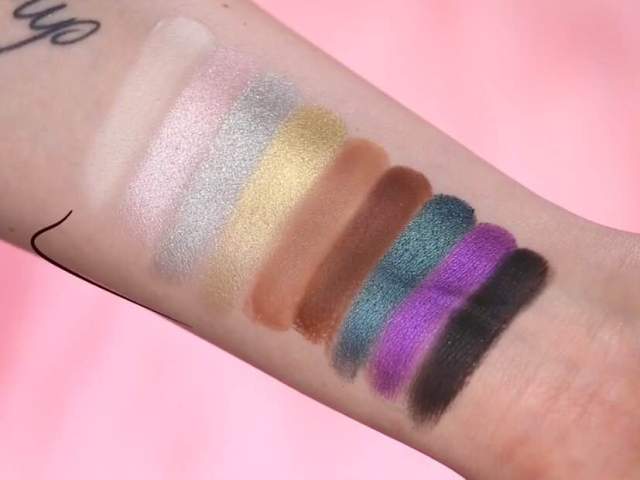 "The Power of Makeup" Palette Details:
There are Nine eye shadows in the palette in a range of matte and shimmer finishes. And all the eye shadows are create by Nikkie herself. It also contains two blushes, one bronzer and a highlighter.
The Eye shadows range from neutral, cool browns to vibrant, sparkling purples to Deep blues. The eye shadows have names like Ivy, Sugar Coated, Frosted Yum, Irresistible, Painkiller, Makeup & Chill, Mystic Hour, WhamBam and Wanted
The blushes are peach and pink, the only colors Nikkie says she wears
There is Chocolate Soleil Bronzer and highlighter from the Chocolate Bar Palette and its full sized!
So, Overall this The Power of Makeup by NikkieTutorials feat. TOO FACED COSMETICS has some of the best products from Too Faced including their Shadow Insurance primer, the famous Better Than Sex mascara, The chocolate Soleil Bronzer and Champagne Truffle Highlighter. Basically, all of the favorites from Too Faced have come together with Nikkie's own creation, and it's absolutely stunning.
**Drumrollss**     **Drumrollss**
The Too Faced Power of Makeup by NikkieTutorials Collaboration is something that every Makuep addict needs in her vanity!
Now the Big Question When Is Too Faced's Collab With Nikkie Tutorials Coming Out?
The palette will be available for purchase in August i.e. this month (6 days to go!!)
RETAIL PRICE – $56.00 (Around Rs 3700)
LAUNCH DATE – 8/15/2016 (August 15th 2016)
AVAILABLE AT:
Too Faced – 

toofaced.com/nikkie

 

Sephora + Sephora Canada- http://bit.ly/2bgh9EJ  (sold out)
ULTA – http://bit.ly/2bgQpE6
South East Asia – launch: August 18th 2016
Debenhams (UK) – launch: August 28th 2016
Sephora Europe – launch: September 1st 2016
Mecca Australia – launch: September 27th
You can follow the hashtag #nikkie4toofaced on your social media channels to stay updated!!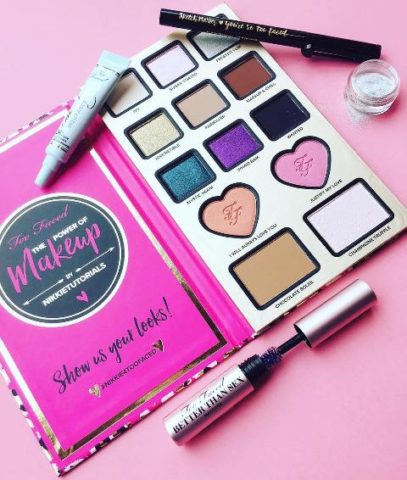 So, that's everything that you need to know from NikkieTutorials x TooFaced Collaboration. Like everyone else I am super anxious to get my hands on this collection but in India I am sure it is going to be tough.
If you can help me grab this Makuep Collection.. I will treat you with Chocolates.. 😀 😀 Pakka 🙂
Have you watched Nikkie working her Makeup Magic? Which one is your favorite thing from the collection?