TMART 22PCS Professional Cosmetic Makeup Brush Set Pink Review
Hello Everyone,
Today I am gong to review a makeup brush set that I received from TMart.com for review purpose. I was happy that they offered me to choose with whatever I would like to review from their site (within a price limit though.. 😛 ) rather just sending a product they like. I had a tough time picking up only one from their vast collection but finally settled with this lovely 22PCS Professional Cosmetic Makeup Brush Set Pink.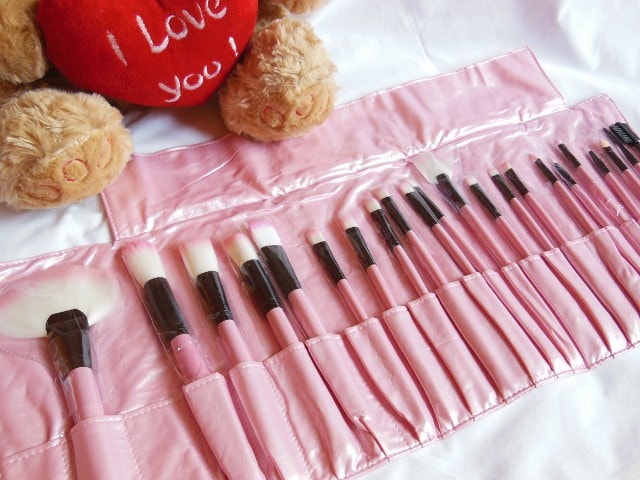 About the brand: TMart is an online shopping portal that sells tons of stuff related to Makeup, Nail Art and even accessories to dress up your gadgets. It is a great store for all your beauty supplies with wide range of products at really low prices and they offer world wide shipping too.
Product Claims: Is it difficult for you to select professional makeup brushes for different purposes? This makeup brushe will solve your problem. It contains different brushes for your various needs. Buying this makeup brush set is much more economical than buying different brushes separately. The makeup brush set is so compact and portable that you can carry it when you are travelling or on a trip. With soft and superior material, it is comfortable and easy to use. It is good choice for each wise consumer.
Features:
The makeup brush set is easy to carry and use
With superior-quality, the makeup brushes in the set will not irritate your skin
Durable case can well protect your makeup brushes
It is an important beauty essential for you
Package Includes
4 x Powder Brush
8 x Eyeshadow Brush
1 x Eyeshadow Smudge Brush
2 x Oblique Eyebrow Brush
2 x Fan Brush
1 x Eyebrow Comb Brush
1 x Eyeliner Brush
1 x Eyelash Brush
2 x Lip Brush
1 x Carrying Bag
Price: $17.50 
Packaging:- The brushes comes packed in a pink colored pouch with all of them tugged in nicely and plastic wrapped to secure bristles from catching dust. The pouch rolls up to a clutch and has an extension that embraces the pouch and keeps it close. The brushes have pink wooden handles and silver metallic ferrule. The bristles are made of Nylon with a touch of pink at the tips which makes them look very pretty. The portable pouch packaging not only makes the brush storage easy but also keeps the bristles safe from catching dust and is easy to carry along during trips and travels.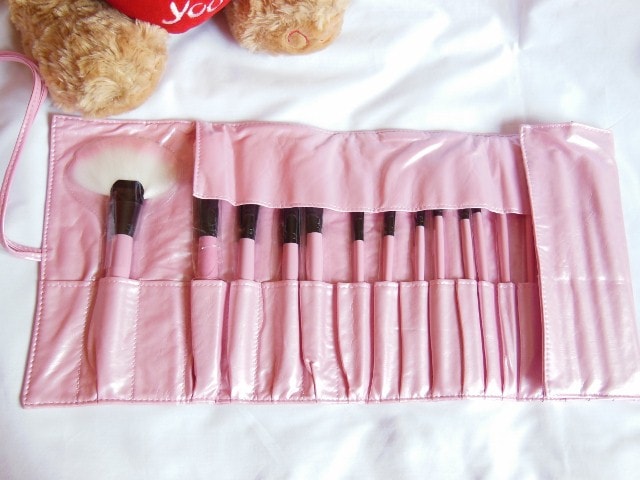 My experience with TMART 22PCS Professional Cosmetic Makeup Brush Set Pink:-
This is a Makeup Brush set with 22 different types of Makeup Brushes. It contains all sort of brushes from eyes, eyebrows to face makeup and can form a complete kit for doing full -fledged face makeup. The bristles are made up of synthetic fiber (Nylon) and feels soft and comfortable on skin and doesn't irritate or feel scratchy even on the sensitive face areas.
List of all the types of brushes in Makeup Set:
Eyebrow comb – I don't use this much but it works well to comb lashes and give them that perfect arch!
Spoolie Brush – The brush serves the purpse of taming unruly brow hair, can also be used to de-clump lashes
Large Fan Brush – It is dense, fluffy and is great for blending everything in and even sheer application of blusher
Small Fan Brush – Cleans up the under eye area of any eye shadow fallout.
Powder Brush – It is cushiony soft and can be used for loose powder application but as it isn't much thick so wont give much coverage
Blush Brush – It might distribute the color evenly but I feel it could have been a little dense for the purpose
Flat foundation brush/ Flat top buffing brush – Both of these can be used for foundation application but again their loosely packed bristles comes in the way to do the job efficiently.
7 Large Eyeshadow/Concealer Brushes – The bristles are gentle and nicely apply eye shadow all over the lids but I need to pat the color again and again for sufficicient coverage. Work better as Concealer blending brush but they drink up a lot of product.
1 Small Eye shadow Brush – Apply color precisely to crease or in the centre of lids
Liquid Eyeliner Little Point Brush – thin enough to give precise application for lining eyes or lips
Eye Shadow Smudge Brush – Sponge Smudging brush  for smudging kohl/liner along the lash lines
2 Lipstick Brush – Comes handy for applying lipsticks precisely on lips especially while using INGLOT Lipstick Refills
Flat eye liner brush – It can be used to fill in the upper waterline especially close to the outer V corner
Angled Eyeliner brush – I can never have enough of them, this small angled brush is great for applying liner or use eye shadow as liner
Makeup Brushes are as essential as makeup products for achieving that naturally beautiful finish as they provide much needed control over makeup application and doesn't make your face look like a mask. Brushes these brushes are a pleasure to use as they feel so soft and gentle and their pretty pink pakcaging is cherry on the cake.
The brushes are well made and do a commendable job. Now, I have a brush for each and everything that needs to be done for face makeup. Nothing in Indian market beats them at the price and quality they provide.
My favorite out of all is the large fan brush 🙂
Don't Miss to Checkout:
Pros of TMART 22PCS Professional Cosmetic Makeup Brush Set Pink::-
Plenty of eye shaodw, face makeup and eyeBrow brushes
Bristles are gentle on skin
Brushes serves their purpose well
Decent quality
Great for makuep amateurs
Inexpensive Makeup Brush Set
Brush handles are of perfect length
Makes a complete brush kit
Pretty Pink Packaging
Convenient to use and Travel frienldly Brush Roll
You can choose from numerous sets of brushes whether small or big
No Deliver of shipping charges
Cons of TMART 22PCS Professional Cosmetic Makeup Brush Set Pink:-
It takes almost 3-4 weeks for the parcel to reach my doorsteps
Quality doesn't match the professional one but at the price it would be too much to expect
Recommendation:- TMART 22PCS Professional Cosmetic Makeup Brush Set Pink is a total value for money as you get a large number of brushes for the money paid and the quality is decent too. The pretty pink packaging is delightful with pink handles, bristles and pouch.. totally girly stuff!  The brushes are fluffy and doesn't feel scratchy or harsh on skin. Got backup with eye shadow and face brushes in a single kit, great when one have to do multiple eye makeup looks back to back. This large brush roll makes me feel like a makeup artist!! 🙂  It is one of the best affordable option to buy all the makeup brushes for makeup newbies who are learning the tips and tricks of makeup. Lets roll it out and unfold your makeup skills.:-*. Recommended!
Rating:- 3.5/5
Have you tried TMART 22PCS Professional Cosmetic Makeup Brush Set Pink?