The Nature's Co. Vanilla – Vitamin E Face Cream Review
Vanilla is one of my favorite fragrances in skin care products and any of the creams that reads vanilla keeps tempting me. Today review is about one such vanilla fragrant face cream, The Nature's Co Vanilla – Vitamin E Face Cream. Let's see if it lived up to its claims.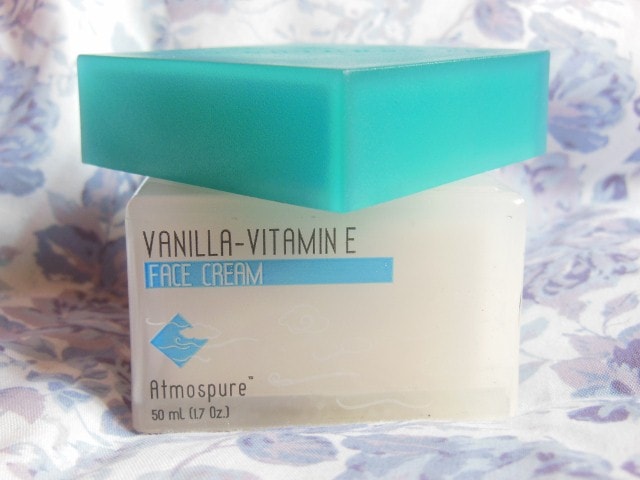 Product Claims:
Wear a youthful glow with this Vanilla-Vitamin E Face Cream. Vanilla oil is an excellent antioxidant and relaxant while Vitamin E, helps do away with dead skin while keeping the skin soft, supple and firm.
Enriched with Natural oils, Vitamins and Butters, it helps enhance blood circulation in your face and restore freshness by lightening dark spots and reversing signs of ageing..
Direction for Use:- Smooth a small amount over clear, toned skin as needed, using gentle upward strokes and see it take years off your face
Key Ingredients:- Vanilla, Almond oil,Jojoba oil,Wheat germ oil,Vitamin – E,Coco butter, Kokum butter
Price:- Rs.895 for 50ml
Shelf Life:-  2 years from the Mfg date.
Packaging:- The cream is packaged in a white colored square shaped jar and with a blue colored screw lid. The packaging is sturdy but I didn't find it travel friendly as the lid closes in the middle of the jar and not at the square corners. Also, the closing/opening of the lid isn't as smooth as it could have been. The good thing about the packaging is it has a push-up lid below the cap which protects the cream from slippage.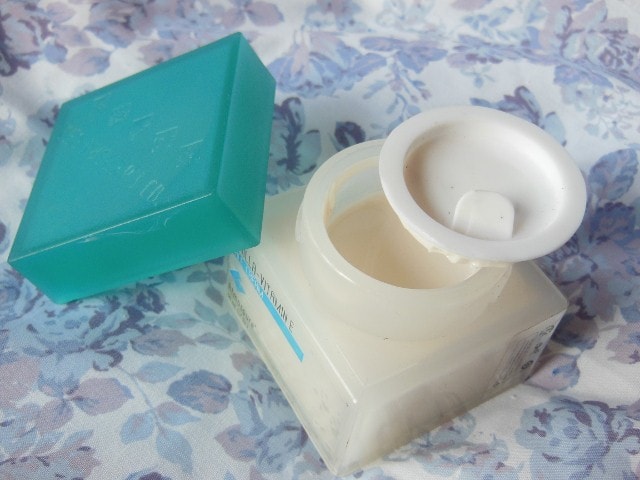 My Experience with The Nature's Co. Vanilla – Vitamin E Face Cream:-
Vanilla – Vitamin E face cream is a light beige colored cream in a super rich thick creamy texture. It has a thick buttery consistency but it glides on pretty smoothly. I need just a tiny amount of the cream for my full face (best applied with dots all over) and then rub it in with fingers. Due to its thick texture it requires a few seconds of massage to get absorbed completely but it doesn't feel greasy or sticky.
The cream disappointed me in the fragrance department as I was expecting it to smell like a delicious Vanilla Ice cream but I could smell only bitter almond fragrance with barely there vanilla notes. Thankfully the smell isn't strong as I am not a fan of Almond fragrance.
Swatch: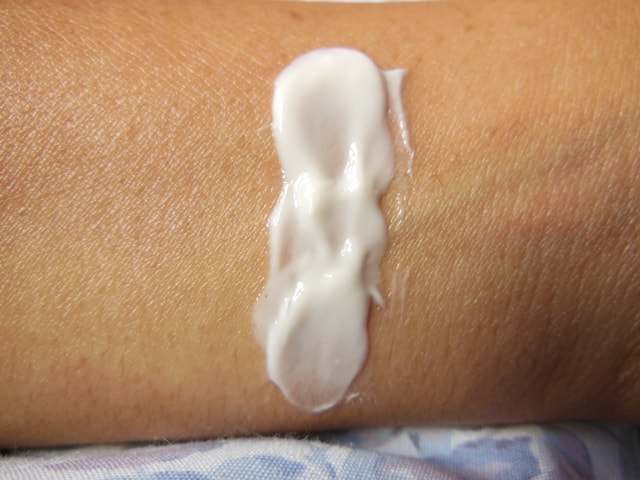 It feels heavily moisturizing to my dry skin and keeps the dryness and dry patches at bay. In spite of the heavy texture it doesn't block my pores or cause my skin to break out. Works great in winters for my dry skin and keep it nourished whole day. With regular use it makes my facial skin look firm and fully hydrated beaming with a subtle glow.
Don't Miss to Checkout:
Pros of The Nature's Co. Vanilla – Vitamin E Face Cream:-
Extremely moisturizing
Absorbs with a little massage
Non – Greasy/Oily
Skin looks soft and smooth
Composed of Natural Ingredients
Doesn't break me out
Small amount is required for each use
The tub will last me 2-3 months
Savior for dry skin in winters
Cruelty free
Cons of The Nature's Co. Vanilla – Vitamin E Face Cream:-
Expensive
Bit heavy but works for my dry skin.
It smells more of Almond to me than Vanilla
Not suitable for oily skin in summers
Recommendation:- The Nature's Co. Vanilla – Vitamin E Face Cream is a moisturization heaven for dry skinned girls and acts as a barrier against dryness, flaky or dry patches. It has thick creamy texture which needs to be massage with mild circular motions to sink into the skin. The massaging motion enhances blood circulation in face and makes the skin bloom. It makes my skin smooth, moisturized and glowy without leaving behind any greasiness or sticky feel.

I love winters because I can go for any of the heavy creams and my skin will not shine even a bit, it soaks in everything. :). If you don't mind indulging in expensive skin care I would surely Recommend this to you!
Rating:- 3.8/5
Have you tried The Nature's Co. Vanilla – Vitamin E Face Cream? Which is your favorite face moisturizer in winters?