The Magic Potion: Just Herbs Rejuvenating Beauty Elixir Facial Serum 
Hello Everyone,
I have shared my experience with a number of Just Herbs Skincare products in my last post and today I have another gem from the brand to share with you, the Just Herbs Rejuvenating Beauty Elixir Facial Serum. I received this Serum in my September Fab bag and kept it aside thinking it to be just like another facial serum but few days after that I was offered some stuff from the brand and then I got excited to try all of the stuff together. So, here is what I feel about Just Herbs Rejuvenating Beauty Elixir Facial Serum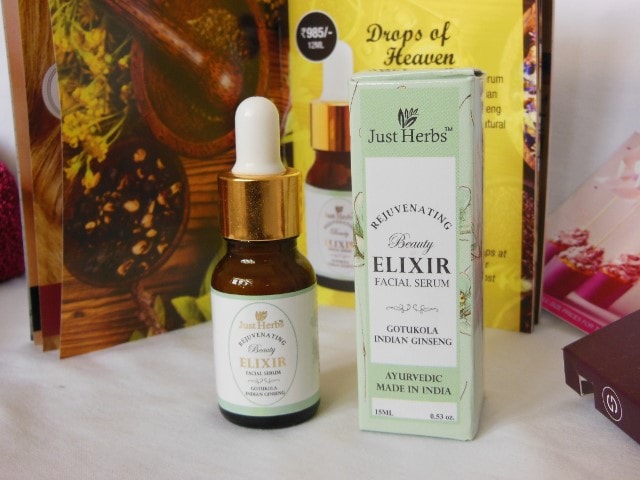 Product Claims: This multi-tasking night serum is a synergistic blend of treasured Indian herbs to nourish and restore a natural glow and youthfulness to tired, ageing and pigmented skin. Plant polyphenols, carotenoids and flavonoids present in these precious botanicals prevent and reverse free-radical and DNA damage and block the inflammatory changes that result during the skin ageing process.
Gotukola and Indian Ginseng are considered Sāttvik (most pure, closest to nature) and Varnya Dravyas ( colour and complexion promoters) in ancient Ayurvedic texts and are known to make skin youthful.
Gotukola (Chinese name meaning "fountain of youth") or Brahmi aka Brahma-Manduki (Ayurvedic names used in India) has been the centerpiece of plant based medical systems across the world for thousands of years. It is listed among the "miracle elixirs of life" and according to a legend; this herb helped a famous sage live past 200.
Indian Ginseng or Ashwagandha in this fast-absorbing , light-textured skin potion is a potent antioxidant and immunomodulator with anti-inflammatory properties. In synergy with other plant nutrients it helps boost collagen-synthesis, cell renewal & tissue repair thus diminishing fine lines, spots and signs of photo-ageing.
Cold pressed oils of Rosehips, Wheatgerm, Safflower and Moringa seeds are natural sources of Vitamins C, E and A while  extracts of Indian Senna are a botanical alternative to Hyaluronic Acid ( for fine-line filling and intense  moisturisation).
Suits all skin types
Fragrance-free
Free from petrochemicals, parabens, SLS/SLES PEG/PPG, Genetically modified ingredients(GMO) and other synthetic ingredients
Ingredients:
Key ingredients: gotukola ext 4% indian ginseng ext. 4%, garden cress ext.1%, rosehip seed oil (vit c source) 2%, wheat germ oil (vit E source)1%,eucalyptus leaf ext 1% fumittory ext. 2%, liquorice ext. 2%, indian senna ext (botanical alternative to hyaluronic acid) 1%,naagkesar ext. 2%, certified organic cold pressed safflower oil (vit E source) 2%, colloidal oats 3%, certified organic cold pressed moringa seed oil (vit A & C source) 2%, allantoin 0.1% (plant derived)
Other ingredients: certified organic aloevera juice, certified organic veg. glycerine, potassium sorbate, soy lecithin, sodium benzoate, natural preservative blend of herbs and essential oils.
Price: Rs.985 for 15ml
Shelf Life: 1 year from the Mfg date.
Packaging: Just Herbs Rejuvenating Beauty Elixir Facial Serum comes in a tinted brown colored glass bottle with a glass dropper. I liked the light green packaging of the serum which adds some natural vibes to the product. The packaging is hygienic to use but you ought to be careful with glass bottles. Also, there is some product stuck in the dropper which will get wasted.
My experience with Just Herbs Rejuvenating Beauty Elixir Facial Serum:-
Just Herbs Rejuvenating Beauty Elixir Facial Serum is a pale yellow colored liquid with thin consistency. The formula I feel separates in the bottle so I shake the serum well before using and let all the magical ingredients mix well together. This serum has strong sweet bread soaked in milk kind of a smell. It is indeed food like which does bother me a bit but it becomes undetectable as the serum sinks into the skin.
It is advised to use a pea sized amount but you know me.. I have a habit of going overboard with moisturizers so I take around 6-7 drops for each application. I massage it gently onto the face in circular motions and within seconds it gets absorbed into the skin leaving behind no residue but a nicely hydrated skin in satin matte finish.. ( a hint of glow on skin but not shiny or greasy sorts). It feels light on skin and doesn't have any stickiness to it.
The formula just left me breathless because it so full of awesome natural oils and ingredients that are claimed to do wonders for skin.
Although, it is directed to be used as a night serum under moisturizer I do not stick to it and shamelessly use it as a daytime moisturizer.. and it works beautifully for my dry skin. I also use it under my Just Herbs Youth Night Cream to enhance its performance.
Results: The Serum provides much needed hydration to my dry skin and it looks nourished, glowy and smoother. I don't have any active acne or scars so can't comment on its effectiveness on them but looking at the ingredients I am sure it will help. Not much of a visible difference on my fine lines and wrinkles as of now but as usual I might have to finish it up completely and may be get another bottle to see the difference.
Recommendation:- Just Herbs Rejuvenating Beauty Elixir Facial Serum can easily be termed as Magic Potion as it contains ingredients which are a source of Vitamin A, C and E. The texture is light and it gets absorbed within seconds without being sticky. It provides much needed nourishment to the skin, restores it glow, and makes it look plump and smoother. It contains Anti-ageing ingredients as well which works on reducing the fine lines and wrinkles, though I have to use it for months to see any visible difference. It is an expensive serum but the quality is awesome and I have to admit that if I have to choose just one Natural/Organic skincare brand it is going to be Just Herbs. Recommended!
Rating: 4.5/5
Have you tried Just Herbs Rejuvenating Beauty Elixir Facial Serum? Which is your favorite Facial Serum?