The Body Shop Vitamin E Nourishing Night Cream Review
Product Claims:- (From Website) –With rich wheat germ oil to replenish and revitalize skin while you snooze. A rich, nourishing cream that helps replenish antioxidant and moisture levels overnight, when the skin is at its most receptive. It leaves skin feeling soft and smooth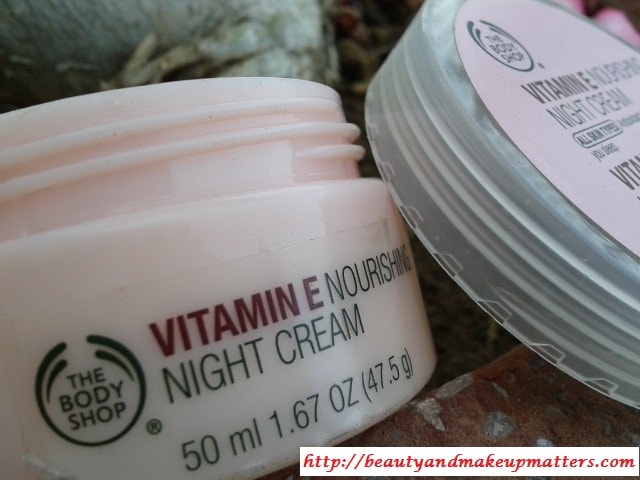 Night is an excellent time for our Vitamin E Night Cream because your skin can use it more effectively to fight free radicals while you sleep. Free radicals are unstable molecules that attack healthy cells in search of a needed electron. Once the healthy cell has been attacked, it loses an electron to the free radical, becoming an unstable radical itself and setting off a chain reaction. This damage leads to premature aging and disease. Antioxidants, such as vitamin E, neutralize free radicals by providing them with the needed electron and preventing them from harming healthy cells.
How to Use:- Apply to the face and neck after cleansing and toning, using your fingertips, before going to bed. Cleanse skin using Vitamin E Cream Cleanser or Vitamin E Gentle Cleansing Wipes.Use with your favorite Vitamin E day cream (Moisture Cream, Protective SPF 15 Lotion, Tinted Moisturiser or Illuminating Cream) to give your skin the maximum protective benefit of Vitamin E. Use with the other great products in The Body Shop Vitamin E Skin Care range specifically for your face, lips, neck, hands and body.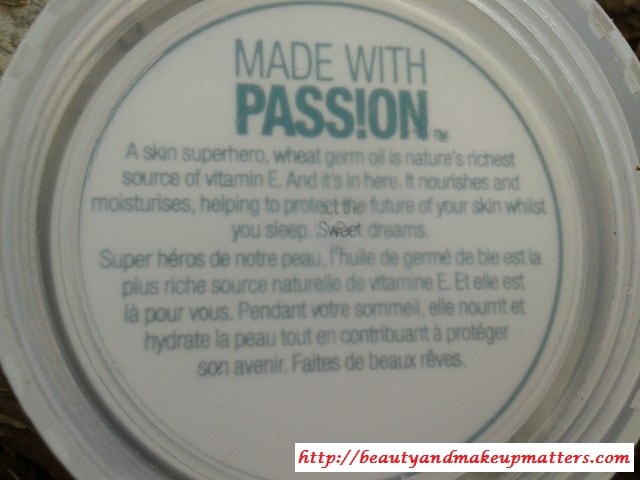 Ingredients:- Water, Glycerin, Triticum Vulgare (Wheat) Germ Oil, Dimethicone, PPG-2 Myristyl Ether Propionate, Cyclomethicone, Stearyl Alcohol, Cetearyl Alcohol, Theobroma Cacao (Cocoa) Butter, Glyceryl Stearate, PEG-100 Stearate, Cetearyl Octanoate, Myristyl Myristate, Panthenol, Benzyl Alcohol, Tocopheryl Acetate, Carbomer, Methylparaben, Phenoxyethanol, Propylparaben, Fragrance,Sodium Hydroxide, Disodium EDTA, Talc, Manganese Violet, Iron Oxides.
Cocoa butter:-Is an excellent moisturizer that melts at body temperature, leaving the skin feeling soft and silky smooth.
Glycerin:- It is an effective moisturizer which helps improve softness and maximize hydration.
Vitamin E:- Vitamin E conditions, nourishes, and protects the skin, leaving it soft, smooth, and healthy.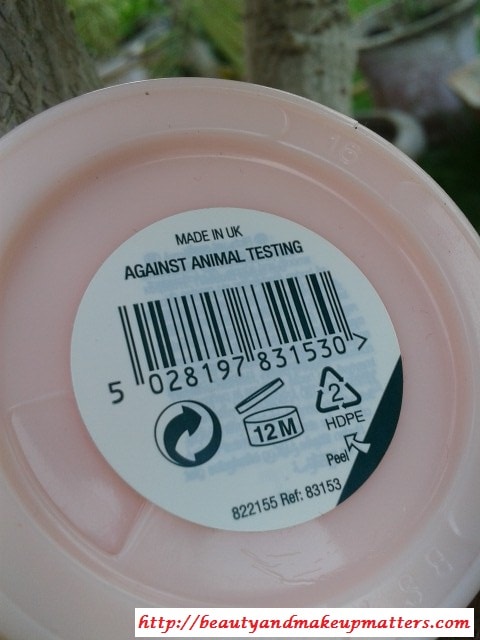 Price:- 20$ for 1.7Oz(50ml)
Shelf Life:- Not able to find the Mfg date on the jar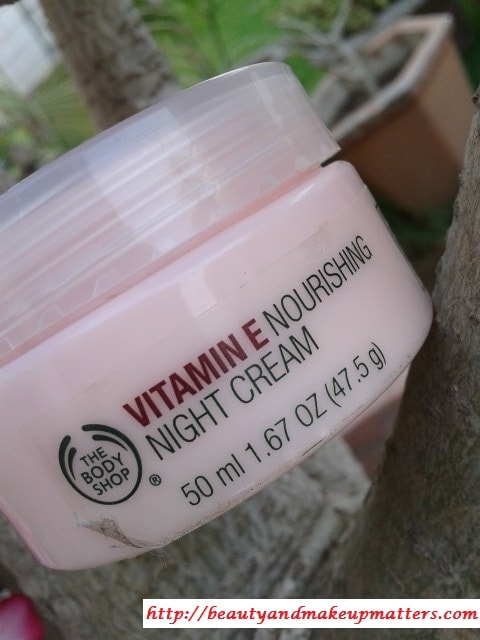 Packaging:-  The cream in a pretty pink plastic jar type packaging. It has a transparent screw lid which has pink paper pasted over it which carries the name and other details of the cream.  The cream has an added safety with a white plastic lid to protect the cream from messing with the cap. I am not a big fan of tub packaging but I like these small jars which can be later used for storage purposes.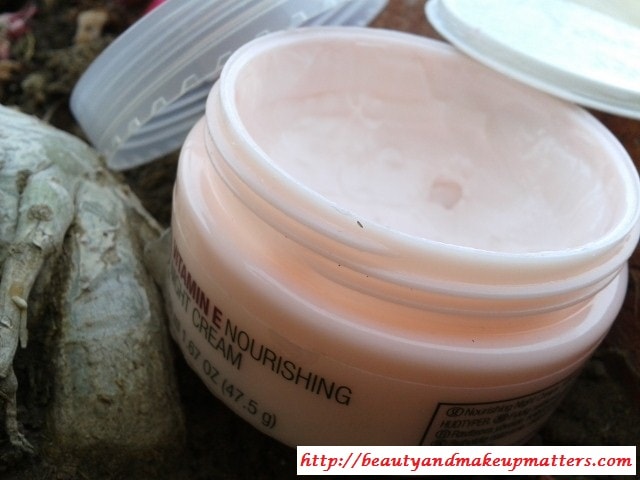 My experience with The Body Shop Vitamin E Nourishing Night Cream:-
The first thing that I liked in The Body Shop Vitamin E Nourishing Night Cream before even using it is its soft pleasant fragrance. It has a mild scent which is really soothing and not OTT. Even before stating using it I used to open the jar every night just to smell it.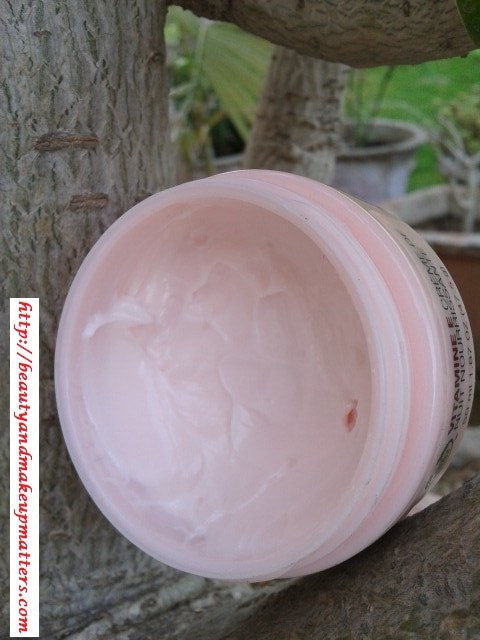 The cream looks thick and heavy in jar and doesn't move around the tub. I need only a small amount of this cream to apply all over the face. Its thick texture makes it good for my dry skin in harsh winters.
It melts when applied and sinks into the skin completely with few ginger strokes. It doesn't feel heavy or leaves any oily/greasy layer on the skin unlike other night creams.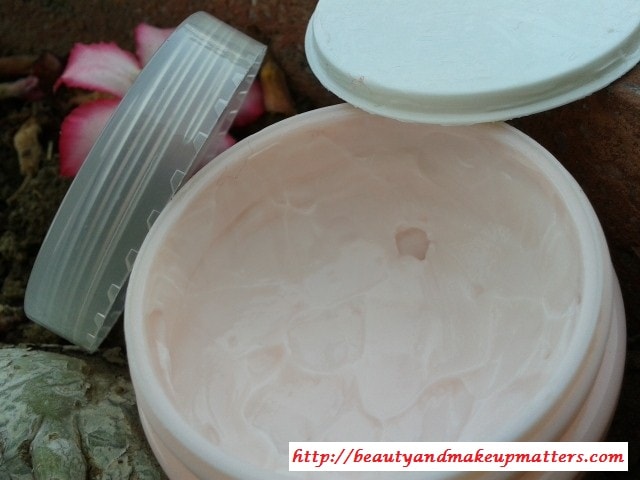 It nourishes my dry skin well and gives a nice soft and smooth feeling to it. I use it regularly before hitting into the bed and I wake up with my skin glowing and feeling moisturized. After using it for a month I can say that it has made my skin soft and supple. (Imagine those soft chubby cheeks of some small kid which are so hard to resist).
Don't Miss to Checkout:
Swatches:-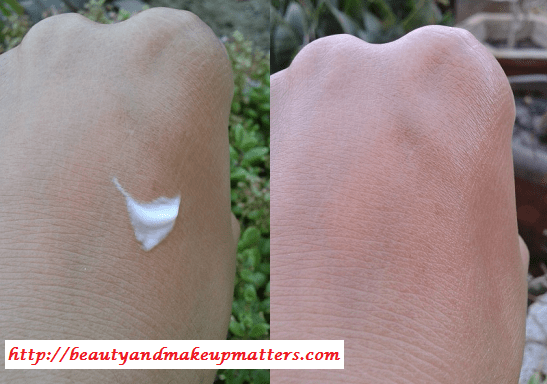 Pros of The Body Shop Vitamin E Nourishing Night Cream:-
Cream smells really nice. It has mild pleasant fragrance (kind of sweet) but not overwhelming.
It blends easily into the skin without making it greasy
The cream quite thick so you need only small amount of it.
4) Moisturises my dry skin well without making it oily/shiny. Makes my skin soft and supple with regular use
Contains wheat germ Oil, Cocoa Butter, Vitamin E and Glycerin which are known for their various skin benefits.
A little goes a long way
Cons of The Body Shop Vitamin E Nourishing Night Cream:-
If used a little too much, it feels heavy on the skin. So you just need few dots of this cream which is sufficient for moisturisation needs of your skin.
Due to its thick creamy texture, its better to avoid this in summers.
Bit expensive like all other TBS products
Contains Parabens
Tub packaging. So make sure you sanitize your hands properly before dipping them into the tub.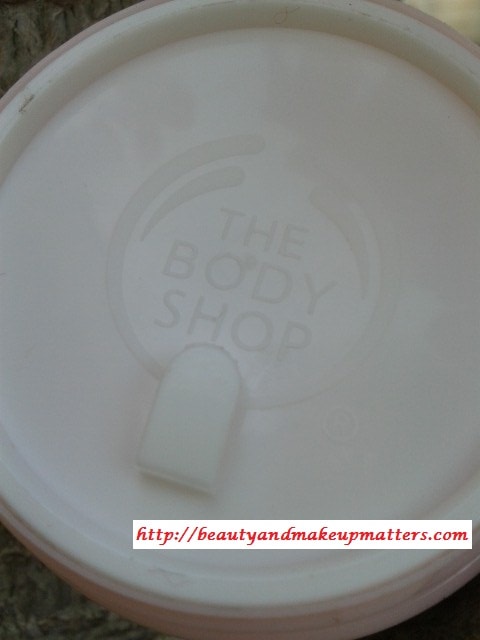 Recommendation:- I'm really liking this The Body Shop Vitamin E Nourishing Night Cream due to its nice, pleasant fragrance and natural ingredients list. It's a thick cream but I love the way it gets absorbed into the skin, so quick. My skin looks nourished and feels super soft with this.

This is going to be my HG night cream for winters when my skin craves for extra moisture and it takes care of it needs well.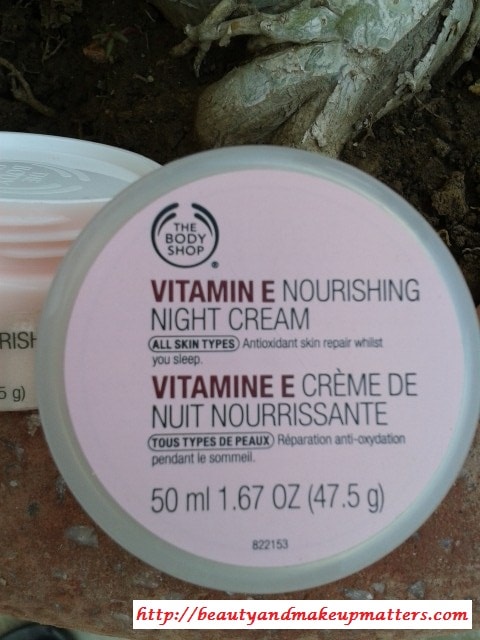 Rating:- 4/5
Have you tried TBS Vitamin E nourishing night cream? Which is your favourite Night Cream?