The Body Shop Vitamin-E Gentle Face Wash Review
Product Claims:  The Body Shop Vitamin E Gentle Facial Wash is a gentle facial wash that lathers on the skin to leave it feeling clean, soft and refreshed.Containing vitamin E, soya oil and wheat germ oil, which provide antioxidant protection and moisture while nourishing and conditioning the skin.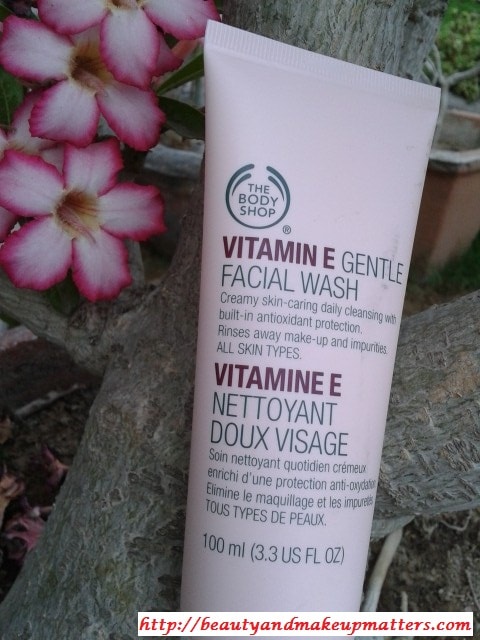 Direction for Use:- Wet the face with clean water. Squeeze a small amount from the tube and rub together between your palms to create lather. Massage onto the face and neck using your fingertips. Rinse off with clean water and pat skin dry.
Ingredients:- Aqua (Water) (Solvent/Diluent), Sodium Laureth Sulfate (Surfactant), Glycerin (Humectant), Cocamidopropyl Betaine (Surfactant), Cocamide DEA (Surfactant), Coco-Glucoside (Surfactant), PEG-40 Hydrogenated Castor Oil (Emulsifier), Phenoxyethanol (Preservative), Sodium Benzoate (Preservative), Citric Acid (pH Adjuster), Carica papaya (Papaya Seed Oil) (Skin Conditioning Agent), Parfum (Fragrance), PEG-55 Propylene Glycol Oleate (Surfactant), Propylene Glycol (Humectant), Limonene (Fragrance Ingredient), Benzophenone-4 (Sunscreen), Hexyl Cinnamal (Fragrance Ingredient), Disodium EDTA (Chelating Agent), Linalool (Fragrance Ingredient), Citronellol (Fragrance Ingredient), Citral (Fragrance Ingredient), Methyl 2-Octynoate (Fragrance Ingredient), Caramel (Colour), CI 15510 (Colour), CI 17200 (Colour).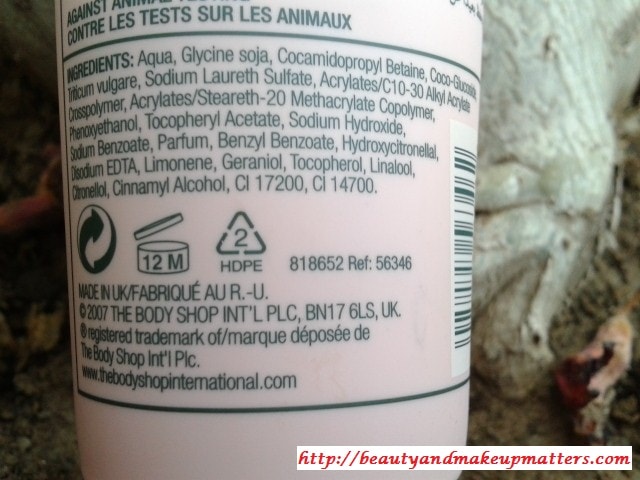 Price:- Rs. 495 for 100ml
Packaging:- The face wash comes in a cute baby pink colored opaque plastic tube with a transparent flip opening. The cap is sturdy and can be carried while travelling without worrying about product spillage. I really like the girlllyyy soft pink color of the tube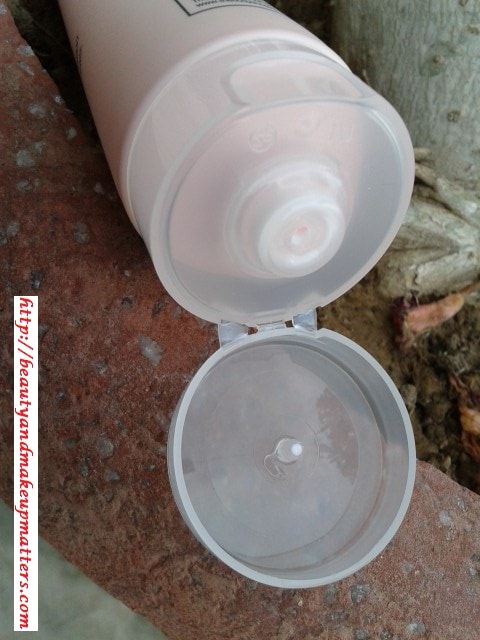 My experience with The Body Shop Vitamin-E Gentle Face Wash:-
The Body Shop Vitamin-E Gentle Face Wash has rich creamy texture which is slightly thick. The color of the face wash is same as the tube yes its baby pink. How cute is that! The fragrance is mild and similar to other products Vitamin-E range. I like its fragrance and find it very pleasing.
It doesn't lather much due to its gentle formula but cleanses up my skin pretty well and also removes the removes the make-up just like any creamy cleanser. I used it to remove my eye make-up too and guess what! it doesn't sting into my eyes that proves that it is mild and can be safely used by sensitive skin too.
Swatches:-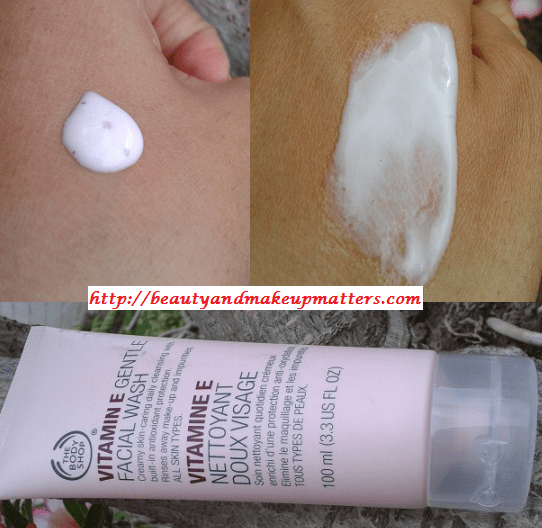 The face wash rinses away easily and leaves my skin feeling fresh and clean without any dry/stretchy feeling. I find it moisturizing for my dry skin and keeps the dry patches that haunt me in winters due to normal foaming face washes. Despite being moisturizing and creamy it is gentle on my skin and doesn't clog my pores or break me out.
I use it along with the TBS Vitamin-E night cream in winters and together they keep dry-patches at bay and moisturize my skin well.
Don't Miss to Checkout: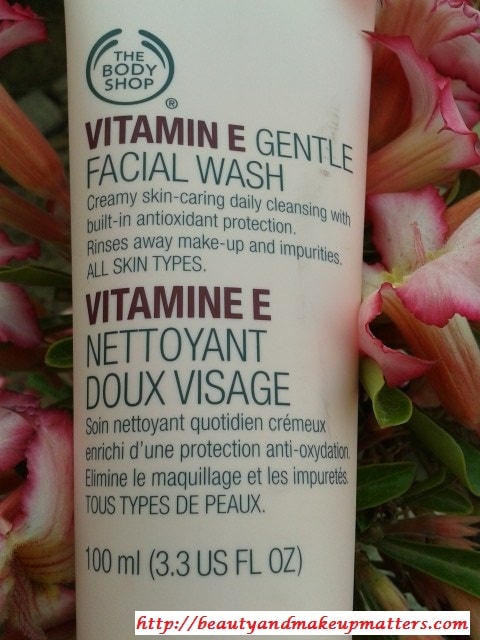 Pros of The Body Shop Vitamin-E Gentle Face Wash:-
Mild pleasant scent
Rich creamy texture
Takes care of my dry skin well and make it soft and smooth. It provides moisture to my skin and it doesn't feel tight or stretchy after the wash.
Sturdy tube type packaging
A little goes a long way as you need a small amount for each wash.
Contains ingredients like Vitamin E, Papaya seed Oil, Castor Oil which are good for skin.
Cleanses face well and also removes makeup so can also be used as a cleanser.
Leaves skin clean and fresh
Gentle formula as it doesn't sting my eyes
Cons of The Body Shop Vitamin-E Gentle Face Wash:-
Slightly expensive
Contains Parabens preservatives
Recommendation:- I am highly satisfied or can I say super-happy with The Body Shop Vitamin-E Gentle Face Wash results and it has become my HG face wash for winters. It is an absolute bessing for dry skinned beauties in winters.

Highly recommended for dry-skin! Oily/combi skin girls might not like the moisturizing part of this face wash but can't say for sure as I have a dry skin and completely bowled-over by this face wash.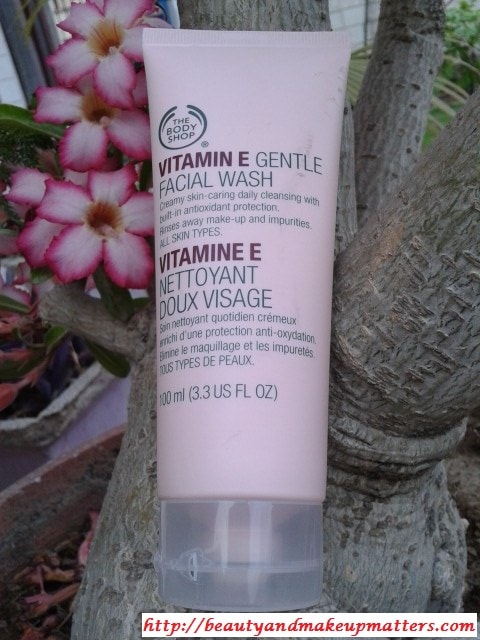 Rating:-4.5 /5
Have you tried The Body Shop Vitamin-E Gentle Face Wash? Which face wash do you use in winters?