The Body Shop – Rain Forest Moisture Shampoo Review
Today I will be reviewing my First "The Body Shop" shampoo which is also a part of my Tiny Birthday Haul. I was slightly confused on which version of Rainforest shampoo to try as I have Oily scalp with dry hair and also has the recurring dandruff issue. So, I asked the SA and he suggested me the Rainforest Moisture Shampoo.
I already own The Body Shop Rainforest Moisture Hair Butter and quite liking it.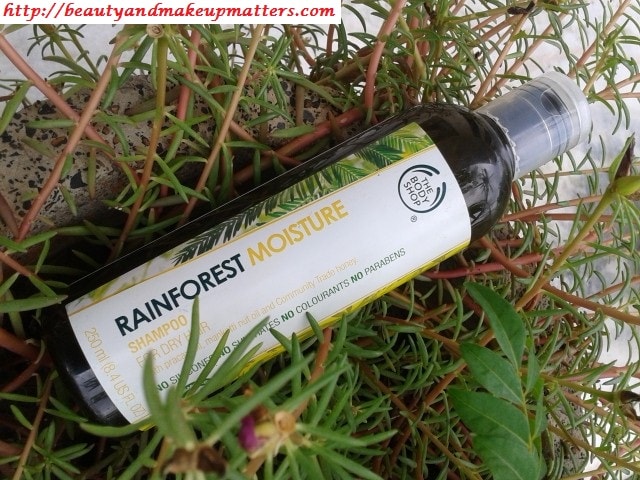 Product Claims: Gently cleanses to help restore moisture and improve the hair's softness without weighing it down, for a smooth and shiny finish.
No silicones, no sulphates, no parabens and no colourants.
Direction for Use:- Mix a small amount in the hands with water to create lather. Massage into the scalp and rinse thoroughly. Follow with Moisture Conditioner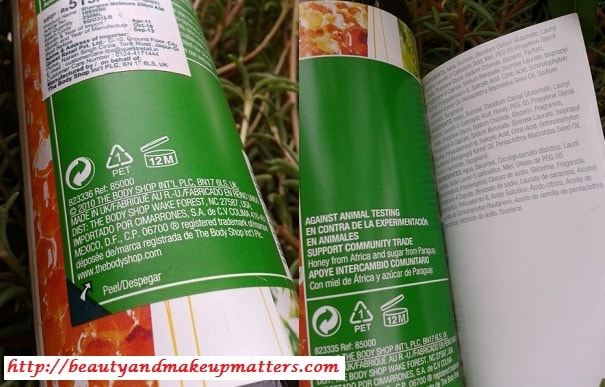 Ingredients:- Aqua, Sucrose, Disodium Cocoyl Glutamate, Lauryl Betaine, Laureth-5 Carboxylic Acid, Mel, PEG-55 Propylene Glycol Oleate, Propylene Glycol, Sodium Chloride, Glycerin, Parfum, Polyglyceryl-4 Caprate, Sodium Benzoate, Sucrose Laurate, Isopropyl Alcohol, Polyquaternium-6, Salicylic Acid, Citric Acid, Schinziophyton Rautanenii Kernel Oil, Pentaclethra Macroloba Seed Oil, Sodium Hydroxide, Tocopherol.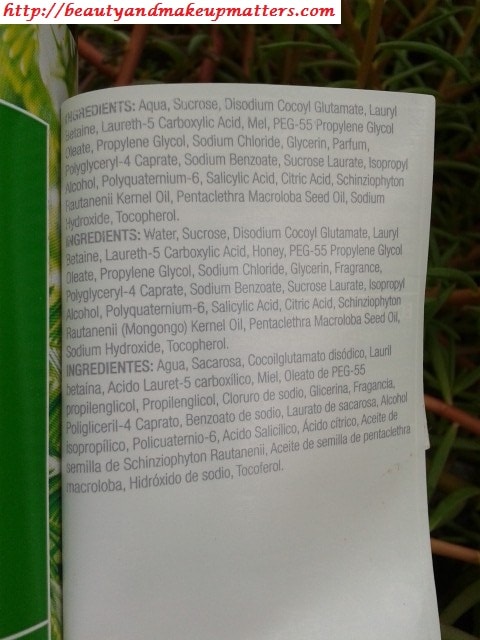 Price:- Rs.515 for 250ml (Also available in bigger 500ml and travel sized 60 ml )
Shelf Life:- 3 years from the Mfg date.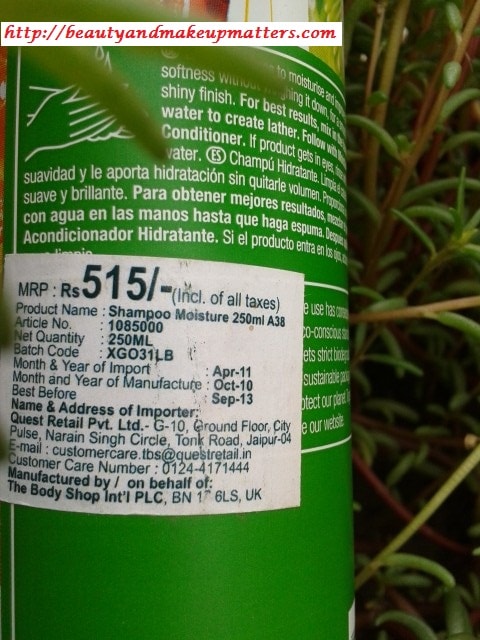 Packaging:- The shampoo comes in a simple cylindrical shaped translucent plastic bottle with a flip-top cap. The cap locks tightly and you can easily carry this shampoo along without worrying about its leakage while travelling.  The packaging is sturdy and hygienic to use.
My experience with The Body Shop Rainforest Moisture Shampoo:-
It is light brown colored liquid with runny consistency. First thing that caught my attention (nose) about this shampoo is its super-awesome fragrance. It has strong herbal smell but that doesn't bother me as it is very pleasing and I absolutely love it.
I used it over my heavily-oiled hair and was pleased to see how effectively it cleansed my hair. Instead of going for a large amount in single application I used the shampoo in small-small quantities multiple times . At first, it didn't have any lather but as the hair starts getting cleaner (with 2-3 applications) the lather began to show up. It also works great when lathered first in a mug with a little amount of water and then poured over the scalp.
It removed all sorts of oil and dirt from scalp giving a squeaky clean feeling but at the same time restores the moisture of my dry hair strands. It brought back the shine to my dry and dull hair strands without weighing them down. Apart from making them softer and shinier it also added a noticeable volume to them. It gave a very natural feel to my hair and made them alive again.
I didn't felt the need of following with a conditioner but if you have extremely dry hair or using it on unoiled hair than use one.
Don't Miss to Checkout:
Swatch:-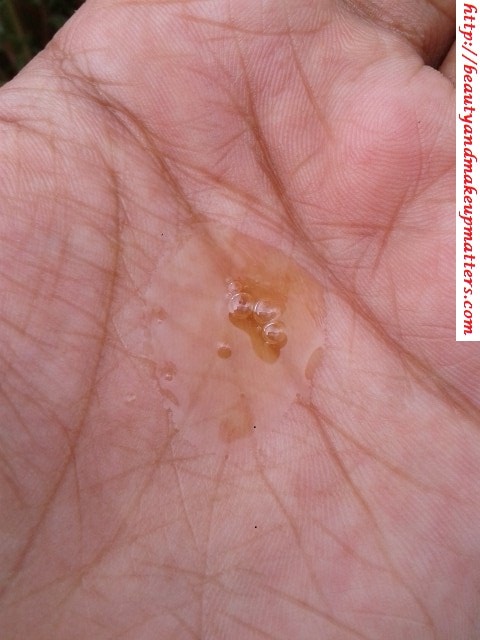 Pros of The Body Shop – Rainforest Moisture Shampoo:-
Free from all sorts of harmful chemicals like Silicons, Paraens, Sulphates, colorants
Refreshing herbal fragrance
Lathers well with water
Removes Oil and dirt without making hair dry
Rinses off easily
Gives a lustrous shine to hair
Hair feel super light and soft
Adds a little ounce to my limp hair
Cons of The Body Shop – Rainforest Moisture Shampoo:-
Little pricey.
Couldn't keep the oil at bay for more than 3 days
Doesn't work for dandruff .. uufffff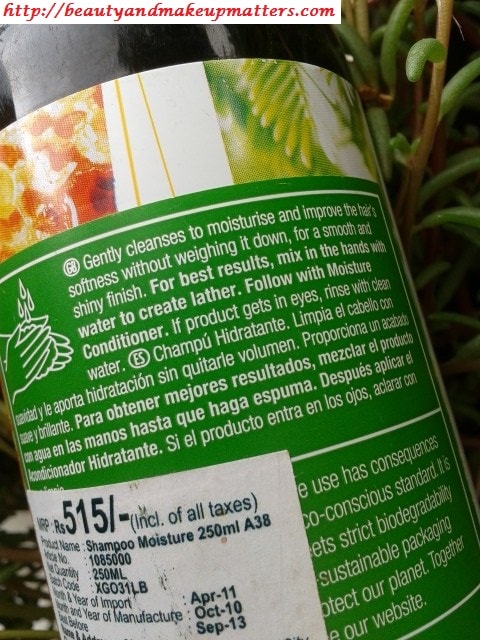 Recommendation:- The Body Shop – Rain Forest Moisture Shampoo is working great on improving the texture of my hair and making them softer and healthier with each wash. It gently cleanses away all the oil and dirt from scalp. It also retains the moisture of my hair and gave them a smoother and shinier look without weighing them down. I totally love its herbal fragrance which lingers on for few hours.

I was looking for an alternative of my regular silicon based shampoos and I am glad that it worked for me so well. It is a wonderful shampoo and will be getting its conditioner pretty soon. Till then Stay tuned!
Rating:- 4.2/5
Have you tried The body Shop – Rain Forest Moisture Shampoo? Which is your favorite product from the Rain Forest Moisture range?