The Body Shop Organic Cotton Rounds Review
We pay so much attention while picking makeup stuff and choose the best of foundation/lipstick/liner but disregard when it comes to removal. Till date, I have been using the normal cotton rounds available in the market and one day when I was out of cotton rounds I got a packet in emergency which turned out to be of the worst quality and had grittiness which hurt eyes during removal. I can't survive even a single day without these removal pads and have to have them in my vanity (Thanks to my love for makeup) but since my bad experience I was on the lookout for quality one's. So, today I am going to review The Body Shop organic Cotton Rounds, which are claimed to be one of the best around!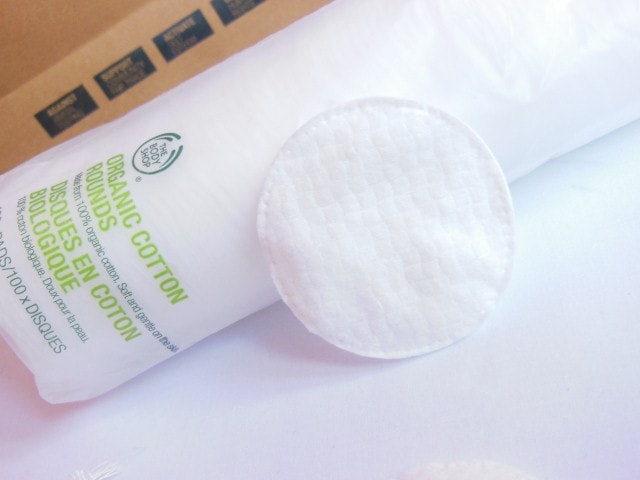 Product Claims: Soft and absorbent cotton pads made from 100% organic cotton, with two different non-fluff surfaces for your everyday beauty needs
Price:- Rs.295 for 100 rounds
Packaging: The cotton rounds come in a pack of 100 which all are tightly bundled in a see through plastic bag which is easy to carry around and can be kept in the same bad to avoid catching dirt and dust.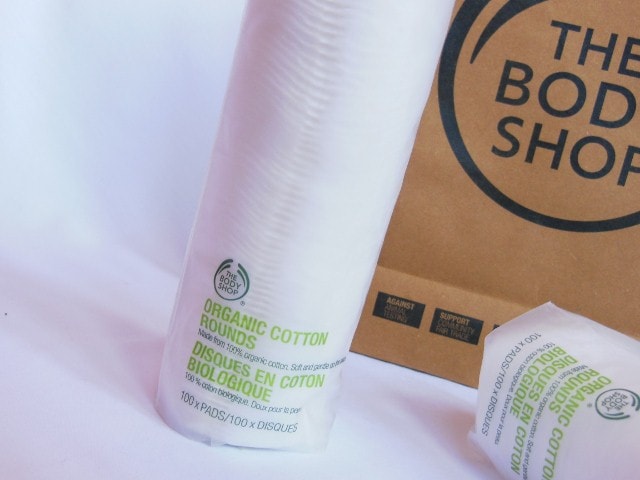 My experience with The Body Shop Organic Cotton Rounds:-
These are double sided cotton rounds with one soft textured surface and other one even smoother. The Body Shop Organic Cotton Rounds are thicker than the usual cotton rounds and cotton is nicely weaved so that it doesn't break in the process of makeup removal even after 2-3 swipes. Also, while using one side for removing makeup the other side stays pretty much clean which can be used for residual clean up. A single round is enough to take off all the makeup including lips, eyes and face and I don't have to pick another cotton round for the same.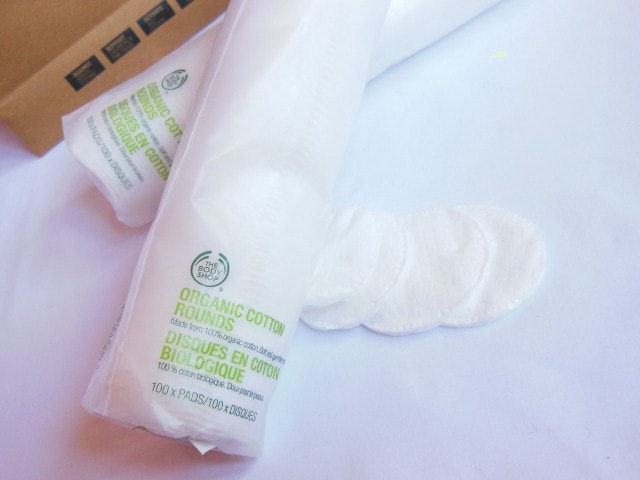 I had to use 2-3 rounds depending on the layers of eye and face makeup I had on but with The Body Shop cotton rounds, one is more than enough. The smoother side works great for eye makeup removal as it feel gentle across the under eye area, the textured surface is apt for facial makeup removal but frankly speaking I don't find much difference between the two and both the sides are soft enough for delicate under eye area.
These are made up of organic material which is safe to be used on eyes or sensitive skin. The quality speaks for itself as they are super soft to touch and efficiently remove makeup without breaking or collapsing in between.
These can be used for Eyes , Lip and facial makeup removal or even applying toners as well (I prefer using fingers and patting directly onto skin)
Pros of The Body Shop Organic Cotton Rounds:
Extremely soft texture
Made from 100% organic cotton
Efficiently removes makeup
Doent break during removal
Thicker than the usual cotton rounds
Best for delicate under eye area
One round is enough to take off all the layers of makeup
Both sides can be used
Pack of 100 and would last 2-3 months
Cons of The Body Shop Organic Cotton Rounds:
Expensive
Recommendation: The Body Shop Organic Cotton Rounds are extremely gentle on skin and have a soft non-scratchy texture which is suitable for delicate under eye area. These are little heavy on pocket so I am planning to use them only for eyes and look for affordable ones for lips and face. Other than makeup removal they can also be used for cleansing and applying toner. Cannot do without them even a single day, so got one as a back too and I think they both will last me 3 -4 months easily. I highly recommend you try these as it is very important to use the right tools for makeup as well as to remove makeup.

May be I will trey the Sephora Makeup Remover rounds next!
Rating:- 4.8/5
Have You tried TBS Organic Cotton Rounds? Which cotton swabs you use for makeup removal?