The Body Shop Nail Polishing Block Review
99.9%of girls would definitely be paying a visit to parlours at least once in an year but its been 2 years that I have been to any than just once for hair cut. No threading, waxing, facial or mani/pedi, disadvantage of having the ability and skills to do all the things by yourself. Sometimes, I do feel proud of saving bucks but I really miss the pampering session when someone else is taking care of you and you can just relax. I am quite regular with facial things as I love to keep my facial skin in the best of it but my hands/feet are a terrible mess. So, finally got something to make them happy and pamper them at home, tough its just the nails this time :),  The Body Shop Nail Polishing Block.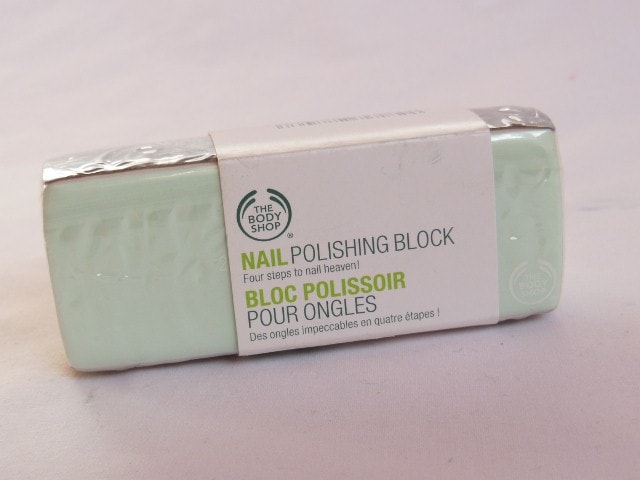 Product Claims: This four-sided nail block files, smoothes ridges, buffs and polishes.
Dark grey side files
White side smoothes away ridges
Black side buffs
Pale grey side adds a natural-looking sheen
Direction for Use:- Use each side of the numbered block to shape, smooth and polish nails. 
Price:- Rs. 250
My experience with The Body Shop Nail Polishing Block Review:-
Nail Polishing Block is a rectangular shaped block with each side covered with a polishing surface so in all it constitutes 4 surfaces with slightly different gritty textures to help you reinvent you dull nails.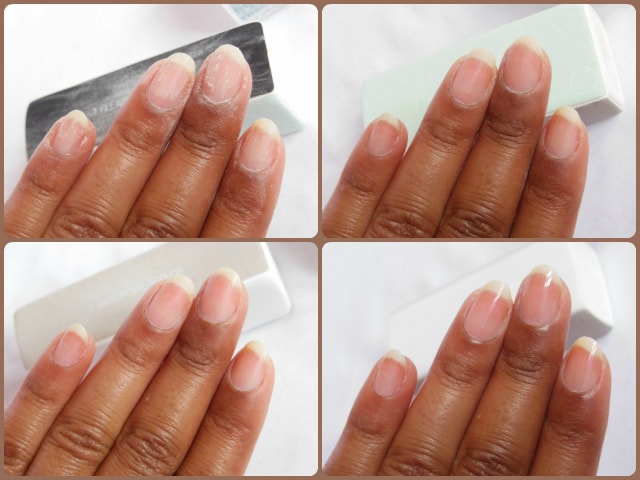 File Nail Edge/ Limer: It is a soft sand paper type surface which is gritty enough the file the surface but I find a little delicate to used to file nail edges or may be I am a little apprehensive about that fearing that it will tear the surface. So, I will be using it for nail surface only. Rub it over the nails and it will gently buff away the dead/yellow upper layer
Remove Ridges/ Lisser: This one is smoother than the first and removes buffed residue while smoothening out the unevenness and reducing yellowness. When used for shaping nails it removed ridges quite well too.
Smooth Nail/ Adoucir – This is first step towards polishing as it prepares nails for next step. The nails look visibly cleaner, smoother and healthier by this step.
Shine Nail/ Faire Briller: This is my favorite part of nail polishing session. The surface is utterly smooth and within few rubs it adds glossy shine to nails. I was awestruck with the results, wasn't expecting this much from it.!
The block is extremely light-weight and easy to hold and its shapes gives more control than those slim emery boards or nail filers. It can be used anytime anywhere.. on your way to office or some event, takes not more than10 minutes and you are done with both of your hand nails.
The smoother surface doesn't only look good on its own but it also eased up the nail paint application and the brush actually slipped over the surface. My nails looked like they have been coated with transparent nail paint after a manicure session, though it was just this polishing block. They looked brand new with the smoother surface, glossy finish and healthier appearance, they were never better than this.
Don't Miss to Checkout:
Pros of The Body Shop Nail Polishing Block:-
Multi-purpose block which files, buffs and polishes nails.
Convenient to use and travel with
Make nail's surface super-smooth
Impart a highly glossy shine to nails
Works better than a transparent nail paint as it adds natural shine
Reduces yellowness and minor nail polish stains 7 Maybelline Coloroma Nail Paints
Healthy shine lasts more than a week
Nails are resistant to stains and stay healthier
Eases up the nail paint application
Value for money
Cons of The Body Shop Nail Polishing Block Review:-
The emery surface gets blocked with nail powder which needs to be cleaned frequently
Being a block it is not able to completely cover hard to reach areas like edges and the bottom
Recommendation:- The Body Shop Nail Polishing Block is a magical block which has completely transformed my dull unhealthy nails to glossier healthy ones in few minutes. This tiny little block has outperformed my expectations and has worked excellently on me, the difference between raw and polished nail's Is significant . If you don't feel like investing hours in extensive manicure/ pedicure this can be an instant solution to your worries and you don't have to fiddle with multiple tools to maintain nails. It is a must have for me, my favorite purchase from The Body Shop. Highly Recommended!
TIPS:
I would recommend its usage to be limited to 2-3 times a month else it may thin down the nails
The surfaces might wear-off sooner than metallic filers as after all it is made of paper only
Water may spoil the block so use it over dry hands only
Keep nails off the surface as in don't dig them on the polishing block or it will develop cracks and might wear-out soon
Rating:- 4.8/5
Have you tried The Body Shop Nail Polishing Block? Do you use any other nail buffer or tool to polish your nails?