The Body Shop Exfoliating Bath Gloves Review
I was not very happy with The Body Shop for selling expired stuff (Blogged Here) in their sales and will definitely restrict myself form buying makeup and skin care during sales but there are few thing that are not effected by expiration , like these Exfoliating bath Gloves. I use a scrubber daily, normally a bath lily to buff dead skin cells from the top layer of my skin but still there were few areas that were not easily accessible and when I came across this invention, I was dying to lay/put my hand in these as they claim to be made of organic material. So, lets checkout how these The Body Shop Exfoliating Bath Gloves performed on me.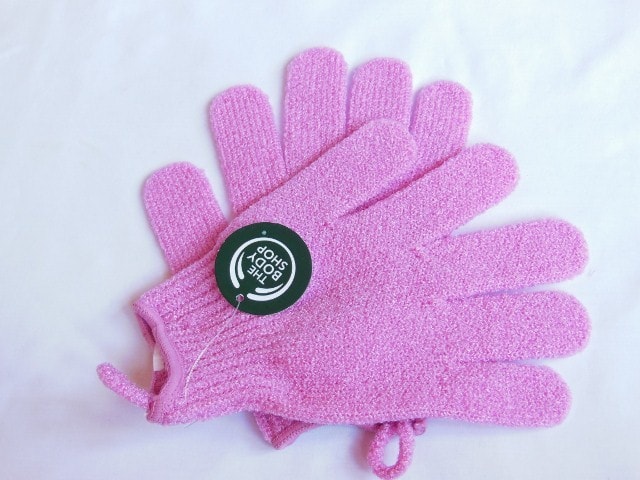 Product Claims: These bath gloves increase the lather of your body wash and whisk away dead skin cells.
• Remove dead skin cells
• Increase the lather of your body wash
• Leave skin feeling softer and smoother
Directions for Use: Pour a small amount of body wash onto the glove and rub over the body in circular movements. Use two to three times a week. 
Price: Rs. 395
My experience with The Body Shop Exfoliating Bath Gloves:
The gloves are made up of good quality organic fibre that does the job of scrubbing efficiently and at the same time feels gentle on skin. They may feel a little harsh on skin when dry so I soak then water before putting them in action. The gloves not only works for buffing dead skin cells but also help in forming lather.
I found these two ways to use them:
Pour shower gel in hands and spread all over the body. Then wear these gloves and start exfoliating. This is my proffered way as with small amount of shower gel I get good lather and also the shower gel lathers up fast.
Wear gloves in my hands then pour shower gel and starts spreading it all over the body. I have to pour more than the usual amount and it tackles more time to lather up.
They are gentle enough to be used on face as well but with soft strokes only. Though, I am not into exfoliating my facial skin daily as I have dry skin but it can be great for oily skinned girls in summers who suffer from pore blocking issues due to super-oily skin glands.
If I have just 3 minutes (or even less) to take a shower, I don't have time to put these on so I might skip my exfoliation session but otherwise I will never-ever skip this on the go scrubbing session.
I am super happy with these gloves and now I cant think going back to loofah or bath lily for that matter. Already have one for back up.!
Don't Miss to Checkout
Pros of The Body Shop Exfoliating Bath Gloves:
Made up of organic material
Doesn't feel harsh against delicate skin areas like face, arms
Can be worn in hands to scrub hard to reach areas like upper back
Has gentle exfoliation action
Help in Lathering shower gels too
Available in pretty shades of pinks, Blues and lilac
Cons of The Body Shop Exfoliating Bath Gloves:
Slightly expensive
Recommendation: The Body Shop Exfoliating Bath Gloves is one of the best ever invention in the history of bathing products. I used to figure out ways to reach areas like middle of back to buff away the dead skin cells but this seems to do the job like a breeze. Instead of carrying a loofah, I have armed myself with one. If you like to exfoliate skin on a daily basis or have sensitive skin who can't bear abrasive material like pumice stones, must try this out, lets dress up our hands with these grumpy gloves. Highly Recommended!
Rating: 5/5
Have you tried The Body Shop Exfoliating Bath Gloves? Do you scrub/exfoliate daily?