The Body Shop Candid Ginger Body Butter Review
My skin loves body butters and its hooked to them like nobody else in winters. I have to keep my skin drenched in nourishing body butters to keep it calm smooth and moisturized. So, here is review of another Body Butter from my collection, The Body Shop Body Butter in Candid Ginger.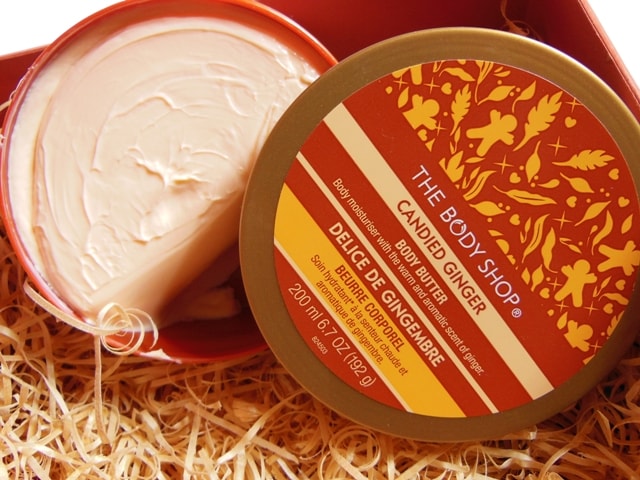 Product Claims: This rich and creamy Body Butter is a feast for the skin. It melts straight in to leave skin feeling soft and smooth. It contains Community Fair Trade shea butter and has a delicate white floral scent.
24-hour hydration
Great for normal to dry skin
White floral scent
Direction for Use:- Massage into skin. Be generous! It works even better straight after a bath or shower
Price:- $14 for 200ml
Packaging:- The body butter comes in signature The Body Shop round tub with burnt orange colored base and golden brown Lid.  The twist off top is convenient to use just the tub packaging isn't hygienic but I have no qualms over it!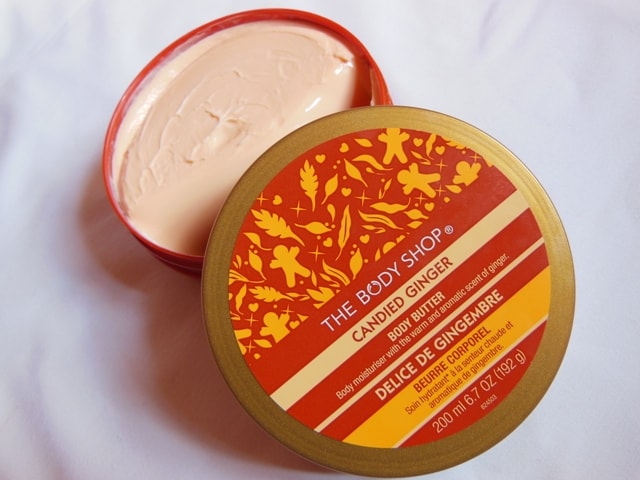 You might also like to Read: The Body Shop Strawberry Body Butter
My experience with The Body Shop Candid Ginger Body Butter:-
Candid Ginger is a peachy orange colored butter with a silky smooth texture. The body butter has the true buttery texture which melts with the slightest touch and makes it easy to apply all over the body. It has a rich creamy consistency but doesn't feel heavy or greasy at all. It doesn't take long to sink into the skin and with few massage strokes gets absorbed completely. It is deeply nourishing to my dry skin and leaves it ultra smooth and silky soft to touch.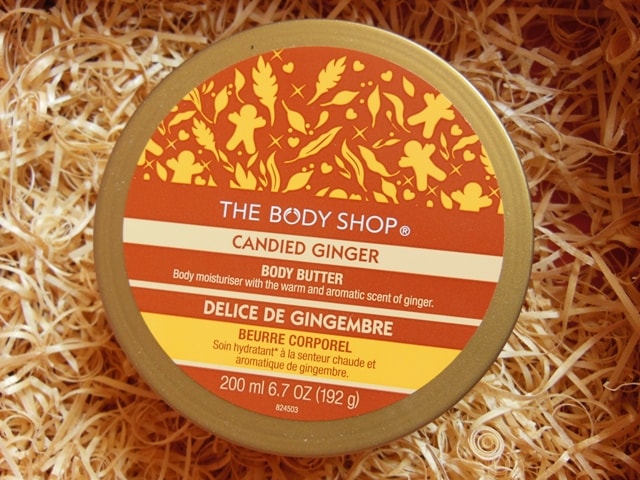 The best part is the body butter gives natural nourishment as it contains all the good ingredients like Shea Butter, Cocoa Butter, Ginger Oil, Soyabean Oil, Sesame Seed Glycerin and with all this nature's goodness, the formula isn't adulterated with cheap ingredients like Mineral Oil and Parabens J
The only thing that I disliked in this body butter is its gingerly fragrance. Though it is mild and not overwhelming but I am not fan of this sweet-ginger fragrance. If you love ginger smell than you'll like it a lot as the fragrance lingers on for long and I could sniff it even hours post application.
It is Limited Edition Body Butter so may not be available now.
You might also like to Read: The Body Shop Moringa Body Butter
Pros of The Body Shop Candid Ginger Body Butter:-
Smooth buttery texture
Easy application
Gets absorbed quickly
Extremely moisturizing
Keeps skin smooth and hydrated for long
Doesn't feel heavy or oily
Loaded with natural moisturizers Shea Butter, Glycerin, Soyabean Oil, Cocoa Butter and Ginger Oil
Doesn't require re-application
Cruelty Free
Couldn't spot any Parabens in the ingredients list
Cons of The Body Shop Candid Ginger Body Butter:-
Bit pricey but can be bought under offer.
Fragrance may not be liked by everyone
Tub packaging is unhygienic to use but what else we could use for Body Butters 😛
Limited Edition
Recommendation:- The Body Shop candid Ginger Body Butter is a beautiful peach colored butter with a rich creamy-buttery texture that melts into the skin and get absorbed really quick leaving behind utterly smooth, nourished skin without any greasy or oily feel. Candid Ginger has a long lasting fragrance, if you like smell of ginger you will love this but its not one of my favorite scents. The Body Shop Body Butters are a blessing for super-dry skin like me in winters, and I love the way they feels on me.  The Body Shop Chocomania Body butter is next on my list.. what say!!
Rating:- 4/5
Have you tried The Body Shop candid Ginger Body Butter? Which is your favorite The Body Shop Body Butter?