The Body Shop Blueberry Shower Gel Review, Swatch
I am never tempted to limited editions.. okk I do but the moment I decide on buying the stuff it goes out of stock.. 😛 . But this time I made it on time and grabbed this newly launched Blueberry Range from The Body Shop. I have already reviewed Blueberry Lip butter and today I am going to share my experience with The Body Shop Blueberry Shower Gel.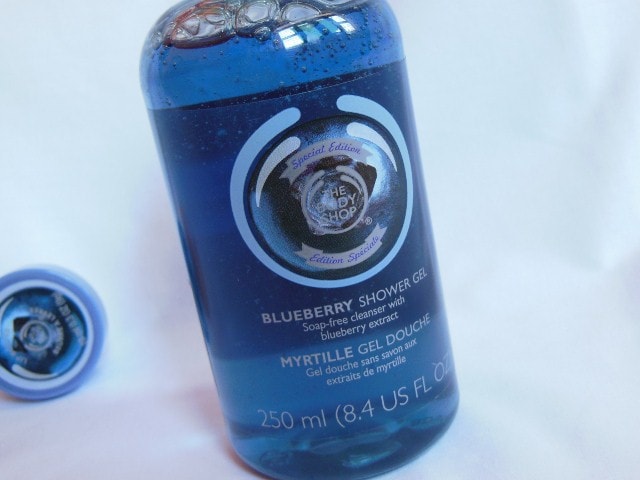 Product Claims: This soap-free shower gel envelops skin in an uplifting fruity scent. It contains Community Fair Trade honey from Ethiopia and bouncy blueberry fruit extract. Soap-free
Lather-rich
Uplifting blueberry scent
Price:- Rs.425 for 250ml
Shelf Life:- 3 years from the Mfg date.
Packaging:- The shower gel comes in a typical The Body Shop packaging, chubby cylindrical transparent plastic bottle with flip top cap which shuts tightly and leaves no space for leakage.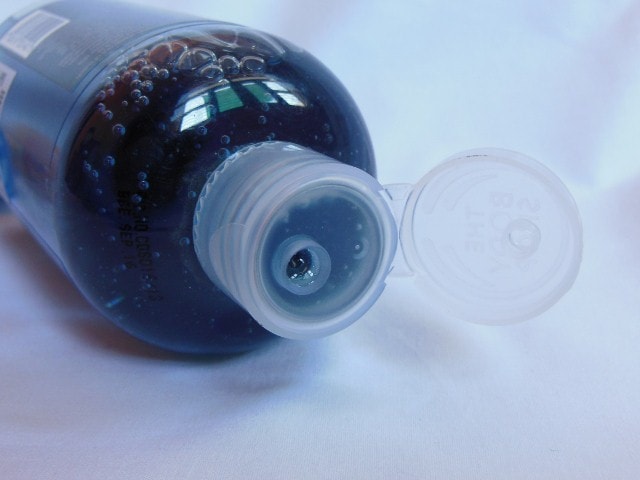 My experience with The Body Shop Blueberry Shower Gel:-
The Body Shop Blueberry Shower Gel is a deep blackish blue color shower gel liquid with a thing consistency similar to any other The Body Shop Shower Gel. The intriguing blue color took the place of all the pretty pinks and Orange colored shower gels ruling my bathroom shelf.
When poured the liquid on palms I experiences a fragrance burst like I have mashed ripen blueberries in my hands and applying them all over my body. The shower gel has a rich fruity fragrance which uplifts my senses. The fragrance is strong but it smells just like natural blueberries and doesn't have artificial sweetness rather there is a tangy twist which makes me love it even more.
The fragrance however doesn't last long on me and within few minutes post-shower it is gone though I can smell it in my bathroom for around an hour. It has a soap free formula which gives a decent lather with a loofah and cleanses skin gently. The formula doesn't dry out my skin and I can easily skip on the moisturizer in summers.
It makes a good refreshing body wash for summers and all of you will surely enjoy its natural fruity fragrance in these sweaty summers.
Pros of The Body Shop Blueberry Shower Gel:-
Delicious Blueberry scent
Lathers well with a sponge
Cleanses skin gently
Rinses quickly
Moderately hydrating
Leaves skin feeling fresh
Soap free shower Gel
Cons of The Body Shop Blueberry Shower Gel:-
Fragrance doesn't linger on for long
Special Edition so it is priced higher than the rest of shower gels
Recommendation:- The Body Shop Blueberry Shower Gel has a mild, non –drying formula which cleanses effectively and has a strong blueberry scent for uplifting senses. It is unusual for me to like fruity scents but it smells absolutely delicious just like fresh blueberries.. I am loving it!! Wish the fragrance had lasted a little longer on me. The only other down point I see here is that this Blueberry range being a limited edition it is definitely priced higher than the rest.

I was happy in my soaps world when The Body Shop shower gel made a silent entry and conquered my world. I never knew I will fell for The Body Shop shower gels so much.
Rating:- 4/5
Have you tried The Body Shop Blueberry Shower Gel? Which is your favorite fragrance in shower gels?