The Beauty Resolutions: January Fab Bag 2016
Hello Dolls,
I have been waiting eagerly to get my hands on the first fab bag of 2016 because you know Fab Bag surprise me every month with their awesome product selection and with each passing month I am more and more excited to receive my next fab bag. So, ladies and gentleman put your hands together for this gorgeous January Fab Bag 2016. The bag is of great quality and has makeup imprints.. it couldn't have been better than this for a makeup addict like me, hands down my favorite fab bag till date 😀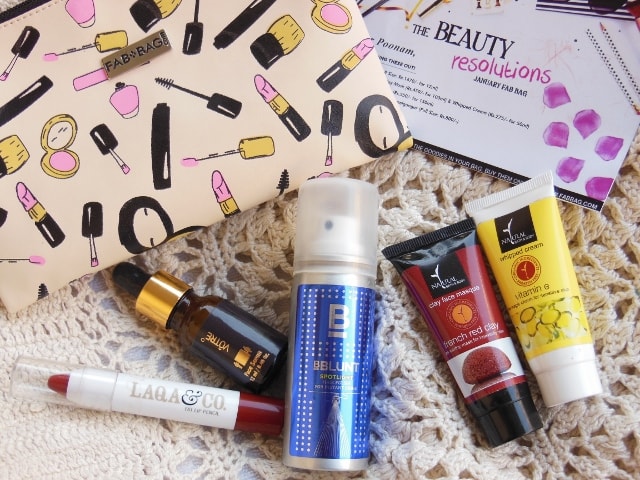 Products in Januray Fab Bag 2016:
Votre Face Serum: Rs 1670 for 12 ml (Full Size)
Laqa & Co. Fat Lip Pencil –Siren Song: Rs.800 (Full size)
BBlunt Spotlight Hair Polish: Rs 550/150ml (30ml Sample)
Natural Bath & Body- Clay Mask: Rs 450 for 100 gms  ( 20gm Sample)
Natural Bath & Body- Whipped Cream: Rs 275 or 50ml ( 15 ml Sample)
I have tried some of the Votre skincare products in the past and have been quite impressed with their quality and performance on my skin. Though, they had Votre stuff in their bags in the past but this time they made it big by including a full sized facial serum from the brand, Votre Face Serum.. I mean are you kidding me.. the serum price is almost 3 times the price of the bag 😀 and who doesn't love serums.. I am addicted to serums and this is definitely going into my skincare regime.
Let's talk about another full sized product from makeup category, the Laqa & Co. Fat Lip Pencil –Siren Song. I have never heard of this brand so thank you Fabbag for introducing me to this. I am obsessed with lip crayons and getting another one in my fabbag makes me happier. The best thing about this lip crayon is that it has a retractable packaging.. Yayy!! I am love with this shade as well, Siren Song is a deep burnt orange shade with slight red undertones and looks gorgeous on my warm skintone.
Next product in the bag is a travel sized sample from BBlunt, BBlunt Spotlight Hair Polish. I have tried BBlunt Leave in Serum and it does a pretty good job on me. So, I am quite excited to try this one and give some intant shine to my dry hay 😉
Lastly, we have these two deluxe sized samples from Natural Bath & Body, the Natural Bath & Body- Clay Mask and Natural Bath & Body- Whipped Cream. Both looks good to me and I am definitely going to use them up because they and will share my mini review on these with you.
Yayyy.. again we got 5 products in January Fab Bag with 2 full sized products from both skincare and makeup and some more samples to pamper me this month. The fab bag is worth around Rs.2600 which is just awesome!!
Have you tried any of these products? Which one is your favorite here?
PS: Bag sent by brand for consideration