TBC by Nature Roselove Hydrating Toner Review
Hello Everyone,
I love toners and face mists as they are a quick and easy way to hydrate skin without feeling heavy or sticky in summers. Out of all types, Rose Toners/ Rose Water are my favorite as they have a beautiful scent and have light weight hydrating formula which is perfect for dry skin. Lets see of this, TBC by Nature Roselove Hydrating Toner qualified to be a good toner on these terms.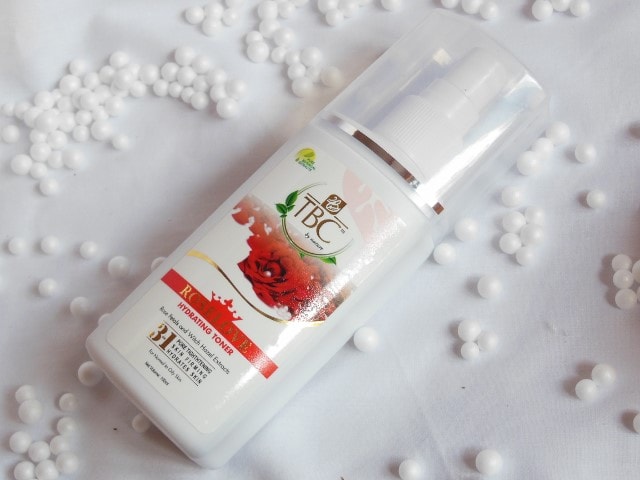 Product Claims: This hydrating toner contains herbal ingredients to feed your skin with powerful botanicals and hydrating nutrients. The presence of rose extracts and lavender gives moisture to the skin leaving you with a radiant glow skin along with   tightening pores. By combining this precious essential oil also together with a proprietary blend of bioactive natural and organic ingredients including Rose Water, Witch Hazel and Aloe Vera we have created a gentle purifying and stimulating toner that leaves the skin surface naturally hydrated and balanced whilst, refreshing and uplifting the senses.
Pore Tightening
Calming & Soothing
Remove Impurities
Radiant Glow
Direction for Use:- Apply to cotton wool and wipe gently in upward movements over skin morning and night. For best results, use cleansing milk before and follow with a moisturiser.
Price:- Rs. 135 for 100ml
Shelf Life:- 3 years from the Mfg date.
Packaging:- TBC by Nature Roselove Hydrating Toner comes in white colored plastic bottle packaging with a spray pump to dispense the product and a see through plastic cap to avoid contamination.
My experience with TBC by Nature Roselove Hydrating Toner:-
TBC by Nature Roselove Hydrating Toner is clear liquid with watery consistency. I use few sprays of it all over my face and it doesn't feel heavy or sticky at all. It gets absorbed pretty quickly leaving behind hydrated and smoother looking skin. But the thing that bothers me a lott is its strong artificial rose fragrance which is overwhelming and takes quite long to fade off.
Also, I was expecting it to be "Pure Rose water" or distilled rose water but was disappointed to see alcohol in the ingredients list. I do not prefer alcohol based toners as they can be drying for my already dry skin but this is not the case with this toner as it feels quite hydrating.
The toner did a good job to freshen up my skin instantly without making it sticky or greasy but I was expecting less chemicals in the ingredients and a much lighter and soothing fragrance.
In terms of pore tightening and skin firming, I did not experience see any visible difference (in 2-3 weeks of usage) and might have to use it for longer duration to comment on it.
Don't Miss to Checkout:
Pros of TBC by Nature Roselove Hydrating Toner:-
Hydrating Formula
Doesn't feel heavy or greasy
Gets absorbed quickly
Skin looks fresh and plump
Not tested on animals
Easy to use packaging
Cons of TBC by Nature Roselove Hydrating Toner:-
Strong artifical rose fragrance
Contains Alcohol
Not a pure Rose water
Recommendation:- TBC by Nature Roselove Hydrating Toner is an alcohol based toner with a light weight formula which gets absorbed quickly and hydrates skin. It doesn't feel sticky or greasy and works nicely on my dry skin but it has a super strong artificial rose fragrance and an alcohol based formula which I didn't like. If you are okay with alcohol based toners and looking for an affordable option, this could be given a try
Rating:- 2.5/5
Have you tried TBC by Nature Roselove Hydrating Toner? Do you prefer Alcohol-free toners?
PS: Product provided by brand for consideration