TBC by Nature D-Tan Tomato Face Pack Review, Swatch
Hello Everyone,
Today I will sharing my experience with another product from the TBC by Nature D-Tan range and that is the, TBC by Nature D-Tan Tomato Face Pack.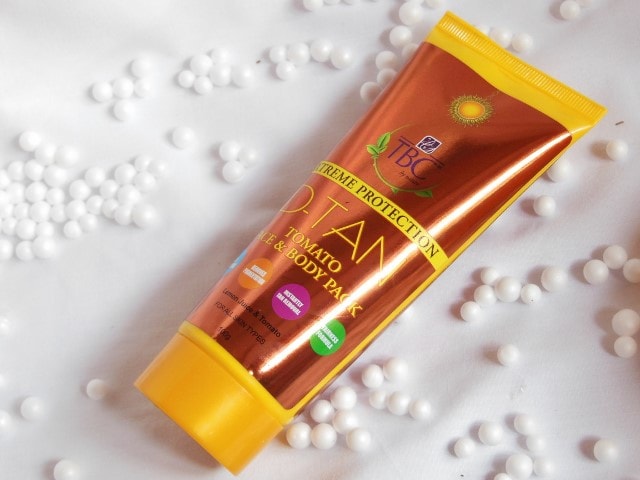 Product Claims: The presence of fuller's earth in this face pack helps to reverse after effects of sun damage on your skin its cooling, healing and nourishing properties soothe damaged skin and maintains skin elasticity. This special face pack uses hydrated herbs to protect skin from tanning, remove discoloration caused due to exposure to sun rays and other polluting agents. The therapeutic properties of herbs helps to clarify the skin and bring glow and sheen to it.
Direction for Use:- Apply a fine layer on the skin avoiding the eyes. When the pack dries, wash off gently for soft, glowing skin.
Price:- Rs.195 for 100gms
Shelf Life:- 3 years from the Mfg date.
Packaging:- TBC by Nature D-Tan Tomato Face Pack comes in a plastic squeeze tube type packaging with a screw cap. There is small opening which dispenses only the right amount of product. It is hygienic and convenient to use and carry along.
My experience with TBC by Nature D-Tan Tomato Face Pack:-
TBC by Nature D-Tan Tomato Face Pack is a light brown colored creamy face pack with medium-thin consistency which spreads with super ease. I have used Lotus Herbals Face packs in the past but they had a thicker consistency which required quite a lot of effort to spread and apply. I apply a thin layer of the pack but you can go for a thicker one as well depending on your preference.
I felt a strong itching sensation as the pack started to dry on the skin. I have experienced this with other ready made face packs as well but if you do have a sensitive skin, stay away. The pack took 15-20 min to dry down completely and didn't feel super-stretchy. When rinsed with water it turns creamy again and I give myself a little massage before washing it off. The pack is not drying and leaves skin slightly hydrated. My skin appeared brighter and softer instantly. The results lasts a day or two but it will help in reducing tan if used regularly.
On the downside, this D-Tan Tomato Face Pack has a soapy fragrance which takes some time to fade away. Though, it is termed as a Tomato face pack but in the ingredients list tomato is mentioned only towards the end.
These ready made surely couldn't match the results provided by a natural/home made face packs but on those lazy days when you are not in a mood to prepare one this would come handy. Also, during travels when one can't carry all the ingredients this ready-made face pack will save the face.
Don't Miss to Checkout:
Pros of TBC by Nature D-Tan Tomato Face Pack:-
Smooth creamy texture
Spreads nicely
Small amount is required for each application
Skin feels firm and smooth
Doesn't dry out the skin
Contains Kaolin and other natural oils
Easy to use packaging
Affordably priced
Cons of TBC by Nature D-Tan Tomato Face Pack:-
Strong burning sensation while it dries down
Tomato is last in the ingredients list
Soapy fragrance
Contains Parabens
Recommendation:- TBC by Nature D-Tan Tomato Face Pack is a ready-to-use creamy face pack with a thin texture that spreads easily. It has a not so nice soapy fragrance which is on the stronger side and also gives a strong burning sensation as its starts drying. It dries down in 15-20 min without getting stretchy and rinses off easily leaving behind a glowing skin. Skin feels softer, smoother and brighter instantly. The results lasts a day or two and the pack should be applied 2-3 times a week to see some visible reduction in tanning. Overall, it is a decent face pack if you are looking for an affordable ready to use d-tanning face pack.
Rating:- 3.5/5
Have you tried TBC by Nature D-Tan Tomato Face Pack? Do you prefere ready-to-use or homemade face packs?
PS: Product provided by brand for consideration