Sunsilk Natural Recharge Shampoo Review
Hello Peeps,
There are only few girls in this world who are blessed with naturally silky smooth hair.. I always wonder what is in their genes that they have such drool worthy hair texture.. 😛 :P. If you are one of those then ignore this post but if you belong to other side of the world where majority of us crib about lifeless dull, rough, unruly hair and always on the looks out for something that can magically transform our hair than do read. There are numerous shampoos, conditioners, hair packs and so and so which claims to do provide us with silky smooth hair but most of the drugstores have failed to deliver and in the name of smooth we were left with limp or extra frizzy hair in some cases..,(some luxury ones work excellently like L'Occitane but will burn a hole in the pocket). But The sunsilk has worked on this revolutionary formula and has come come up with . "Sunsilk Natural Recharge Shampoo". So let's read on if it successfully delivered the claims or not.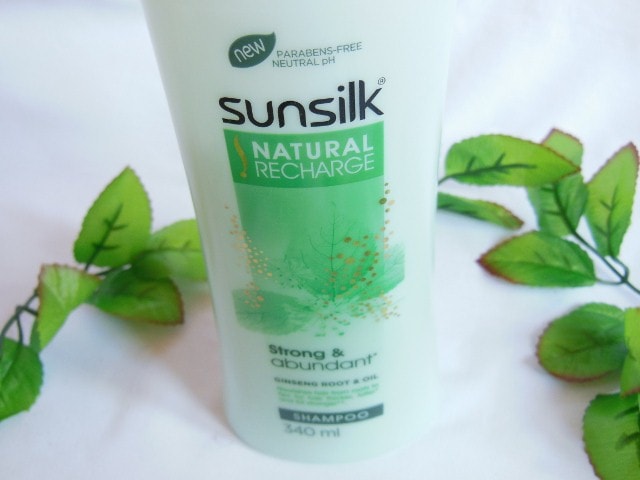 Product Claims: Nourishes hair from roots to tips for thicker hair, fuller and 5 times stronger. Infused with Ginseng root oil, this shampoo recharges the natural vitality of your hair and enhances volume.
Ingredients: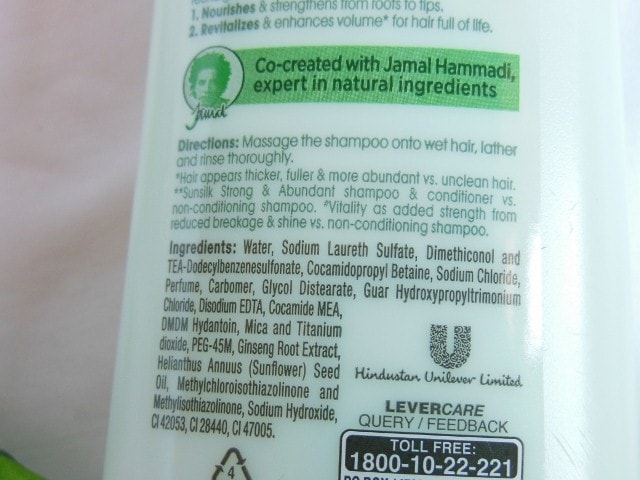 Price : Rs 219  for 340ml
Packaging: The shampoo comes in a long plastic bottle with a flip top cap. The bottle concaves on the lateral side to provide better grip in shower and slipping through hands but the cap is a bit tight and one have to be careful while opening with nails.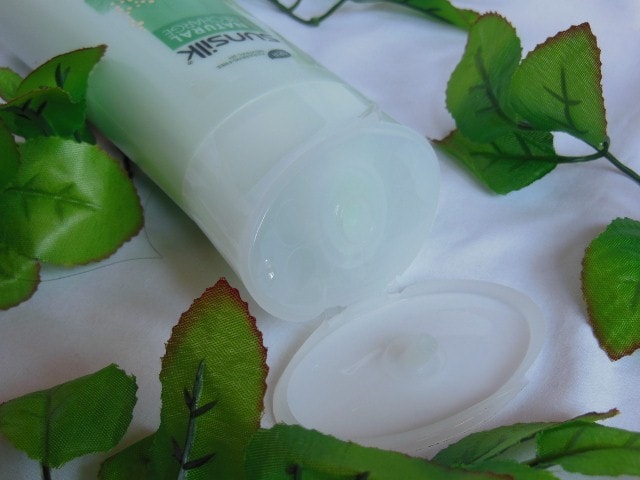 The packaging is sturdy and hygienic to use but as the bottle is huge, it is not travel friendly but I believe there will be smaller packaging available in the market for the purpose. I really liked the minty green color of the bottle, it is so soothing to my eyes.
My Experience with Sunsilk Natural Recharge Shampoo :
Natural Recharge is a pale greenish-white colored liquid with a thick gel-like texture and is infused with pearly white shimmers.. something that reminds me of the DOVE shampoo's. Dove shampoo has more of a creamy texture while Sunsilk lies more on the gel side. So you need to be careful while using the product as you might end up pouring out a huge dollop of it.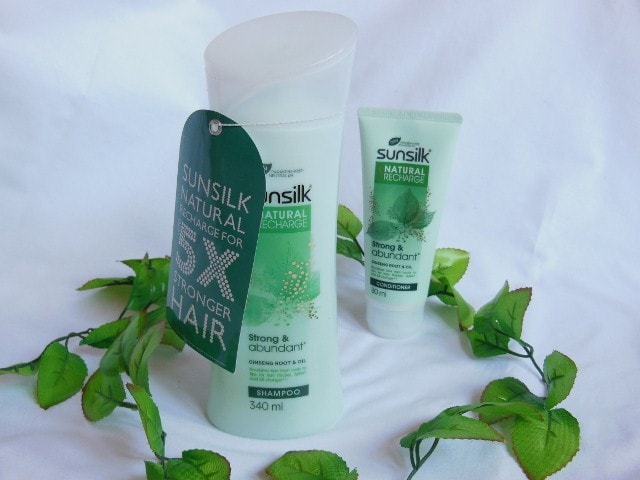 The formula doesn't not spread as easily as creamy one's due to its gel like texture but I didn't faced much difficulty too. It has a mild herbal fragrance which is quite likeable and pleasant to my senses. I apply a large dollop on wet hair and it lathers quickly even on oiled hair. I don't need to apply it generously and the usual amount (like other shampoos) is enough to get rich lather. It cleanses hair well taking away all the oil and grime from the scalp without making hair dry, rather feels a little hydrating to my dry hair strands. It leaves my hair squeaky clean in a single wash. I don't feel the need to apply conditioner with oiled hair (I have oily scalp and dry hair) but washing un-oiled hair or have dry hair and dry scalp follow with conditioner for better results.
It makes my hair soft and smooth, so smooth that were all over my face when I steeped out on a windy day but didn't tangled together creating a mess. Not only smoothness I can see they are bouncing with joy and radiating a healthy shinylook, felt like I have just pampered them with a good hair spa at home.:) .To add to the beauty of the shampoo, it is made with paraben free formula and has natural pH balance which is good for hair's health. It is also enriched with Ginseng root Oil which acts as a natural conditioner for hair. I have been using this shampoo for past 2 weeks and I am super-happy with the results.
Don't Miss to checkout:
I was using Tresemme shampoo which was doing good too but this Sunsilk Natural Recharge performed better than that.
Pros of Sunsilk Natural Recharge Shampoo:
Beautiful Shimmery white texture
Mild soothing aroma
Gives Rich Lather
Takes away all the oil and dirt in a single wash
Leaves hair silky soft with a healthy bounce
Adds Lustrous shine to tresses
Hair de-tangles more easily
Reduces hair fall to an extent
Keeps scalp oil free for 3 days post wash
Affordable Priced
Paraben free and Neutral pH
Cons of Sunsilk Natural Recharge Shampoo:
Dry Hair need to follow with a conditioner
Not a herbal shampoo so it not free from chemicals like Sulphates and Silicones.
Recommendation: Sunsilk Natural Recharge Shampoo is the new launch from the brand and least to say that I am bowled over by the outstanding performance of this drugstore shampoo and best part is I don't have to spend a fortune to get hold of this Paraben free and pH neutral formula. The formula is infused with natural moisturizer like Ginseng root Oil which nourish, strengthen and revitalize hair from roots to tip leaving them soft, smooth and bouncy. Double thumbs up to Sunsilk for coming up with this effective and efficient shampoo. It added the much needed Recharge to my hair. Good hair makes me feel confident and this shampoo does that for me. This is my new found lovve <3 <3 and you cant afford to miss this especially if you have oily scalp and dry hair (like me). This is one of the best Drugstore shampoo I have ever come across. Highly Recommended!
Rating: 4.8/5
PS: The product was sent by Brand for consideration but views expressed here are honest and based on personal experience
Have you used Sunsilk Natural Recharge shampoo? Which is your favorite Drugstore Shampoo?