Summer Escapade: May Fab Bag 2016 Review
Hello Gorgeous,
This month's fab bag is little late and I am happy because it was my baby's first bday on 1st May and I couldn't have reviewed it the same day .. so its for the good! 😀
May Fab Bag is the prettiest ever with a bright orangish mesh over a clear plastic.. looks so chic isnt it! It totally reminds of Ted Baker's handbags <3. The quality look good and I am totally carrying it for my makeup in handbags.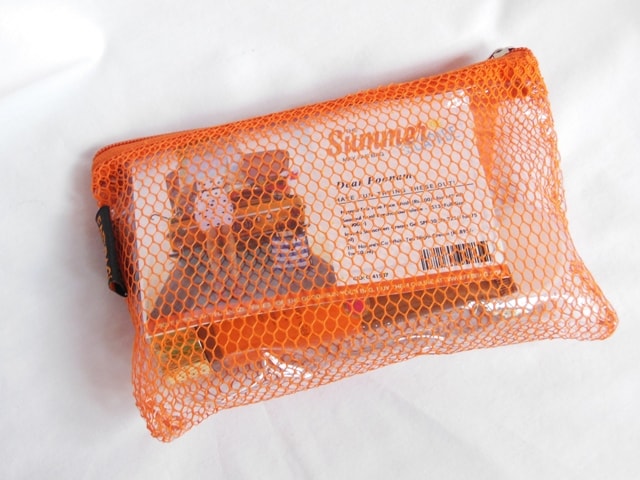 The video is now live..
Products in May Fab Bag 2016:
Nyassa Tea Tree Face Wash: Rs 400 for 145ml (30ml Sample)
SeaSoul Dual Eye Shadow Palette- SS13 : Rs 900 (full size)
Inveda Sunscreen Cream Gel SPF 30 – Rs 225 for 75ml (Full Size)
The Nature's Co. White Tea Night Cream – Rs 895 for 50ml (20ml Sample)
We didn't got the option to choose any product for this months fab bag and I absolutely had no idea what I will be getting so it was a total surprise..
Nyassa Tea Tree Face Wash is a green colored runny liquid infused with tea tree extracts. The face wash will be perfect for oily skin as it helps in Oil control and keeping pimples at bay but I have a dry skin and such face washes usually dry me out.
SeaSoul Dual Eye Shadow Palette- SS13 is my favorite thing from this months fab bag. I like the sheek matte black packaging. The palette has beautiful shades a warm copper with shimmer reflects and a beautiful metallic olive green with subtle sheen. Both the shades are richly pigmented and applies beautifully. I love the Olive green more though <3
Inveda Sunscreen Cream Gel SPF 30 is another full sized in the bag. I was not much excited for this but I fell in love with it the moment I applied it on my hands. It has such a beautiful light weight texture that it seeps quickly into the skin giving a hydrating feel. Absolutely no stickiness or white case.. looks like an amazing sunscreen to protect skin this summers.
The Nature's Co. White Tea Night Cream is another skincare item. The formula is on the thicker side but spreads nicely and gets absorbed with little massage. I loved that it didn't feel heavy or sweaty on. A great way to nourish dry skin in summers.
So, these are the 4 products I received in this months Fab Bag. No bonus stuff but I liked that we got 2 full sized products one from makeup and another from Skincare. I like the quality of the products I received in this month's bag though there could have been more makeup.. may be some matte lipsticks.. just saying!
The Fab bag is worth around Rs 1400 which is good especially for the gorgeous eye palette I got but I am still craving for more makeup! 😀
Have you tried any of these products? Which one is your favorite here?
PS: Bag sent by brand for consideration