Sugar Cosmetics Tip Tac Toe Nail Lacquer Collection
Sugar Cosmetics is just nailing it with their new launches back to back. I still couldn't get over their stunning Liquid Lipsticks and they came back with a Nail lacquer collection to jazz up the nails. The Sugar Cosmetics Tip Tac Toe Nail Lacquer Collection is available in 38 amazing shades in 3 different finishes- Classic, Matte and Pro. I have got myself all the Pro collection shades, so let's check them out, Sugar Cosmetics Tip Tac Toe Nail Lacquer Collection Shades: Rambling Rose, Set on Sapphire, Good as Gold, Silver Screen.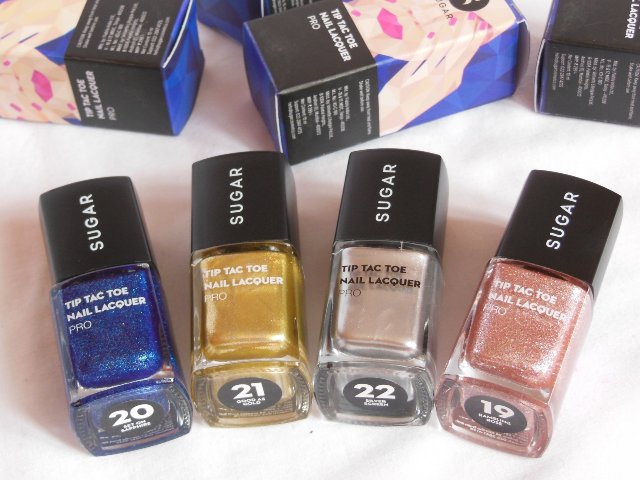 Product Claims: Poke a Friend. Scribble on sand. Shush a noisemaker. Like us, if you are someone who lets your fingers do the talking – then you will absolutely heart the new SUGAR Nail Lacquer range that will make sure that your tips are always in top shape!
Specially-formulated to give you a 100% opaque finish that will dry before you can spell your date's name –
the SUGAR Tip TacToe Nail Lacquer's wide range of glossies, mattes and shimmers
It is the zero-chip streak-free warpaint your hard-working fingers deserve.
How To Apply:
Three swipes is all you need for the perfect application of the lacquer to your nails.
The wide brush of our Tip Tac Toe Nail lacquer helps you get a burst of polish in one go,
start from the base of your nail, stroke the brush to the left, to the right and then down the center and Voila!
Pro-Tip: Apply a thin layer of petroleum jelly around each nail before painting your nails to prevent the lacquer from drying outside the lines of your nails.
You can also apply a clear base coat to prevent your nails from yellowing and extend the life of your nail lacquer colour.
Always allow the base coat to dry before application of the lacquer.
Remember to allow the polish to dry completely before adding the next coat or applying a top coat.
Benefits:
Formulated In Italy.
Nine-Free Non-Toxic Formula that does not contain  formaldehyde, camphor, toluene, DBP, formaldehyde resin, xylene, ethyl tosylamide, parabens and lead.
The Tip Tac Toe Nail Lacquer range boasts of the award-winning HRSS (High Reflection Resin System) formula that contains an unusually high concentration of solids that provide the perfect single-stroke plumping-effect coating.
Designed with a removable outer cap for ease of use and storage – these stunning nail lacquers are crafted with state-of-the-art premium formulation featuring colour-protecting UV filter and patented 2-fold plasticizer that guards against chipping.
Additional Details: The SUGAR Tip Tac Toe Nail Lacquer range is available in 38 gorgeous shades across the Classic, Matte and Pro ranges. Its chip-free, streak-free formulation and specially-crafted ergonomic applicator will leave you smitten.
Price: Rs 199- Rs 299 for 10ml.
My experience with Sugar Cosmetics Tip Tac Toe Nail Lacquer Shades:
Packaging: Sugar Cosmetics Nail Paints comes in signature cardboard box and the chubby rectangular bottles which very much remind me of the luxurious CHANEL Nail lacquer packaging. The bottles indeed look luxurious.
Applicator: These nail paints have a big fluffy brush with flat top bristles. I really like the amount the brush picks and paint the nails in one stroke but I just wish it had slightly curved tip to reach the curved center of the nails easily.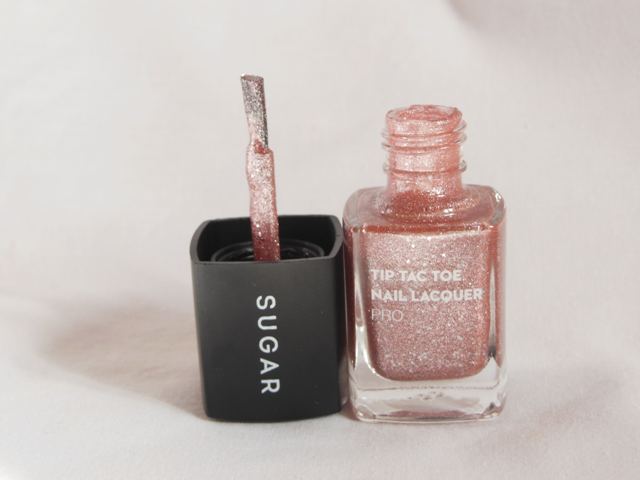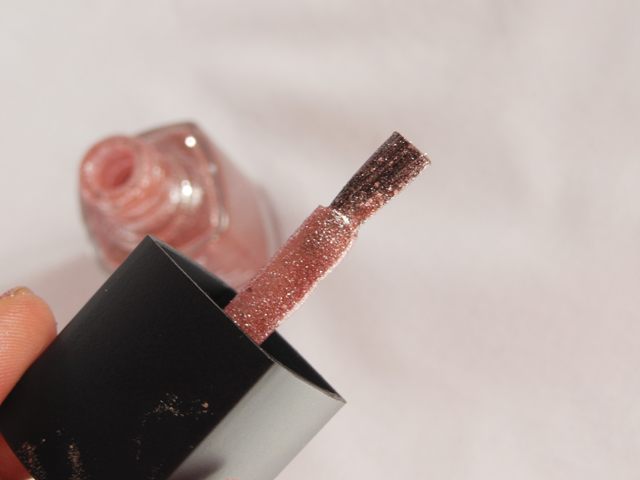 Shades:
Rambling Rose- Soft Rosy pink shade saturated with silver and pink shimmers. It is a perfect Rose Gold shade which contains Pink and silver glitters along with rounded chunky Glitters giving it a sand like texture. Just one coat for opaque coverage is all I need.
Set On Sapphire- It is a rich Navy Blue shade with glittery, sand like finish. Tiny Blue Glitters dispersed in slightly gel like consistency. No chunky glitters like Rambling Rose but still goes opaque in a 1 heavy coat.
Good As Gold – It is a beautiful Yellow gold with fine silver sparkles and a pearly golden sheen. True metallic Gold shade with smooth creamy texture. Gives rich coverage in single stroke but goes absolutely opaque in 2coats!
Silver Screen- It is a metallic Silver shade with pearly sheen and smooth creamy texture. Sets to a demi matte finish. Goes slightly streaky on application but goes opaque in 1coat!
As claimed all the shades are extremely pigmented and super saturated with shimmers and Glitters. Also, all the shades sets super fast, which is a major plus! And.. I just need one coat for that perfect finish!
Recommendation: Overall, Sugar Cosmetics Tip Tac Toe Nail Lacquers are beyond amazing for the price tag. The collection has huge range of colors with beautiful finishes along with luxurious packaging, intense pigmentation and long lasting formula. Sugar Cosmetics Tip Tac Toe Nail Lacquer collection is definitely going to swoon you with their amazing quality. Loving painting your claws than go grab some soon. Highly Recommended!
Rating: 4.5/5
Have you tried Sugar Cosmetics Tip Tac Toe Nail Lacquer Shades? Which is your favorite Nail Paint here?
Don't Miss to Checkout:
PS: Product sent by brand for consideration but honest and unbiased opinion