Sugar Cosmetics It's A-Pout Time Vivid Lipsticks
I am back with another review and swatches of the new launch from Sugar Cosmetics. And this time its their Sugar Cosmetics It's A-Pout Time Vivid Lipsticks 5 new shades. I tell you nothing excites me more than a new Makeup launch and Sugar is doing it right from past few launches like the  Sugar Mascara , Matte Liquid Lipsticks and Tip Tac Toe Nail Lacquer Collection. They became my favourite after their Matte As Hell Lip Crayon range. So, undoubtedly I am excited to try out these new additions in their It's A-Pout Time Vivid Lipstick collection. Let's see what I feel about them and if you should be trying these Sugar Cosmetics It's A-Pout Time Vivid Lipsticks out.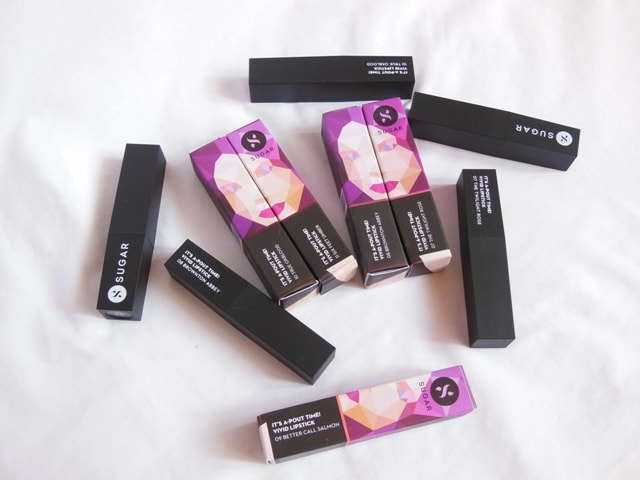 Check Review and Lip Swatches:
Product Description: If you've been crushing over classic matte lips – the hottest lip trend on the runway – you'll totally adore SUGAR It's A-Pout Time! Vivid Lipstick. Creamy and moisturising, this lipstick combines the look of a classic matte lip with the benefit of incredible comfort. Enriched with micronized pigments and silica micro-beads, this matte lipstick glides on easily and settles to a gorgeous matte finish.
How to Apply: Start applying the matte lipstick from the center of the upper lip moving outward towards the corners. Blot your lips with a tissue and reapply.
Benefits: SUGAR It's A-Pout Time Vivid Lipstick has a creamy consistency that moisturises and spreads evenly on the lips. The stunning shades are highly pigmented and light-weight, providing maximum coverage in a few swipes. FDA approved, these lippies are free from mineral oil and parabens.
Additional Details: SUGAR It's A-Pout Time! Vivid Lipstick is available in 6 stunning shades viz., Coraline in the City (Orange-Coral), Mad Magenta (Magenta), Breaking Bare (Mauve Pink), The Big Bang Berry (Wine), That '70s Red (Red) and Peachy Little Liars (Pink).
Price: Rs 599 for 3.5gms
Available in 6 New Shades:
07 Twilight Rose (Rose Pink)
08 Brownton Abbey (Peach Brown)
09 Better Call Salmon (Peach Pink)
10 True Oxblood (Burgundy Red)
11 Six Feet Umber (Mocha Brown)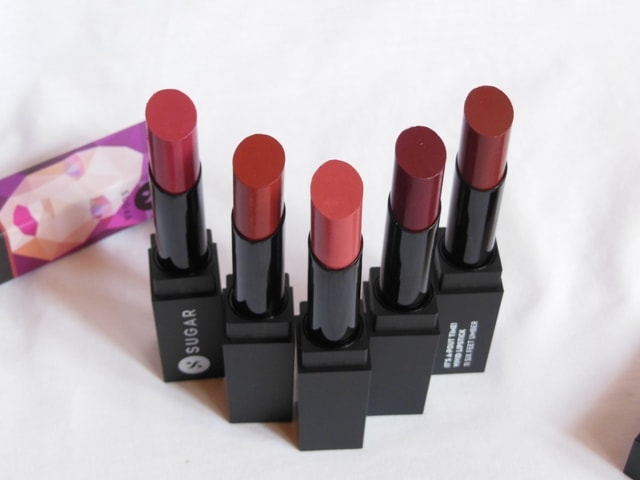 Packaging: It's A-Pout Time! Vivid Lipsticks come in classic black matte finish casing with the shade name mentioned on the side. The cap shuts really tight with a loud click sound. The edgy and unique packaging of the lipstick really makes it stand out but I wish there was a shade indicator too to get the colour of the lipstick.
My experience with Sugar Cosmetics It's A-Pout Time Vivid Lipsticks:
Texture: Sugar It's A-Pout Time Vivid Lipsticks have a smooth creamy texture which glides on beautifully.  It is not melting smooth but gives an even application.
Formula: These Vivid lipsticks feel slightly tacky on lips but I guess that's what enhances their longevity. Also, they don't feel uncomfortable at all. The formula is neither drying nor moisturising and wears comfortable on lips
Pigmentation: It's A-Pout Time Vivid Lipsticks are beautifully pigmented and in just 2 swipes, it gives a smooth, even and opaque coverage. The lipstick sets to a semi-matte finish within few minutes but it does transfer to everything that comes in contact with lips. So pat them with a tissue for a transfer-proof matte finish.
Longevity: The Vivid Lipsticks have a good long lasting power. Usually, creamy lipsticks fade away fast but these have a stronger formula and don't show signs of fading even after meals. They looked pretty good even after a whole day of wear, started fading after 6-7 hours. The formula is staining (07 and 10 stains the most) and they leave a hint of colour on lips once the lipstick is gone. They were absolutely no flaking or settling in fine lines issue.
Recommendation: Sugar It's A-Pout Time Vivid Lipsticks have a lovely creamy texture which gives an intense color with a smooth application. They are not as light weight as Sugar matte As Hell Lip crayons but have a nice formula as a creamy matte lipstick. I am impressed with the beautiful shades the brand decided to add to this range. One can never have enough nude lipsticks and if you are a n*de lover you will definitely fall in love with the shades.  My favorites from this range are Twilight rose and Browntown Abbey. Recommended!
Rating: 4.5/5
Don't Miss to Checkout:
What do you think about these new Sugar It's A-Pout Time Vivid Lipsticks? Which is your favorite shade ?
PS: Product sent by brand for consideration but honest and unbiased opinion!