St. Ives Fresh Skin Apricot Scrub Review, Swatch
Hello everyone,
I can't stress enough on the weekly exfoliation of the skin. I recommend it to everyone who is worried about dry and dull skin and faces any sort of black heads or white heads issue. Exfoliation helps in taking off the dead skin cells off the top skin layer revealing smoother, brighter skin and a beautiful you! Today, I am reviewing a scrub that you can hangout with over weekends ;), St. Ives Fresh Skin Apricot Scrub.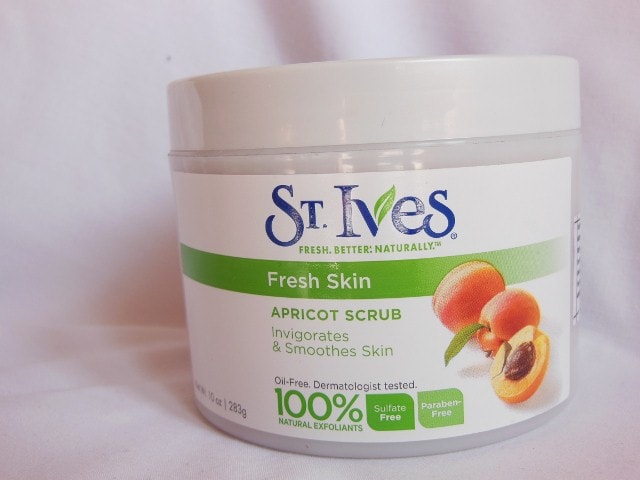 Product Claims: From America's #1 Scrub brand*, the award-winning Apricot Scrub deep cleans, instantly leaving skin smooth and glowing.
Product Benefits
100% Natural Exfoliants
Sulfate Free
Paraben Free
Oil Free
Dermatologist Tested
Hypoallergenic
Direction for Use:-Moisten face with water. Place product onto fingertips and massage over face. Ronse with water. Avoid direct contact with eyes. In case of direct contact with eyes, flush thoroughly with water. For best results use 3 to 4 times per week.
Key Ingredients:- Apricot, Corn Kernel Meal, Walnut
Price:- Rs. 1050 for 283 gms
Shelf Life:- 4 years from the Mfg date.
Packaging:-  St. Ives Fresh Skin Apricot Scrub comes in a big tub packaging. The white colored tub has a screw lid but there is no separator or lid underneath to protect the product from messing on the cap, so you have to keep it upright to avoid any mess. I got the bigger size but it is also available in a tube version which would be easier to use and travel with.  
My experience with St. Ives Fresh Skin Apricot Scrub:-
St. Ives Fresh Skin Apricot Scrub has a super creamy formula in slightly thicker consistency which spreads easily. The scrub contains fine granules of walnut shell powder that performs the scrubbing job on skin. The granules are fine and don't feel abrasive or harsh against skin but are rough enough to pick up dirt and oil from the pores without causing any damage to the skin. On wet/damp skin the granules feel even milder.
I just need a tiny amount of the scrub for my face and neck. It gently cleanses the skin and the creamy formula feels nourishing to the skin. It leaves my skin super soft and smooth and adds a radiant glow.
The only thing that bothers me about this scrub is its strong fruity scent which is a little overwhelming for me. If you are sensitive to fragrances that you might skip the scrub but if you enjoy fresh fruity fragrances it shouldn't be an issue.
I haven't experienced any breakouts or irritations with this scrub. The formula is not all natural but it does contain Walnut shell powder, Glycerin, Corn Kernel meal and Apricot fruit extract. Also, it is free from Parabens and Sulphates so double thumbs up to it!
Compared to the, Biotique Tan Removal scrub the formula is creamier and granules are a bit softer on skin. But it works equally well on dead skin cells and removing black heads. Though on stubborn black heads Biotique one will be more effective and show results sooner.
Don't Miss to Checkout:
Pros of St. Ives Fresh Skin Apricot Scrub:-
Creamy texture with fine scrubbing granules
Doesn't feel harsh on skin
Gently cleanses dirt, oil and dead skin cells
Skin appears smoother and brighter
Doesn't leave any residue behind
Works well on dry skin
Available in various versions – Timeless skin, blemish control, Sensitive skin and Fresh skin
Comes in both Tub and tube type packaging
Doesn't contains Parabens Or suplhates
Affordably priced
Cons of St. Ives Fresh Skin Apricot Scrub:-
Not a herbal scrub and contains Alcohol and fragrance
The scent is on the stronger side
Might not be suitable for Oily skin
Limited availability in India
Recommendation:- St. Ives Fresh Skin Apricot Scrub is a wonderfully creamy scrub that is neither too harsh or too mild on skin. The formula contains walnut shell powder that exfoliates skin and gently removes oil, dirt and grime. It has a strong fruity fragrance which might not be liked by everyone but other than that it works as a great exfoliator. The creamy texture feels nourishing to my dry skin which feels smoother, softer and brighter. I am going to alternate between this and Biotique one for next many months. Recommended!
Rating:- 4.5/5
Have you tried St. Ives Fresh Skin Apricot Scrub? Which is your favourite facial scrub?