Spin for Perfect Skin by Vanity Planet 
Hello Everyone,
If you get confused which exfoliators to use because nothing is good enough to take off that dead skin layer from your face or you are too lazy to reach for one, here is a solution to all your problems… #SpinforPerfectSkin. It is a beauty brush that will do it all for you, it will cleanse your skin, exfoliate it and even polish your hands and body. Lets check It out, Spin for Perfect Skin Brush System by Vanity Planet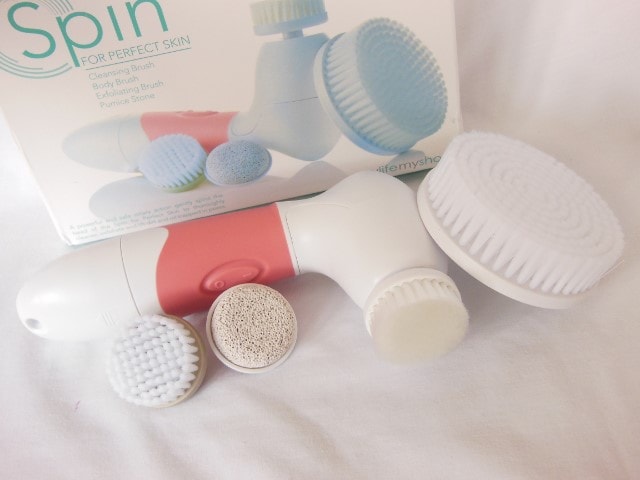 Product Claims: The Spin for Perfect skin is a simple tool to help your skin look flawless. A powerful and safe rotary action gently spins the head of the device to thoroughly cleanse, exfoliate, and lift dirts and oils trapped in your pores. Gentle and effective, the micro-massage movement of the head stimulates and invigorates the surface of the skin. This multifaceted brush comes with four specialized attachments to achieve a beautiful and fresh feeling. Soft bristles from the Cleansing Brush lightly scrub your pores and remove all existing oil, dirt, and makeup to keep your skin in great condition. Change your brush head to the Body Brush or the Exfoliating Brush and allow your skin to gain a glowing appearance. The Pumice Stone finishes the job by working out rough patches and calluses on your feet. The Spin for Perfect Skin provides an easy way to take care of your skin from head to toe.
33% reduced pores
93% clearer appearance
97% bacteria removal
Use with cleanser to remove bacteria & eliminate dirt
Visible skin clarity after 3 days of use
Direction for Use: Stuff 4 AA batteries in the Machine and lets roll.. 😀
Price: $99.99 ( Buy at 70% off using code: Poonam)
Shelf Life: 2-3 months for brushes with regular use
My experience with Spin for Perfect Skin Brush System:
Spin for Perfect Skin comes in a box packaging with all the parts carefully placed in a plastic casing while details are mentioned all over the box and some special instructions in a pamphlet enclosed.
The Brush system comes with four attachments each with designed for a specific purpose and to bring this system to life, you will need four AA batteries. The system is available in 6 girly shade like frosty blue, green, purple etc but I pinked Pink :D. The brush system is water-resistant and is safe to use in shower so yayy!! Needn't worry about protecting it all the time and can use it the way you feel like. The gentle spinning movement of the brush head thoroughly cleanses, exfoliates, and lifts dirt and oil trapped deep in your pores.
Purpose of all the Brush Heads:
Facial Cleanser Brush: This is the brush with densely placed bristles but the softest of all. Just wet the bristles before placing it on the face which already have your soapy facial cleanser on. It will gently buff away any of the dirt or oil accumulated on the skin during the day giving you a cleaner and brighter looking skin
Exfoliating Facial Brush: This brush is basically here to support you during the weekly scrubbing session. Now, you need fuss about exfoliating your face with fingers. Just dampen this brush and apply your facial scrub and roll. The sparsely packed bristles with slightly stiffer texture gives a thorough cleansing and will buff away any dead skin off your face.
Body Brush: This is the largest brush of all and is my favorite too. The brush bristles are as soft as the facial cleanser but it effectively cleanses skin. I can actually see the bristles getting darker owing to the dirt they pick up from the skin during shower. It is best to cleanse upper back and middle back areas which are hard to reach otherwise.
Pumice Stone: This tiny little pumice stone may look cute but it tuff on the rough areas like feet, elbows and knees. I liked that it doesn't feel abrasive on skin.
 Don't Miss to Checkout:
Tip:
It is best to dip the brush heads in warm water for a minute before usage as it will make the bristles super soft and they roll gently on the skin.
Do not apply too much of pressure, just a little bit so that bristles or the brush can gently rub against your skin
Don't use it with a abrasive cleanser/exfoliater as it might scratch your face,
I don't have any major pores issues but it is said to be effective in reducing them, because it won't let the dirt settle in pores which increases their size. It leaves skin so smooth and radiant that I find myself touching my face every now and then.
Recommendation: Spin for Perfect Skin by Vanity Planet is a portable brush system which comes with 4 attachments to cleanse and exfoliate your face and body. The system is battery operated and is water resistant which makes it safe to use in shower. I am in love with the wonder machine and feel like nextgen while using it ;). It makes an excellent facial cleansing tool but you got to stock up on AA batteries. It is quite expensive at $99.99 but you can grab it at 70% discount! Yayyy!!
Rating: 4.5/5
Have you tried Spin for Perfect Skin Brush System? Would you like to give this a try?
Use the code Poonam for a 70% discount on Spin for Perfect Skin and all Vanity Planet Face and Body brushes at checkout!
PS: Product sent by Brand for consideration