Sonia Kashuk Synthetic Flat Top Multi-Purpose Brush Review
I had a huge range of Sonia Kashuk products in my wishlist but sadly the only thing that I could lay my hands on is this brush. Let's see how this, Sonia Kashuk Synthetic Flat Top Multi-Purpose Brush worked for me.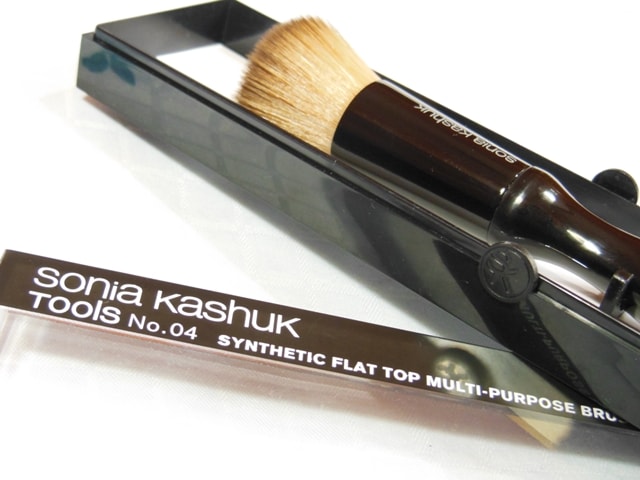 Product Claims: It applies, it blends, and it buffs. It does it all for any crème product. The circular shape is foolproof for applying crème blush.
Direction for Use:- Dip brush into crème product and apply as needed.
Price:- $15.79
Packaging:- The brush comes in a long rectangular plastic casing with a transparent removable lid. The packaging reminds me of the expensive pens that we used to receive as gifts. The brush is kept in place with two hooks at the base gripping slimmer side of its curvy brush handle. The packaging is quite sturdy and keeps the brush secure but there is no locking system as such to keep the lid closed while travelling and as a result it tends to open in the bag which makes the casing pretty useless. I like the pretty curves on its handle and just keep staring at its beautiful glossy body.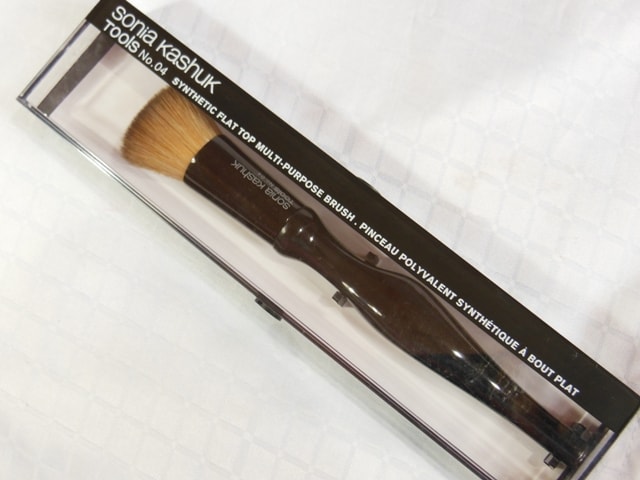 My experience with Sonia Kashuk Multi-Purpose Flat Top Kabuki Review:-
Flat-top brushes are gaining lots of popularity for the spectacular air-brushed finish they provide to the makeup. Earlier, I could only think of using them for foundation application only but now I use them for Cream/Powder blush, loose powder, pressed powders and even BB creams as well.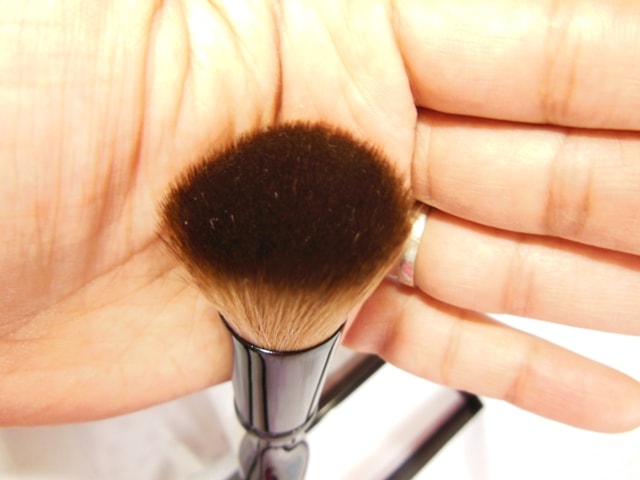 Bristles – Sonia Kashuk Kabuki brush has tightly packed synthetic blonde colored bristles in medium-length. The brush head is relatively darker but is incredibly soft. The bristles may appear not so soft but in reality they are extremely soft and feel like velvet against my skin. The size is smaller than the ELF which is a bit fluffy and has larger bristles.
Handle – The brush has an appealing curvy shape which lookes like it has be carved out of glossy black marble stone. Not only it does look pretty but also provides firm hold while working with the brush.
Application/Finish – As the name of the says "Multi –purpose", I used it apply every possible face makeup product-
1) The main motive to get this brush was for Cream blush application. I used to apply them with fingers but I hate dipping my fingers into the pan so looked out for a brush. With its tightly packed bristles I just need to dab it lightly onto the pan and it will pick up a decent amount of cream which you can then apply onto your cheek apples in stippling motion. The brush would give pop of color to the cheeks.
2) I used this brush for Maybelline BB cream too and it does an excellent job at delivering a flawless finish. I need to use a lot of amount when BB cream is directly applied with this brush, as it tends to drink a lot of product. So, instead I apply the cream with fingers and blend it lightly, sprinkle some water on the bristles and then with stippling motion move the brush all over my face for an even finish.
3) For Liquid Foundation, I take the foundation at the back of my hands, wet the bristles a bit and then with small strokes picking little amount each time covering full face. As the brush is smaller in size and quite dense too, it takes time for full face so be patient but the good thing is it reaches to the smaller area like nose corners, under the eyes and upper lip pretty easily giving even coverage. It prevents streaks or any visible brush strokes for a flawless application
This was all about cream and liquid products but apart from these it also does a spectacular job at powder products application.
4) I used it for powder blushes and it delivered beautifully colored cheeks by applying the blusher just in place.
5) I am not much into contouring but if you like to define your features and love bronzers then this could be a perfect brush, its brush head will fit under the cheek bones providing precise application giving a perfect sculpted look to your cheek bones.
6) Loose powder works best with this dense brush providing pretty good coverage. I buff in the powder with stippling action for a superior non-chalky finish and skin simple looks stunning. The same holds true with pressed powders/compacts.
Cleaning/Drying:- Because of the dense shape, it's not easy to clean the brush properlyy and it will require you to soak it longer to let all the residual make loosen up and leave the bristles. Again, it requires whole day to dry up so I would advise to wash the brush in the morning and let it dry overnight so that it can be put to use by next day. I have washed it 5-6 times and it doesn't shed any bristles and has retained its softness. So, I believe it is going to stay intact with multiple washes.
Don't Miss to Checkout:
Pros of Sonia Kashuk Synthetic Flat Top Multi-Purpose Brush:-
Gives flawless application for cream and liquid products
Provides a smooth airbrushed finish
No streaks or marks of foundation
Work equally great with powder products
Truly a Multi-purpose brush
Extremely soft and densely packed bristles
Reaches smaller face areas easily
Glossy black-curvy handle looks attractive
Shape of the brush head and handle provides firm control and precise application
Doesn't shed at all
Cons of Sonia Kashuk Synthetic Flat Top Multi-Purpose Brush:-
While blush application keep stippling and do not swipe otherwise you will get a streaky finish
Bit expensive compared to drugstore brushes but totally worth it
Doesn't clean easily and takes time to dry completely
Isnt available in India. 🙁
Recommendation:-  Sonia Kashuk Synthetic Flat Top Multi-Purpose Brush is truly a multi purpose brush which works great with everything be it powder or cream products. It is made with high-quality bristles which are densely packed and feels soft against skin. The shape of the brush is relatively smaller in size which reaches to the smaller areas like side of the nose, under the eyes and upper lips quite easily and applies foundation with perfection providing air-brushed finish. For cream blushers, use this brush in stippling motion for applying color precisely to the cheek apples. It also makes a great brush for contouring and bronzer application. The brush looks gorgeous with its glossy curved handle and it comes with a case which is big enough to contain most of eye makeup brushes, so this is an added advantage.

Overall, I am in love with this brush. Highly Recommended!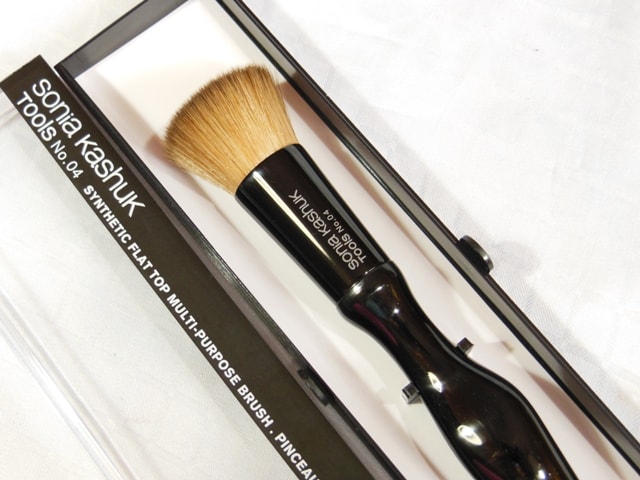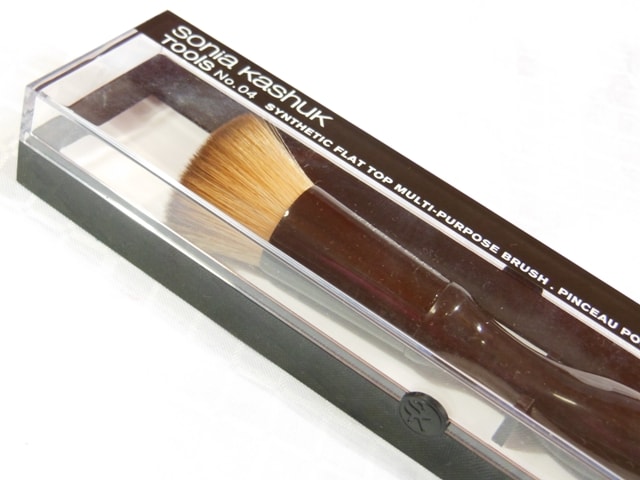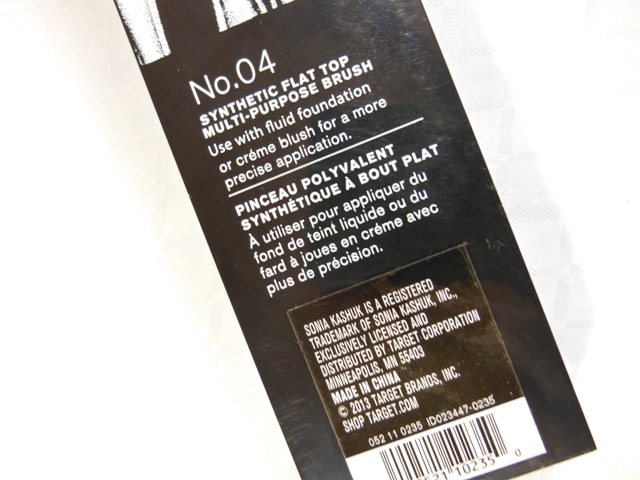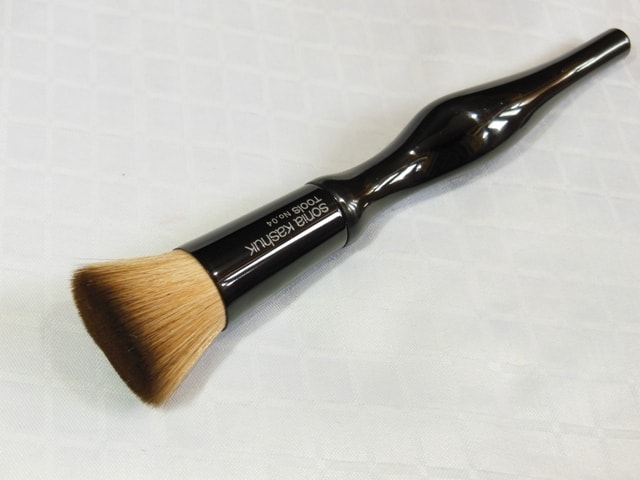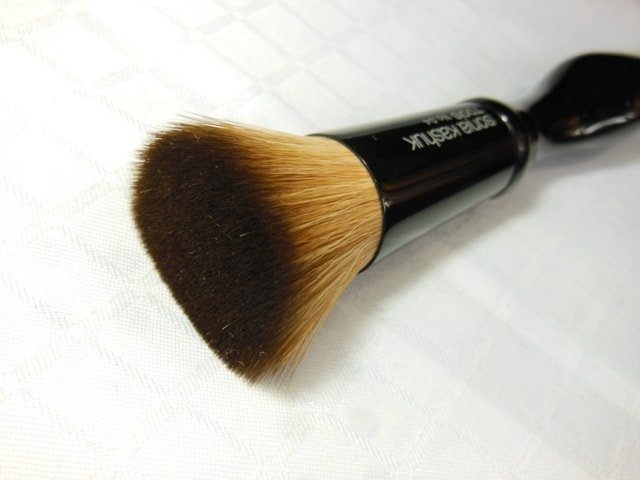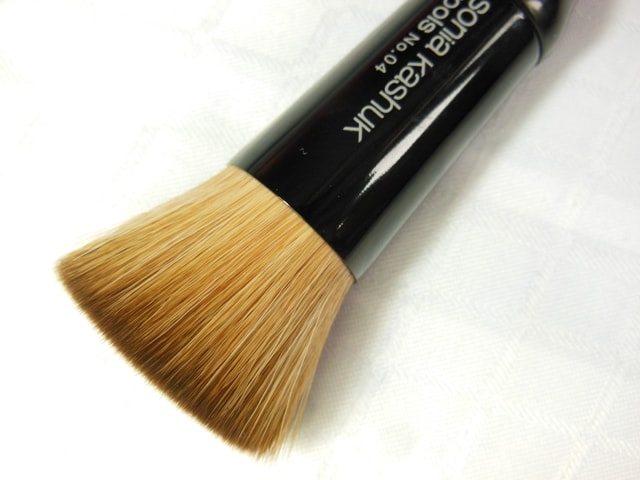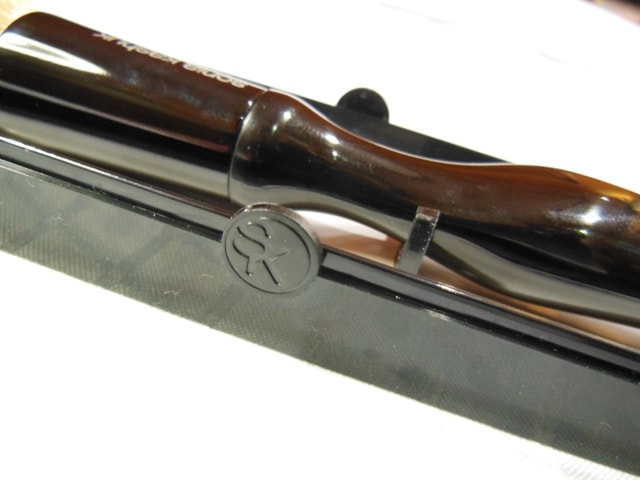 Rating:- 4.8/5
Have you tried Sonia Kashuk Synthetic Flat Top Multi-Purpose Brush?