Sneak Peek – Makeup Geek Foiled Eye Shadows
Hello Everyone,
First of all, a big hug and thanks to all of you for the lovely comments on "Makeup Geek Haul Post". I have been keeping a little busy so couldn't reply on comments but have been reading all of them and will surely get back on replying to each one of you.
In the meantime, while I test and review these eye shadows I planned to share a "Sneak Peak at the "Makeup Geek Foiled Eye Shadows" and help you choose the shades wisely if you are planning a haul ;).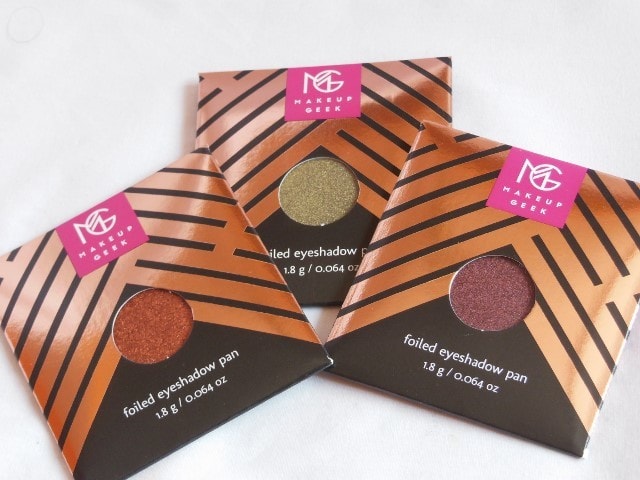 3 Super gorgeous shades from the Makeup Geek Foiled Eye Shadow Collection:
Flame Thrower
Jester
Showtime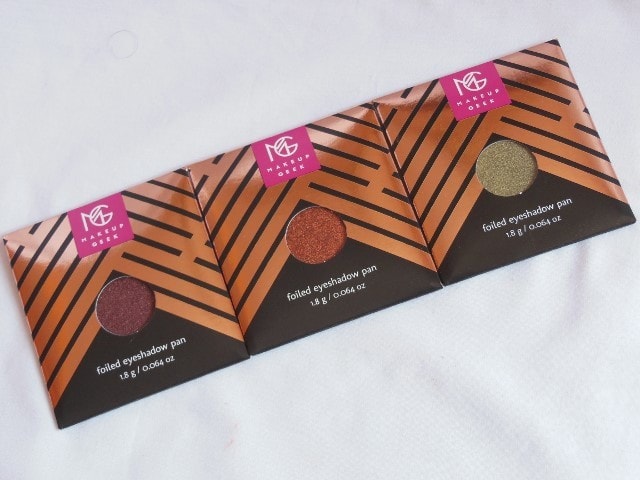 The eye shadows were packed so beautifully in that paper-cardboard with metallic golden details that it took me 2 days just to unwrap it and get the tiny pot out of it. The eye shadow was looking so pretty in that wrap that I didn't felt like taking them out 😛
Have a look at the eye shadows and the swatches of my latest love – Makuep Geek Foiled eye shadows!!
Makeup Geek Foiled Eye Shadow Flame Thrower: Bright Copper tinged orange eye shadow in super frosted metallic finish.
Makeup Geek Foiled Eye Shadow Jester: Gold toned medium green shade in metallic finish with subtle duo-chrome effect owing to the reflecting golden sheen
Makeup Geek Foiled Eye Shadow Showtime: A dark plum shade with silver shimmers, not as metallic as other two but has subtle sheen and shimmery finish.
I am super impressed with the finish and pigmentation of the eye shadows. The formula is crème smooth and the metallic shine is stunning. I will put them to test soon and check how long they last but I am pretty much sure I will be amazed ;).
Don't Miss to Checkout:
Flame Thrower is my favorite here, I just love the shine, brightness and finish of this orange beauty and if given a chance I would love to test Makeup Geek Blushes too 😉 .
Who touched your heart out of these 3 ? Do you have Makeup Geek Wish list?
Have you tried Makeup Geek Eye shadows? Which is your favorite brand for eye shadows?