SMILE Brilliant Teeth Whitening Kit
One thing that I care most after my skin is "Teeth", yes I am a little fanatic about keeping my teeth clean and sparkling white. Even my dentist (and thats my sister) often says that I maintain my teeth very well 🙂 I hate creams (especially Fair & Lovely) that claims to whiten skin and all that bluff but when its about whitening teeth I am totally in, imagining the advertisements where the models flaunt sparkling clink and ultra white teeth.. the brilliant flashy white smile!. I was contacted by Smile Brilliant team to review one of their Teeth Whitening Kit and I was elated because I got to try something that will make my teeth appear even whiter so, let's checkout how this Kit works and whether I got the expected results or not!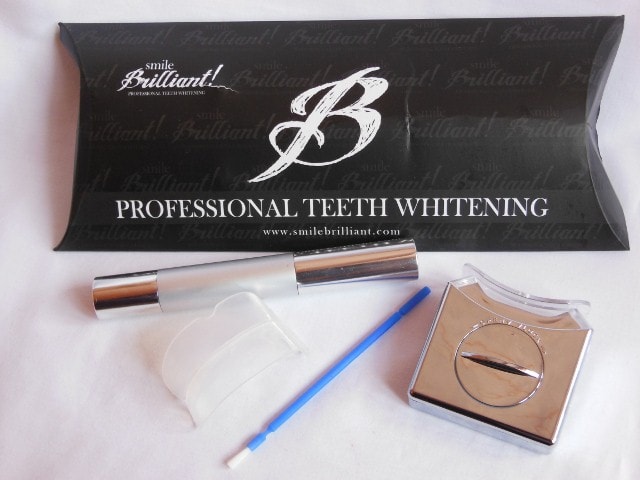 Product Claims: The LED teeth whitening system by Smile Brilliant is perfect for those who want great tooth whitening results but are on a budget. Our LED system is competitively priced when compared to popular whitening strips sold at your local grocer; however, it is far more effective due to its 22% carbamide peroxide tooth whitening gel and high strength LED light which accelerates the whitening process. With hundreds of reviews available on the internet and thousands of satisfied customers, our LED teeth whitening system is a superior alternative to over-the-counter whitening products.
High Intensity LED Accelerator Light: – Accelerates the teeth whitening process
Teeth Whitening Gel Pen – Convenient, 4ml whitening pen (brush-on applicator) with 22% professional stength whitening gel
Lip & Cheek Protector – Upper and lower protective tray ( prevents gel mess)
Detailed Instructional Brochure – Guide to using your LED teeth whitening kit effectively
This LED teeth whitening package comes complete with our 4ml, 22% carbamide peroxide, teeth whitening gel pen. This compact and easy to use whitening pen releases the whitening gel into a smooth brush tip applicator. Simply crank the bottom of the pen to release an even amount of gel into the brush. Brush on, put in your cheek protector, turn on the light, and you are ready to go. See results in as little as 20 minutes a day
Price : $39.99 ( After a discount of $30) (Buy here : http://www.smilebrilliant.com/ )
 My Experience with SMILE Brilliant Teeth Whitening Kit:
The kit comes in a thick paper type pouch containing these 4 elements: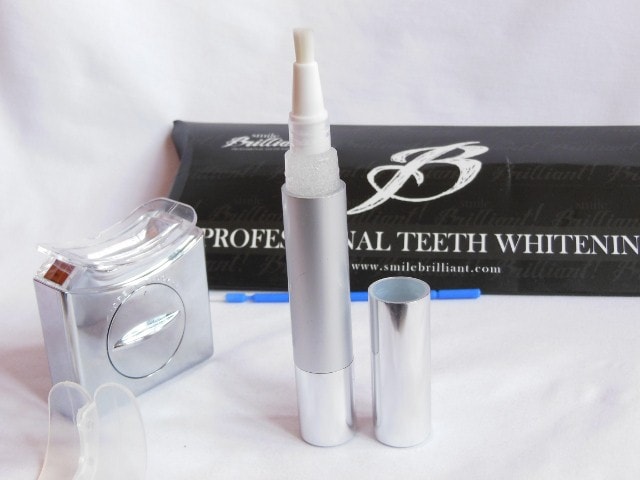 Teeth whitening Gel Pen – This pen is similar to the highlighter/illuminators packaging wise just a little chubbier (Colorbar Illuminator). It has soft bristles at the tip to apply the gel that comes out when pen is twisted a few number of times. The gel is clear and has slightly sticky consistency but spreads easily on teeth. It has a slight flavor similar to a mouthwash which doesn't feel or taste odd!
High Intensity LED Accelerator Light: This is the main thing that actually works in whitening the teeth enamel. It has 5 LED's that emit fluorescent blue light. It feels just lightly warm when it is switched on and teeth are exposed to it. It has a curved plastic shield on the top that fit exactly over the teeth.
Lip & Cheek Protector: This is like a plastic cover for your teeth, so as to act as a protective cover for your teeth and help lips to keep away from the LED light accelerator. It should always be in between teeth and LED emitter to protect teeth but let the light work for whitening the teeth,
Tiny brush: This slim brush is also included in the kit but I am not sure of its usage but I guess it is for spot cleaning the teeth like if something is stuck in between.
All of these details and step by step instructions are clearly mentioned with the help of pictures in the detailed brochure that comes along. This also had a recommendation to keep the saliva off the LED system but in my case that is next to impossible as I have highly salivating mouth and even my dentist gets irritated with the amount of saliva he has to deal with while doing filling, so I just cant control it or more than 2 minutes or may be less.. hmmpp!!
It felt a little odd to put all these foreign elements inside the mouth and no doubts I felt like a Monkey.. as I have been dragged back to the time where we just emerged as humans. For the first few minutes it was highly uncomfortable and I had a feeling of pulling it out but I juts engaged myself in blog and forgot about it completely.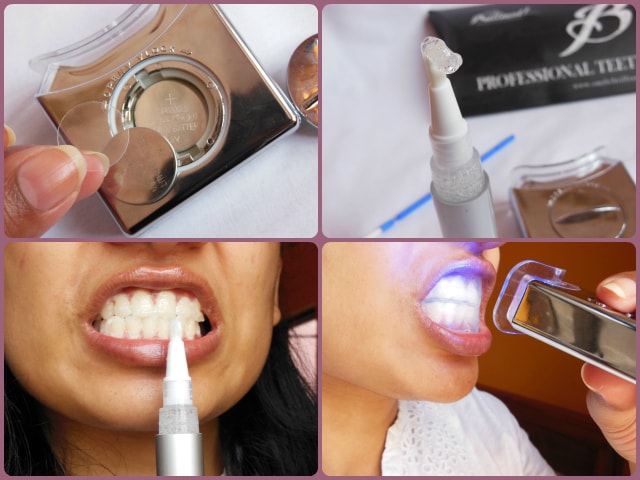 Finally after 30-40 minutes I pulled it out and gargled. This is how my teeth looked after this whitening kit. There is slight brightness to them but not much. Yes and that's because I usually spend at least 7-8 minutes just to brush my teeth so they are in good condition but I feel the system will be a great help for those suffering from stained teeth or have yellow teeth. The Kit can be used frequently for better results.
Don't Miss to Checkout:
Pros of SMILE Brilliant LED Teeth Whitening System:
Your personal dental kit
No need to pay visit doc for teeth whitening
Easy to use
Great for stained and yellow teeth
Can be ordered online
Get cleaner and brighter teeth in 45 minutes flat
Accompanied by detailed brochure
Beauty bloggers have an advantage of shining teeth just before shooting video or pictures
Cons of SMILE Brilliant LED Teeth Whitening System:
Feels a little uncomfortable at first as you will put so much into your mouth
Results aren't significant for already white teeth
Recommendation: SMILE Brilliant LED Teeth Whitening System is an excellent way to beautify your teeth at home and needn't pay visit to doctor. The system is easy to use with nothing technical or of that sort. I think mine are pretty much white so difference wasn't significant, but I wasn't even expecting it to give me blinding white teeth at all. The results may vary from person to person but I am sure it will be of great help with teeth stains or yellow teeth enamels and will yield superior results.

And here is a catch, I have seen Michelle Phan using one such whitening system before recording her video. So yes if you are a youtuber or beauty blogger than you have all the reasons to give this a shot!
I haven't showed my teeth in any off my FOTD's here but here this post is full of my Teeth only. Please forgive me if pictures look a little off
PS: I am not a doctor and this review is based on my personal experience. If you are sensitive or going under medication consult your doc. before using this kit.. Please go through the instructions brochure carefully for it claims and warnings. I have been provided with this kit by the brand.