Sleek Makeup Rio Rio I-Divine Eye Shadow Palette Review
Hello Everyone,
Today I will be reviewing an Eye shadow Palette from Sleek that I bought months ago. I have shared the first look at Sleek Eye Shadow Palette but completely missed on putting up the review. So, finally I will share my experience with Sleek Rio Rio I-Divine Eye Shadow Palette.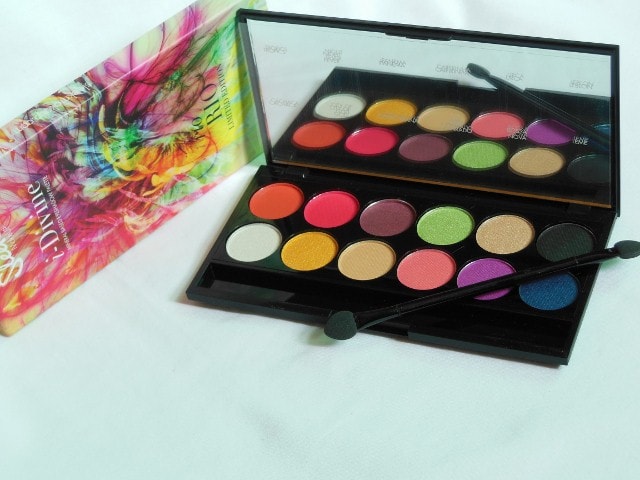 Product Claims: :
This exclusive i-Divine Palette is inspired by the explosion of vibrant exotic colors seen at the Rio Carnival, with bursts of golden yellow, intense fuchsia and metallic green hues.
Each shade is highly pigmented, reflecting the exciting carnival celebrations and everything that is Brazilian! Create shimmering eyes with super-charged shades that pop.
This palette of vibrant colors suits all skin tones and the exclusive packaging captures the flamboyant, exotic carnival costumes.
Price:- $11.99 (Limited Edition)
Shelf Life:- 3 years from the Mfg date.
Packaging:- Sleek Makeup Rio Rio I-Divine Eye Shadow Palette comes packed in a bright colorful cardboard box. The Eye shadows are enclosed in the typical matte black Sleek case with 12 tiny round pots divided in 2 rows and a dual-ended smudged tip brush. The packaging is sleek sturdy and easy to travel with. I really adore the full sized mirror that is fitted on the inside of the lid and can be really helpful for doing eye makeup or touchups.
My experience with Sleek Makeup Rio Rio I-Divine Eye Shadow Palette:
Sleek Makeup Rio Rio I-Divine Eye Shadow Palette has a mix of matte, shimmery and pearl finish eye shadows.
Texture: Most of the eye shadows in the palette have a satin smooth texture expect the darkest shades (Black and blue) which are slightly drier than the rest and have a little fallout as well.
Pigmentation: The color pay off is pretty good across the palette except that Shimmery White eye shadow which gives nothing a pearly white shine I tried to build up the shade but still couldn't get that rich color on lids. Matte Eye shadow requires a bit more build up and comes better with a primer underneath
Staying Power: The wear time of the eye shadows depends on the finish where the pearl ones last the longest I can see creasing with matte after 4-5 hours of application. The shimmery ones show fallout and fades even faster without a primer.
Don't Miss to Checkout:
Coming to the Eye shadows :
Tropics – It is a medium dark warm orange shade with a soft matte finish. The texture is soft and smooth and gives a rich color.
Night Fever – It is a fuchsia pink in matte finish. Formula is similar to the other matte eye shadow soft smooth and pigmented
Ipanema – It is a rich plum shade with golden shimmer flecks. The color pay off is good with satiny smooth texture but shows slight fallout during application
Caipirinha – It is a frosted pearl finish mint green eye shadow with a rich colorpayoff but the color fades fast when blended so pat it on for bright green eyes.
Urca – It is a plate beige eye shadow in a pearly finish which works best as brow bone highlighter. It blends out beautifully provide a subtle shine to the area
Leblon – It is the darkest shade in the palette a rich jet black eye shadow in matte finish. The texture is creamy smooth and extremely soft which causes slight fallout during application but it is insanely pigmented.
Cachaca – It is a pearly white shade with metallic sheen and crumbling soft texture. This is my least favorite shade from the palette.
City of Gold – It is bright yellow golden shade with warm undertones and frosted shimmery finish. It had good color payoff with a soft, smooth texture. It falls out a bit during application but lasts for 4-5 hours before creasing, fading
Copacabana – It is a medium caramel brown eye shadow in an almost matte finish as it has some golden shimmer specks sprinkles in the formula. The texture is smooth, soft and blendable works good as a crease color for blending.
Sao Conrado – It is a muted coral pink shade in matte finish though I could noticec subtle shimmers in the pan but nothing on lids. The texture is super soft and needs to be patted well to get a good color, works best with a primer or base underneath.
Bossa Nova – It is a cool-toned, medium-dark purple with a pearly sheen It had so-so color payoff that had a slightly drier consistency. The color lasted for eight hours before fading
Leme – It is a dark matte blue shade with a pearly sheen. It has creamy consistency which applies nicely giving a rich color.
Recommendation:- . Sleek Makeup Rio Rio I-Divine Eye Shadow Palette is a colorful eye shadow palette with lots of bright shades like lemony yellow, florescent green, vibrant pink and more. It has a few warmer brownish matte shades as well that will works great as crease colors to blend out the colors. The palette has a bright golden and peachy brown shade that works excellently as a brow bone and inner corner highlighter. It is balanced with 2 darker shades that go well in the crease and lower lash line to add depth to the looks. I am really impressed with the quality of the eye shadows at the price tag though the eye shadows perform much better when used with primer, not only they look intense but shows less fallout and last longer.

If you are into bright eye makeup and really like to play with colors, do give this palette a try.. ( not sure if it will be available now 😛 )
Rating:-4/5
Have you tried Sleek Makeup Rio Rio I-Divine Eye Shadow Palette? Which is your favorite Drugstore Eye Shadow Palette?