Skincare Routine for Soft and Glowing Skin – 3 Step Winter Skincare Ft. Himalaya Herbals
Some love cozy sweaters, boots and layering under piles of clothes while people like me hate the gloomy days and being buried under tons of clothing. But whether you love or hate " Winters", One thing that you cannot avoid is adjusting your skincare routine according to the weather. As we step into winters we not only have to shuffle our wardrobe but also our dresser to take care of the dryness that comes with winters. That is why I decided to share this post with you where I will mention the 3 must have winter skincare essentials for dry skin in Winters. The list includes a nourishing Body Lotion, a lip balm and a body cream from Himalaya Herbals. These products will help moisturizing the skin, and keep the skin soft , smooth and nourished during these dryer months of the year.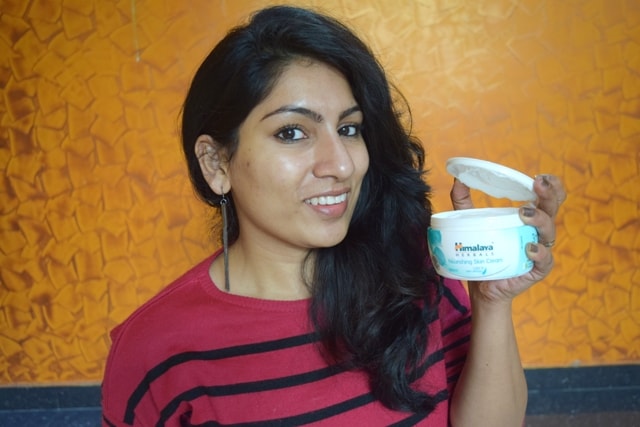 Skincare Routine for Soft and Glowing Skin – 3 Step Winter Skincare Routine
Himalaya Herbals Cocoa Butter Intensive Body Lotion: Rs 140 for 200ml
I can't tell you how much I love my body lotions . I am a true Body Lotion hoarder and at any given time I must not have any less than 5 body lotions in my stack. So, this body lotion actually made me super happy as it is infused with cocoa butter and has an amazing warm cocoa scent. Also the body lotion is perfect for my super duper dry skin as it is intensely moisturizing and deeply nourishes my skin while repairing the dry patches. It locks the natural moisture of the skin and keeps it soft and supple throughout the day. I really love its creamy texture which gets absorbed quickly into the skin without feeling heavy and provides essential nourishment to the skin. Perfect for my dry skin in winters.
Himalaya Herbals Nourishing Skin Cream: Rs 220 for 200ml
Anything that claims to moisturize my skin in winters.. I am in.! This Nourishing skin Cream form Himalaya is really an interesting product. It is made with Indian Kino Tree, Aloe Vera and Winter cherry which naturally moisturizes and restores skin moisture. I really love the light weight texture of this cream. It has a very refreshing fragrance which is a nice break from warm , vanilla-cocoa scents common in the winter body lotions. The cream doesn't feel heavy or greasy and its non sticky light weight texture is a pleasure to work with. This is something that I might repurchase. Not super nourishing but perfect for oily skin or someone who doesn't need heavy moisturizers.
Himalaya Herbals Strawberry Shine Lip Balm: Rs 140 for 4.5 gms
Lips are first to start showing the signs of winters. The delicate skin of the lips can't handle the dry weather conditions and it starts flaking, cracking quickly. So, to keep the lips soft and smooth this Strawberry shine lip balm will be a perfect pick. The mild strawberry fruity scent makes the application even more pleasurable. The formula is made with 100% natural color and Vitamin E, and is free from all the preservatives, Mineral Oil, Silicon and petroleum jelly. Love this lip balm because it's not soggy or melting soft and for the beautiful shine it adds to the lips. It's not too waxy and feels nice on lips with a very light tint on lips. This Himalaya Lip balm is perfect for naturally glossy, soft and nourished lips.
So, with these Himalaya Winter Skincare essentials you can keep skin soft and Glowing this winters. Himalaya Herbals products are very affordable and are made with natural ingredients.  So, without being broke you can counter winter dryness easily and flaunt a smooth, glowing skin. Apart from it don't forget to drink at least 4-5 liters of water to keep your body hydrated. Trust me it makes a huge difference to your skin as well.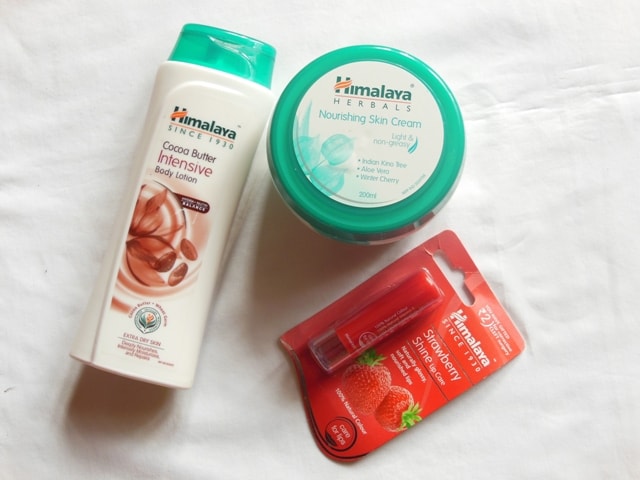 Have you tried any of these Himalaya Winter Skincare Products? Tell me about your Winter Skincare Routine?
PS: Products sent by brand but honest and unbiased Opinion!