Skin Care Awesomeness: Burst of Happyness
Hello Dolls,
I have tried some of the Burst of Happyness Goodies in the past but today I have some new awesomeness from the brand. Burst of Happyness has come up with some new and exciting products, one is their Burst of Happyness Clay-O-Patra face mask and other one is their Burst of Happyness Coffee Body Butter. Let's see if these products do any justice to their claims.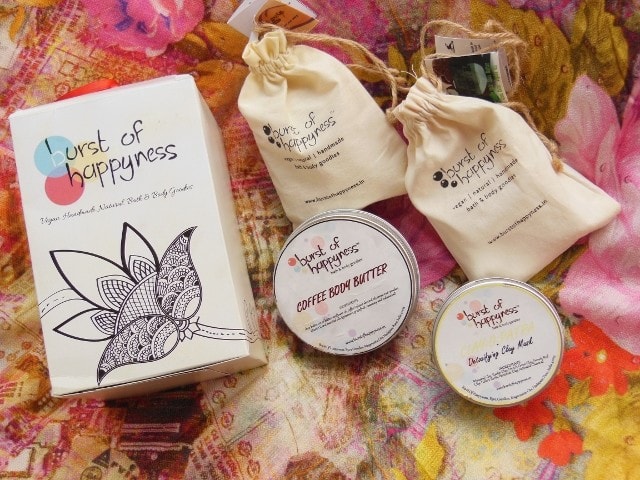 Packaging: Burst of Happyness have revamped their packaging and now they comes in silver metallic containers with a screw lid and don't ask me how much I love these because somehow they give me those nostalgic vibes.. old times metal cans :D. The soaps comes packed in fabric pouches which again looks very pretty.
It's just that with greasy hand it could be difficult to lock/unlock lids especially of butters but otherwise its awesome.
Burst of Happyness Coffee Body Butter
Product Claims: With regular massage, coffee helps stimulate blood flow and diminishes stretch marks and cellulite. Shea butter is rich in Vitamin E and acts as a natural antioxidant. Vitamin E oil moisturizes skin and helps reduce scarring. Cocoa butter has moisturizing, regenerating, and softening properties, and also helps create a protective barrier on the skin. Almond oil is a light oil that helps ease skin irritation and dryness.
As a leave-in conditioner: Massage some into your hair post shampoo to keep it manageable
As a pre-shampoo deep conditioner: Scoop a little in your hand and warm in your palms. Massage on to your hair and scalp. Leave on 30 minutes and then shampoo as usual.
As a bath soak: Add a spoonful in warm bathwater and soak in it for 30 minutes.
For Dogs: Treat your pooch to a massage before a bath and they will love it!
Direction for Use: Lather on after your bath or before going to bed and let it work its magic! If you have very dry skin, you can also use the butter as a face cream.
Ingredients: Butters (shea and cocoa), sunflower oil, coffee-infused almond oil, arrow root powder, vitamin E and essential oils (geranium, grapefruit, rosemary and cedarwood)
Price: Rs.680 for 120gms / 350 for 60gms
Shelf Life: Use within 6 months of mfd. or 3 months after opening. Within this period, the product may lose its whipped consistency if it melts but not its effectiveness.
My experience with Burst of Happyness Coffee Body Butter:
It's all about drenching in any moisturizers during winters, all thanks to my super dry skin. I won't mind taking bath in a tub full of body lotion or butters as that will ease up my task to a certain extent. I love body butters over lotions because not only they are more moisturizing in most of the cases; I feel they do smell better than lotions.
Burst of Happyness Coffee Body Butter is a mix of the most sumptuous body butters like shea butter, cocoa butter and wonderful essential oils like geranium, grapefruit, rosemary and cedarwood. Out of all the body butters I have tried including handmade Body butters and the much loved The Body Shop Body Butter this Body butter has the most amazing ingredient list. I also love that it melts so quickly when picked with fingers because usually handmade body butters are a pain to use when frozen. It feels light on skin and gets absorbed into the skin without feeling sticky or greasy like the regular oils. It does leave a slight oily film on skin but I don't mind that because I like it that way.
My favorite thing about this body butter is it fragrance, it smells of a lot like cedarwood and rosemary with a hint of coffee, something that I have never experienced before. Initially it smells a little strong but within minutes of application it fades to a more likeable woody scent.
Owing to its all natural ingredient list I like to pamper my baby with this body butter too especially on his hands and cheeks where he is most dry. I absolutely love this body butter, it is a keeper for me in winters.
Burst of Happyness Clay-O-Patra Face Mask
Product Claims: A delicate but highly potent mask with a blend of six clays to detoxify your skin and scalp.
This clay mask is extremely effective in absorbing excess sebum, removing chemical build-up and refining pores. Along with activated charcoal, which draws out dirt, oil, and toxins (and also helps eliminate acne!), this mask has six clays with great absorbing qualities:
Kaolin clay gently draws impurities from the skin without removing its natural oils. It simultaneously exfoliates, cleanses, and stimulates circulation.
Rhassoul Clay is mined in the fertile Atlas Mountains of Morocco. This absorbent, skin-loving clay reduces dryness and flakiness, and also improves skin clarity and elasticity.
French red clay helps tone skin and deep-cleanse pores, while French green clay helps remove impurities and reduce inflammation.
Fuller's Earth is used extensively in India for its antiseptic and absorbing properties.
Bentonite Clay is known for its ability to absorb and remove toxins, heavy metals, impurities, and chemicals.
Use as a body mask.
Use for spot treatment.
Use as a dry shampoo.
Use as dusting powder for feet.
Direction for Use: Mix the desired amount with warm water/fresh aloe gel and apply. Leave on for 15-30 minutes and rinse off with plain water. If using on scalp and hair, do not shampoo after. Please note that the product might stain clothes.
Ingredients: Rhassoul Clay, Kaolin Clay, French Green Clay, French Red Clay, Fuller's Earth, Bentonite Clay, Activated Charcoal
Price: Rs.495 for 120gms
Shelf Life: 2 months from mfg.
My experience with Burst of Happyness Clay-O-Patra Face Mask:
I love the name of this face mask "Clay-O-Patra", how innovative.. :D. As you can make out from the name it is a clay face mask which comes in a powder form and needs to be mixed with water or milk for application. I have tried a bunch of clay face masks but all of them were in the paste form and pretty pricey for the quantity.
One look at the ingredients list and I fell in love with it. It is such a clay heavy mask and I can only see an extensive amount of clays that will purify skin and that's it. No fillers or chemicals whatsoever..
I have used it with water and it does take some time to absorb water and transform to a paste form. Actually I like my face masks to be a little thin so I add some more water to the paste. I apply a thin layer of it all over my face and then let it dry for 20-25 minutes and finally wash off with plain water. It washes off with a little effort as clay has a tendency to stick to the skin.
Results: It is a dark gray colored mask which can make you look scary but you will love it for what it does to the skin. I have used it all alone and after the face scrub and in both the cases there was no burning or tingling sensation so I can say that it is safe for sensitive skin as well. Also, I can feel the dirt and oil being pulled off from skin as face feels so clean after wash. I have a dry skin and I don't find it making it dry or stretchy at all. I loved my skin so much because it felt so smooth, tightened and clean with just this mask. I can see myself skipping scrubbing in winters as this Clay mask will take care of blackheads and all… its awesome!
Recommendation: Burst of Happyness products are handmade with love and are filled with the goodness of natural exotic ingredients. I have tried a few of other handmade products like soaps, shower gels but none of them comes close to these. This

Burst of Happyness Coffee Body Butter is a sumptuous mix of natural butters and essential oils which will nourish your skin in the best way and Burst of Happyness Clay-O-Patra Face mask is an affordable face mask which will help you with skin issues like oiliness, blackheads in the most natural way. Both of these are a must have and you got to try these but if you want to pick just one go with the Clay mask and I am sure you won't go back to any. Highly Recommended!
Rating: 5/5
Have you tried Burst of Happyness Products? Do you prefer handmade products over commercial ones?
PS: Product sent by brand for consideration