SIGMA Face Makeup Brush: F80 Flat Kabuki Brush Review
Hello,
A perfect foundation brush is a must have in everybody's vanity and when talking about makeup brushes, the discussion will be incomplete without considering SIGMA, which have been delivering quality at affordable prices since ages. I bought most of the eye makeup brushes from SIGMA and wanted at least three of the Face Makeup brushes including Angled blush -F84 , Round kabuki- F82 but could manage to grab one, the most raved about, SIGMA Makeup F80 Flat Kabuki Brush from their Face Makeup Brushes collection.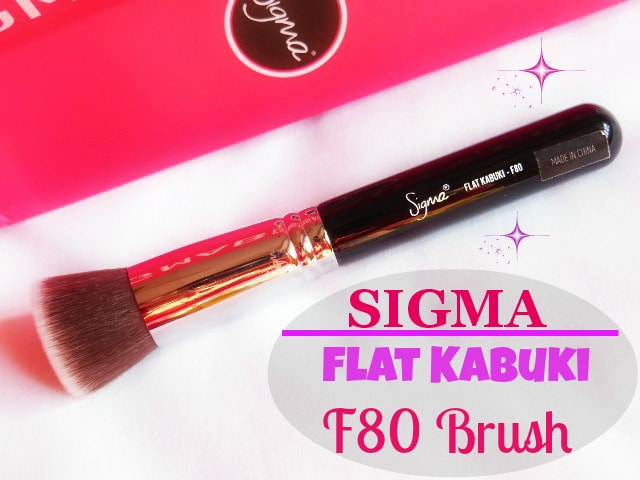 Product Claims:
Unique Feature: Dense and flat head
Function: Buffed foundation application 
Recommended Use: Blend liquid or cream products onto flat areas of the face such as the forehead and cheeks.
Bristle Type: Synthetic Sigmax™
Length: 6 1/4 in. (15.8 cm)
Price:- $21
Packaging:- The brush has a all black wooden handle and silver metallic ferrule( that holds the bristles together) . The glossy black handle has the name and purpose of the brush is carved on it for easy identification. SIGMA insignia is also engraved on the metallic ferrule. The brush comes with a protective plastic sleeve to keep the bristles from getting damaged. The protective sleeve is sturdy enough and also aid extending the life of the brush by protecting the bristles.
My Experience with SIGMA Makeup F-80 Flat Top Kabuki Brush:-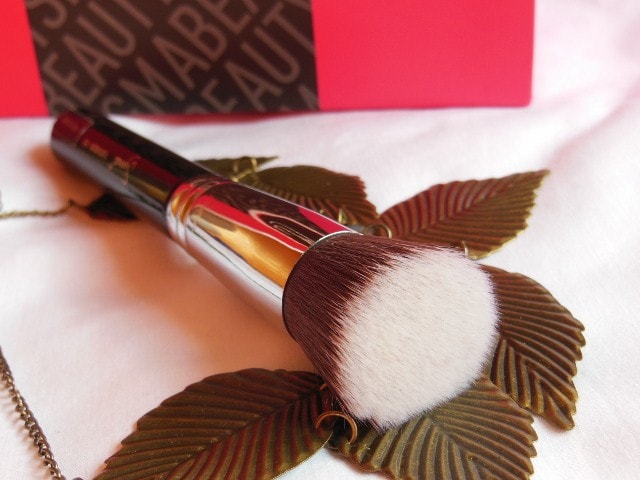 Sigma F-80 is a flat top Kabuki brush with dual fiber bristles which tightly packed but it isn't stiff and move around with ease. The brush is made with Synthetic Sigmax bristles which are raved about as the softest around and they truly holds true to its claims. They feel immensely soft, softest of all the brushes I have tried till date (Sonia Kashuk Flat Top will be next) and moves around like I am swiping a satiny smooth silky cloth on my face. The brush has a dense shape but it doesn't feel firm and is fluffy enough to smoothen foundation with ease.
The brush can be used to set foundation in two ways:
Stippling movements: When you want to achieve that clean, even streak-free distribution of foundation in that soft air-brushed finish use this brush in small stippling motion to buff foundation onto skin. This way you can deposit layers of foundation and achieve full coverage without getting that cakey look. Instead of picking up foundation directly with the brush ( as this way the bristles will absorb lots of product) take the foundation at the back of your hands and apply in tiny dots all over the face. After that spray some water on the bristles to make it damp and start with blending in the foundation with stippling movements
Swiping/gliding movement: Apply foundation with fingertips and then blend lightly to distribute the product on the skin and then use this brush to blend and smoothen out everything. Or just swirl the brush over your powder foundation or compact and cover the imperfections by gently rolling it all over the face
It works best in Stippling style with liquid products or buffing in Loose Powder due to its flat shape but with powder products like Pressed Powders/Powder foundations it can also be used in the swiping and gliding movements. The brush is provides medium coverage with ease and it can be converted to heavy by layering the product with stippling actions with the help of its tightly packed bristles

I believe the brush gives the best application with liquid and powder formulation but for creamy consistencies it will load too much of product depositing a heavy layer of product on the skin. I doesn't have any cream foundation so cant say for sure but I feel SIGMA F-40 is better fit for this purpose as it is much thinner and has slightly loosely packed bristles.
Now, the brush can get dirty really quick and you might need to wash it even before a week as the bristles can be seen sticking together raising an alarm for bath-time. To extend the life clean the bristles with a brush cleanser after every use so as to get rid of excess product on the bristles and give a deep clean spa treatment over the weekend. ;). Cleaning this dense brush can be huge task and owing to its dense shape it is take long to dry completely and be fit for use.
It is one of he most sought after kabuki brush and now I know why it is being loved by everyone so much! It has become an essential part of my makeup kit and i can't imagine my life .. doing makeup without it! It gives a smooth and streak-free finish and you can get that flawless look with any of your foundation using the F-80 brush.
Dont Miss to Checkout:
SIGMA F80 brush is much larger, fluffier and denser than the Sonia Kashuk. F80 covers more area in a single stroke while Sonia Kashuk is better for covering small areas especially for blush/bronzer application.
ELF Studio powder Brush is quite close but is bigger and had bristles are flared than F80 and achieving heavy coverage wouldn't be that easy. Though it performs really well at distributing the foundation evenly, I like F80 more over it for dealing with liquid formulations.
I haven't used Real Technique brushes yet so couldn't compare.
Pros of SIGMA Makeup F80 Flat Top Kabuki Brush:-
Exceptionally soft bristles
Superior quality
Blends foundation effortlessly
Impeccable finish
Can be used with both liquid and powder formulations
Doesn't shed at all
Brush is sturdy and easy to use
Comes with a plastic sleeve for protecting bristles
Worth every penny
Cheaper alternative to MAC brushes
Cons of SIGMA Makeup F80 Flat Top Kabuki Brush:-
Cleansing thoroughly is a pain
Availability in India
Recommendation:- SIGMA Makeup F80 Flat Top Kabuki Brush is a flat top duo fiber brush which blends foundation with minimal effort. The bristles are absolutely flat and that can be tested by making this brush upside down on the bristles. I like using this brush damp and with stippling motions to buff in the foundation and get that flawless finish. The price is justifiable for the quality and teh excellent job if performs at blending the foundation. The bristles quality, the density, the size; everything about this brush is just perfect. Brushes are not something that will get over by time and they are here to stay so investing in good makeup brushes is always a great idea, they can be your BFF's. Highly Recommended!

PS: If you don't feel comfortable using the regular foundation brush due to streaky finish or use fingers to blend I would suggest to give flat-top brushes a shot. They not only blend the foundation smoothly but gives such a superlative finish that you will fell in love your skin again. I have never been inclined towards pointed foundation brushes as I feel they are just not designed for this job and will always give a streaky finish. I bought one last year but never put it to use. Rather I prefer such flat-top kabuki brushes better for base makeup application. 
Rating:-4.8 /5
Have you tried SIGMA Makeup F80 Flat Top Kabuki Brush ? Which is your favorite brush for foundation application?