Shine on my Eyes with SIGMA Eye Shadow Fawn
Hello Everyone,
Today I am going to share an eye shadow review with you from SIGMA. Yes, apart from brushes SIGMA has a makeup line as well. I love SIGMA brushes and have been using them for years. I have similar expectations from its Eye Shadow so lets see how it worked for me, SIGMA Eye Shadow Fawn.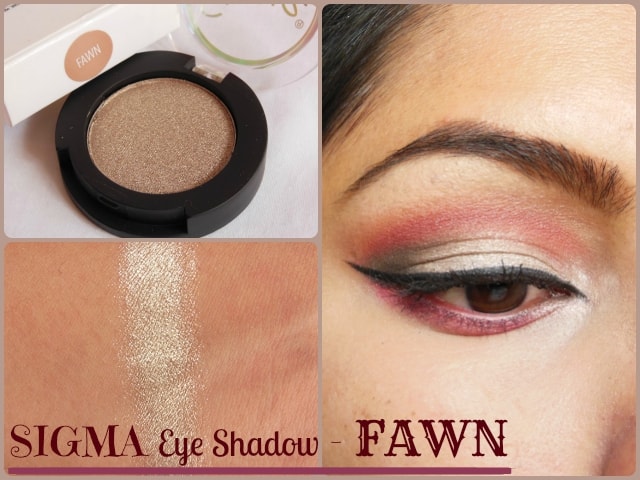 Product Claims: The Sigma Beauty Individual Resort Eye Shadow Collection is comprised of rich, warm tones offset by vibrant, ocean-like hues, giving you the ability to create endless options for your personalized oasis. All shadows are paraben-free.
Price:- $11.00 for 2.5gms
My experience with SIGMA Eye Shadow Fawn:-
SIGMA Eye Shadow comes in a matte round pot packaging and a see-through lid. The packaging is sturdy and doesn't feel like light-weight cheap plastic.
Shade: FAWN is a medium-light taupe brown shade with loads of shimmer and gives a frosty finish on application.
Formula: The shade has a nice creamy smooth texture which picks up well with finger tips but I struggled to pick up the shade with brushes. It does kick off shimmers in the pan when picked with a brush.
Pigmentation: Had it been pressed pigment I would have no issues but I expect good color payoff with my eye shadows and this one lacks in this department. It just gives a sort of shimmery glow on application with barely any color to the lids. I used my SIGMA E55 brush to apply on my lids and packed it like 50 times but didn't achieve the desired color. Then I used fingertips and noticed that this eye shadow works best with finger tips. For better coverage apply any eye shadow base or primer underneath.
Being a shimmery eye shadow it does have a fallout which could be hard to clean from the under eye area. The formula doesn't hold very well on my oily lids and without a base or primer it starts creasing 2-3 hours of application.
Recommendation: SIGMA Eye Shadow Fawn is a gorgeous shimmery taupe shade with silky smooth texture but it doesn't work well with brushes and you have to apply it with fingers for a decent color payoff. Also, a primer or an eye shadow base is a must else it will fade and crease quickly (as soon as 3-4 hours of application). I would have loved it in spite of all the cons listed above if it had no fallout but guys it falls out of the lids post application as well which makes it a very high maintenance eye shadow.. Not my cup of tea, as I like my eye shadows to be fallout –free. This particular shade just didn't worked for me but I would love to try other SIGMA eye shadow that are loved by many
Rating: 2.5/5
Don't Miss to Checkout:
Have you tried SIGMA Eye Shadows? Which is your favorite Eye Shadow Brand?
PS: Product sent by brand for consideration