SIGMA Eye Makeup Brushes –E 65 Small Angled Brush Review
Today I am going to start with my professional eye makeup brushes that I hauled 3 months. I have been lusting for these and finally the moment came when I had a chance to grab these with both of my hands.  I will start the series with a Small Angled Brush E 65.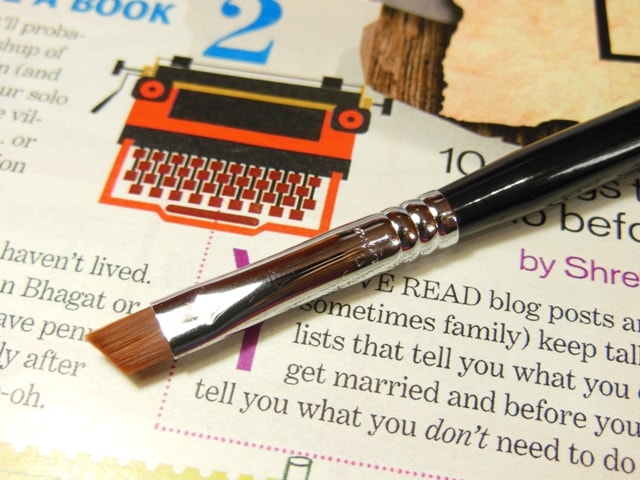 Product Claims:
Unique Feature: Angled, thin and firm head
Function: Create precise lining
Recommended Use: Moves fluidly and easily across the upper and lower lash lines. Use with gel, cream or powder liners.
Length: 6 1/2 in. (17.78 cm)
Price:- $10
Packaging:- The brush doesn't come any cases or pouches just a transparent plastic wrapper with a Sigma logo. It has a long shiny black wooden handle with the name and the number of the brush printed in siverish-white. The bristles are held by a metallic silver grip attached to the wooden handle and has SIGMA engraved over it.
My experience with SIGMA E 65 Small Angle Brush:
This is the first brush I started using from my Sigma Collection I have been using it for so long that I completely forgot that I am yet to write about it. I bought it mainly for Gel Liner application as I feel the brushes that come along with Gel eyeliners doesn't stay great for the life of the liner and gives up in the middle also I wanted to try some professional brushes for liner application.
E 65 Small Angled brush has tapered bristles giving it an angular shape. The brown colored bristles are super-soft to touch and firmly gripped. The brush is very thin which allow me to go for thinner and precise application.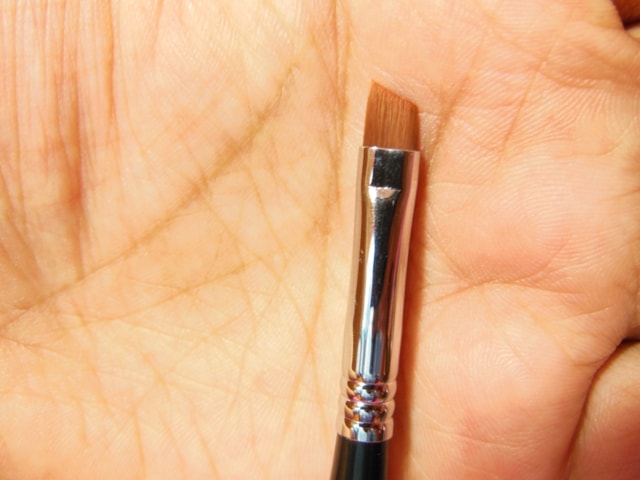 1. It works wonderfully with Gel Eye Liners, the effort and time required to draw lines with gel liners is almost reduced to half with this liner brush. The almost flat shape let me draw lines close to the lash line especially close to the inner –corners.
Keep the longer side towards the inner corner and swipe in outer V-corner direction for lining the lids
For winges, keep the longer side up (where ur wing should end) and move the brush in downward direction towards the lash-line.
2) Eye Brow Filling – It does a pretty decent job in that department too. The angular shape goes easily along the shape of the brows filling then for a soft filled eye brow look. The width of bristles is good for the job but I think a bit stiffer bristles would have delivered even better results.
3) Lining Lower Lash Line – It gives a neat and clean application with an evenly thick line from start to end. The thickness of the brush is apt for achieving a defined lower lash line look.
4) Eye shadows as Eye Liner Application – Many a times I apply eye shadows as eye liner and for that matter, the brush does a fabulous job. Pick up the eye shadow with slightly damp bristles and apply e.g. applying a highlighter to the inner-corners. Also, when I want a colorful eye liner look with multiple shades, this is the only brush I reach out for.
Don't Miss to Checkout:
–> Used it here to line my lower lash line with INGLOT Matte 388 Eye Shadow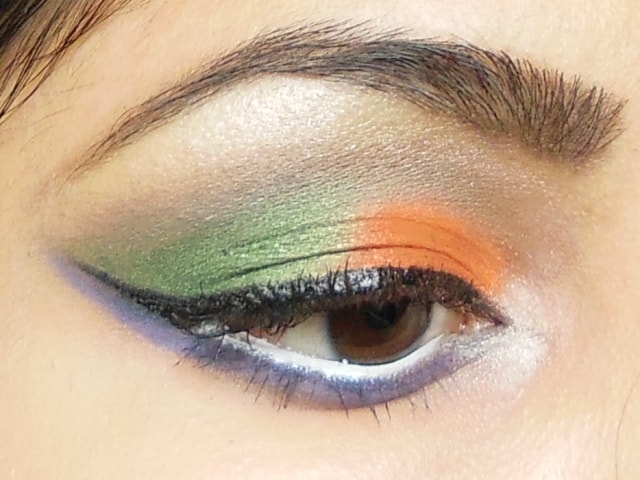 –> Used it here to pat colors on my lids.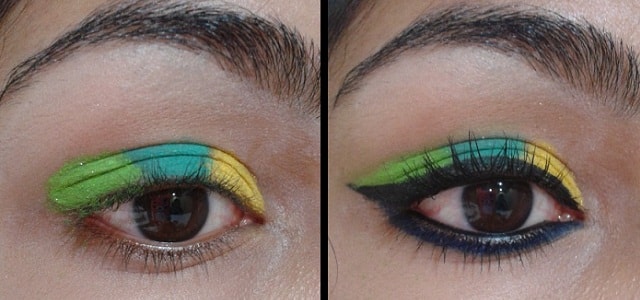 Apart from it's multiple usages, the brush also speaks of its good quality. I have washed it like 7-8 times but have experienced any shedding or flaring. It is in an excellent condition just like the day I bought it. Like most Gel liner brushes, it also needs to be cleaned after each use as the liner fills in between the bristles which make them stiffer on drying but it gets cleaned pretty easily and takes just a few hours to dry completely.
Recommendation:- SIGMA E 65 Small Angle Brush has a slanted tip which gives a smooth and easy application with gel-liners and is also great for shaping and filling eye brows. The thin (almost flat) shape is apt for drawing eyes with a medium-thin line . It is a bit tricky to achieve the thinnest application but it is pretty easy to get the thicker eye liner look precisely. It works superbly with patting eye shadows as an eye liner and highlighting inner corners. If you are not comfortable with brushes that come along with gel eye liners, then do give this a shot for a cleaner and easier application. Recommended!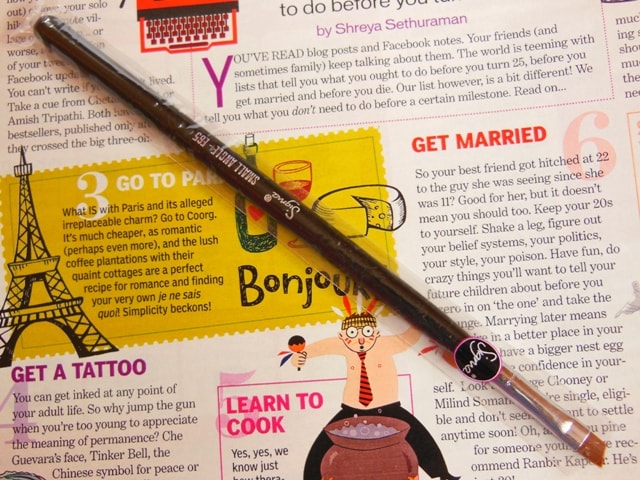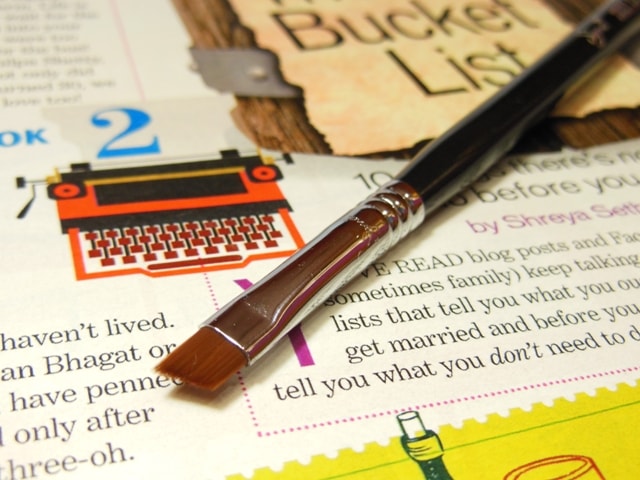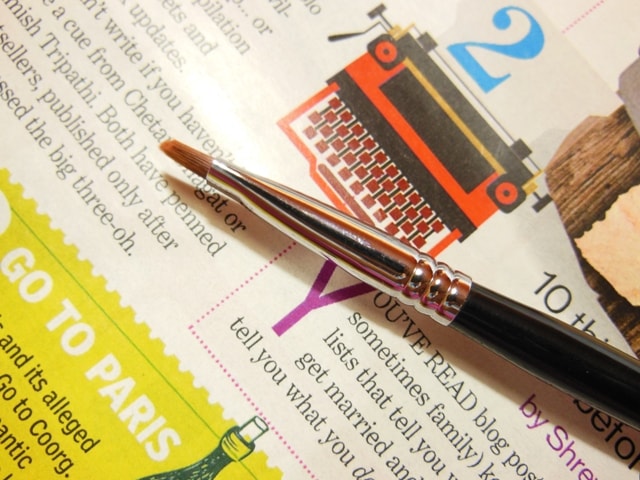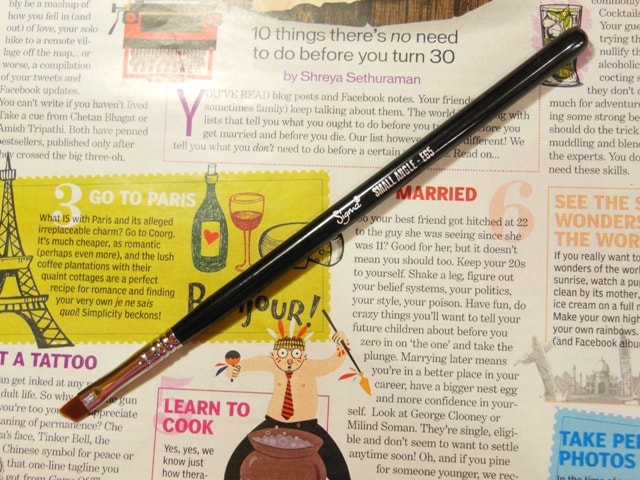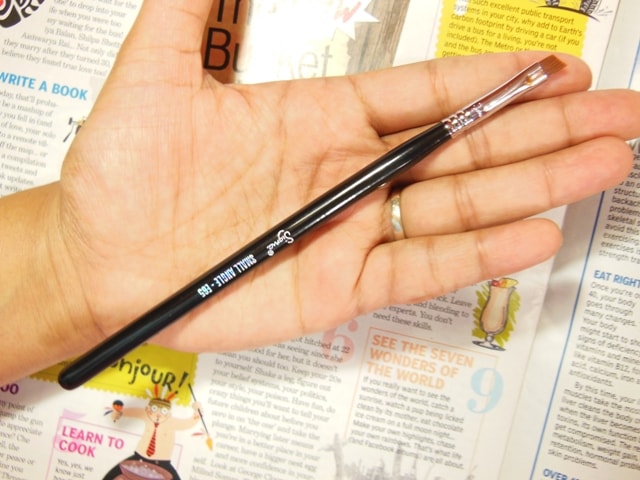 Rating:- 4.5/5
Have you tried SIGMA E 65 Small Angle Brush? Do you have Sigma brushes and which ones do you like?