Sigma Eye Makeup Brush: E40 Tapered Blending Brush Review
Today I will be reviewing another Eye Shadow blending brush from SIGMA which is also considered a dupe of MAC 229 Brush, Sigma Eye Makeup E40 Tapered Blending Brush.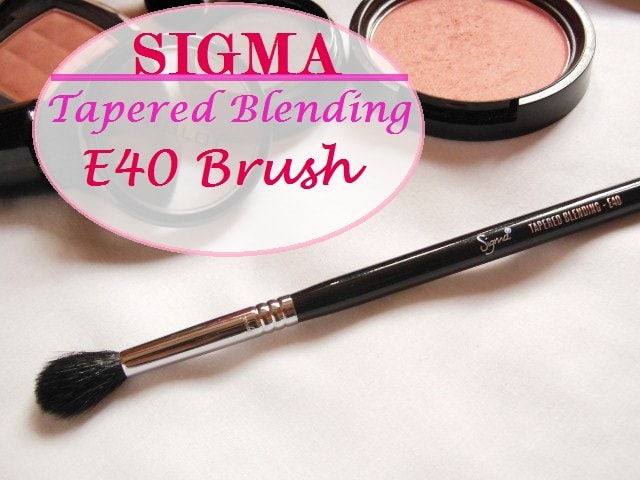 Product Claims:
Unique Feature: Soft and fluffy rounded tip
Function: Soft, blended crease
Recommended Use:Using just the tip to apply color, sweep back and forth through the crease for a diffused and blended finish.
Bristle Type: Natural
Length: 7 7/8 in. (20.1 cm)
Price:- $12
Packaging:- The brush is made up of wooden handle and nickel-plated metallic brass ferrules.
My experience with Sigma Eye Makeup Brush: E40 Tapered Blending Brush:-
Sigma E40 Tapered Blending brush is a large round shaped fluffy brush with loosely packed bristles which are slightly tapered at the top. It has velvety soft black colored bristles which feel extremely gentle and blends the color over the lids like a dream.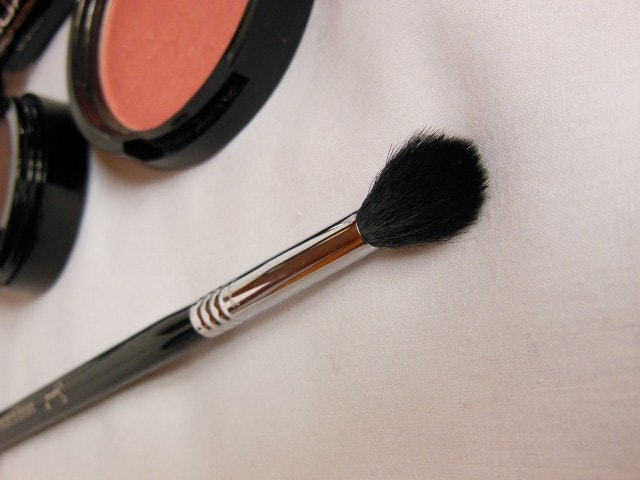 The brush performs excellently at:
Blending Eye Shadow: It works brilliantly for blending the eye shadows to the crease especially when you are going for a single color all over the lids. Apply your favorite bright shade on lids and then pick a matte light taupe brown shade with this blending brush for adding dimensions to your look.
Highlighting Brow Bone – Some use the technique of applying highlighter under the brow bone before starting with the eye makeup and this one will do an excellent job there. Pick up your favorite highlighter shade with the brush and roll the brush under your brows.
Highlighting Nose and Cheek Bones – The fluffy shape makes it useful to lightly apply highlighter to the sides of the nose and the top of the cheeks giving a soft look.
Contouring Cheeks – I really like the way, it fits to the contours of the cheeks. Pick up the bronzer with brush, tap off the excess, apply it to contours and move it in small circular motion starting from ears towards mouth.
It isn't meant to be used for:
Controlled eye shadow Blending: When you are looking for blending the color at the outer V-Corners where we need precision, the large fluffy shape doesn't help.
Blending on smaller lids: The brush is too large to serve any purpose for smaller lids especially the crease area blending.
Dont Miss to Checkout:
How to use E40 Tapered Blending Brush:
Keep the brush in upward direction, parallel to your nose. This way it gives much better control as you can restrict the access of bristles to your lids and achieve desired shading/blending just move the brush along the eye contour in small sweeping brush strokes.
The blending goes gross when the brush is held perpendicular to the lids.
Pros of Sigma Eye Makeup E40 Tapered Blending Brush:-
Round Fluffy shaped bristles
Effortless Blending
Can also be used for highlighting and contouring cheeks
Excellent quality
Super-soft bristles
No Shedding
Retains its shape and doesn't flare.
Cons of Sigma Eye Makeup E40 Tapered Blending Brush:-
Not good for blending at outer-V corners
Doesn't work at apply color in the crease area.
Recommendation:- Sigma Eye Makeup E40 Tapered Blending brush is a fluffy dome shaped brush which delivers spectacular results at blending. Stark eye shadow lines vanish almost magically, with minimal effort. The large shape also works for highlighting and contouring cheeks but doesn't help in the precise crease or smaller outer V –corner blending. Overall, I like this brush a lot. Recommended!
Rating:- 4/5
Have you tried Sigma Eye Makeup E40 Tapered Blending brush? Which is your favorite blending brush?