SIGMA Eye Makeup Brush: E30 Pencil Brush Review
Today I am reviewing one of my favorite brushes from SIGMA Makeup collection and a so called dupe of MAC 219 brush, the SIGMA Eye Makeup – E30 Pencil Brush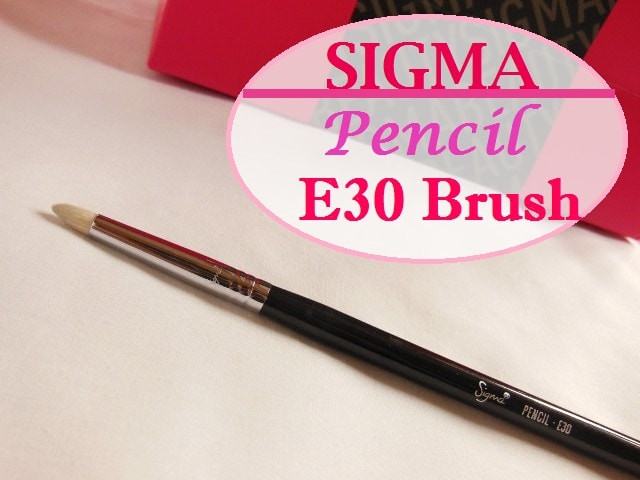 Product Claims:
Unique Feature: Soft and tapered pencil tip
Function: Soften and smoke out liner
Recommended Use: Soften pencil liners along the top and bottom lash lines, add shadow to line the eyes, or use to highlight inner corner of eyes.
Length: 7 in. (17.78 cm)
Price:- $12
Packaging :- The brush is made up of wooden handle and nickel-plated metallic brass ferrules.
My experience with SIGMA Eye Makeup Brush– E30 Pencil Brush:-
E30 has a pointed pencil shaped bristles tapered at the top. The bristles are densely packed but isn't too stiff rather slightly fluffy. The pointed tip and the fluffy shape picks up the decent amount of color and place it exactly where you touch it down on the lid area.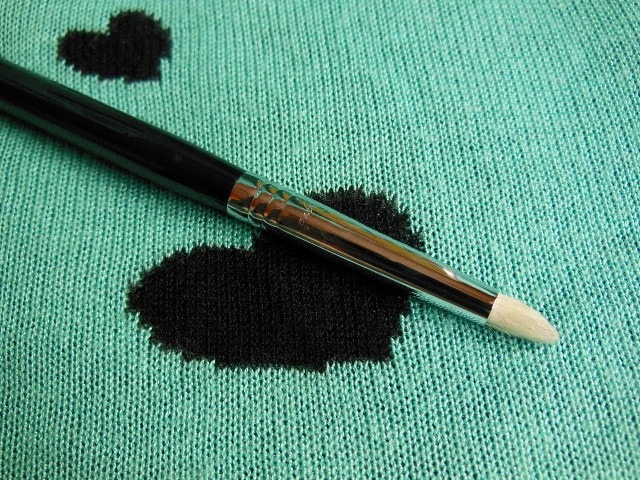 Listing down various used of this E30 Pencil Brush –
Eye Shadow on Outer-Corners: The pointed shape of the brush fits comfortably on the small outer corner areas and deposit colors with precision.
Smudging Kohl/Liners – The pointed tip helps in blending the color to an extent but wont give that controlled smudging as the tip isn't too stiff.
Eye shadow over Kohl – Especially on the lower waterline, swipe the brush loaded with color for a smudged kohled look.
Applying Highlighter on Inner corners: It also does the job of highlighting the inner corners nicely
This brush works best where you need controlled application of eye shadows. I am going to start learning the tricks for cut-crease look where it is going to be really very helpful. The bristles are feathery soft and have creamish white colored bristles which are bound to get stained with regular use and I wouldn't get those ultra clean cream colored bristles back ever again. Overall, I am in love with this one and it is an absolute must have for me.
Don't Miss to Checkout:
Pros of SIGMA Eye Makeup Brush E 30 Pencil Brush:-
Super soft bristles
Applies color precisely on the outer/inner eye corners.
Can also be used for Smudging kohl
Hold its shape excellently
Doesn't shed at all
Dries quickly
Decently priced
Cons of SIGMA Eye Makeup Brush E 30 Pencil Brush:-
Not available in India (though can be ordered online)
White bristles will get stained gradually
Recommendation:- SIGMA Eye Makeup Brush E 30 Pencil Brush does an awesome job at depositing color in the crease, inner and outer corner areas, the results are so much better with this one. It also works great at smudging Kohl and packing eyeshadow on lower lash line for smudged kohled look. It is made of up good quality bristles that are extremely soft to touch and have hold its shape even after multiple washes without shedding even a single bristle. The brush is a total value for money and I am deducting points just for its white bristles which will get stained in the long run. It is my favorite eye makeup brush from Sigma. Highly Recommended!
Rating:- 4.8/5
Have you tried SIGMA Eye Makeup Brush E 30 Pencil Brush? Which is your favorite pointed crease brush?