SIGMA Eye Makeup Brush E 55 Eye Shading Brush Review
I have been using these Eye makeup brushes from Sigma for 2-3 months now and it took me this long to make a decision on these but now I think I can precisely explain what all are they good at and not. Today I will be reviewing this flat shading brush from SIGMA, SIGMA Eye Makeup Brush E55 Eye Shading Brush.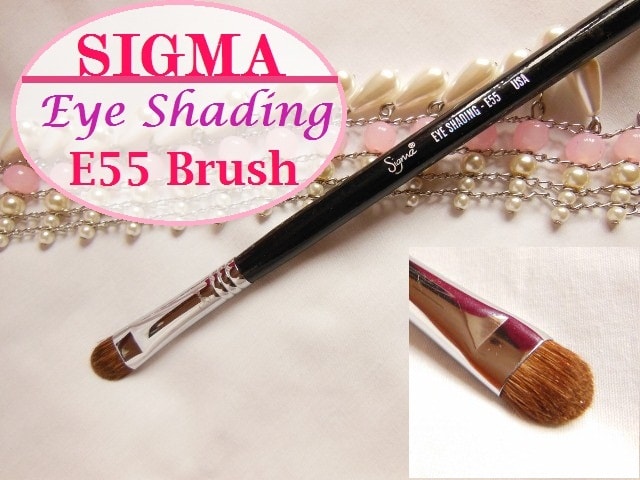 Product Claims:
Unique Feature: Soft and dense bristles
Function: Even application of color
Recommended Use: Place color across the entire lid for an even and strong application of product.
Length: 7.3/16 in. (18.2 cm)
Price:- $12
My Experience with SIGMA Eye Makeup Brush E 55 Eye Shading Brush:-
E 55 is flat shader brush with slight U-cut shaped bristles. The brush is quite dense and bristles are tightly packed which works well at packing eye shadow color on the lid.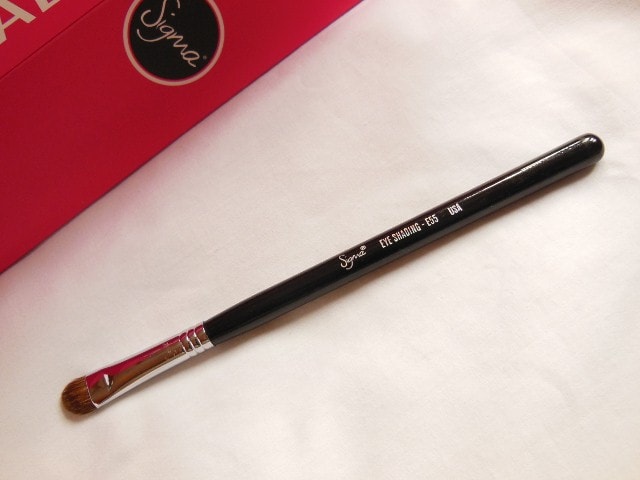 Let's see how it performs with different textures of eye shadows
Cream Eye Shadows: I tried it Maybelline Cream Tattoo Eye Shadows but the color came really sheer, even after lots of patting, rubbing and swiping of the brush over the eye shadows as well as lids. I like to apply them with finger tips better.
Powder Eye Shadows: It works best with powder eye formula, swipe the brush over the eye shadow and than pat the color on the lips. It builds up the colors nicely this way and can achieve the desired intensity this way.
Loose Eye Shadows/Pigments: I don't have any Loose Eye shadow/pigments but I believe its shape will do the job of picking up the product and saturating the lids with color nicely because of its firm shape and large brush head.
The size of the brush is a little big to apply the eye shadow to smaller eye lids. It is not that it wouldn't work for smaller lids but brush with a bit smaller (less wide) brush head will perform better.
The brush is quite soft and dense but not as soft as some other SIGMA Brushes.  One more thing that I disliked about this brush is that it sheds 1-2 hair at times during application but not excessively and has retained its shape well after multiple washes.
Pros of SIGMA Eye Makeup Brush E 55 Eye Shading Brush:-
Flat shaped brush with slightly Tapered bristles at the top
Dense and soft bristles
Works great at depositing color on the lid
Picks up color from powder eye shadows really well
Maintain its shape excellently after washing.
Long brush Handle with a silver metal ferrule
Reasonably priced
Cons of SIGMA Eye Makeup Brush E 55 Eye Shading Brush:-
Doesn't work well with creamy formula
Brush head is a bit large for smaller lids.
Bristles could have been a little softer
Sheds bristles occasionally, not horribly though
Recommendation:- SIGMA Eye Makeup Brush E 55 Eye Shading Brush is a flat dome shaped brush with stiff and dense bristles which applies powder and loose eye shadows really well and saturate the color on the lids. The brush is of good quality but bristles could have been a bit softer and that occasional shedding of bristles could have been taken care of. Overall, it is not one of my favorite brushes from my SIGMA collection but I am yet to find a better flat shader brush. 🙂
Rating:- 3/5
Have you tried SIGMA Eye Makeup Brush E 55 Eye Shading Brush? Which is your favorite Flat Eye Shadow brush?