SIGMA Eye Makeup Brush: E 45 Small Tapered Blending Brush Review
Hello Beautiful,
I must have tempted you enough to try these phenomenal SIGMA Makeup Brushes and today I will be sharing my experience with my 3rd blending brush from SIGMA and the last one from my exiting Brush collection, SIGMA Eye Makeup Brush – E 45 Small Tapered Blending. So, until I get a chance to visit states again or some Angel agrees to come back with my wish list products, you can consider this as my last post for SIGMA Makeup brushes.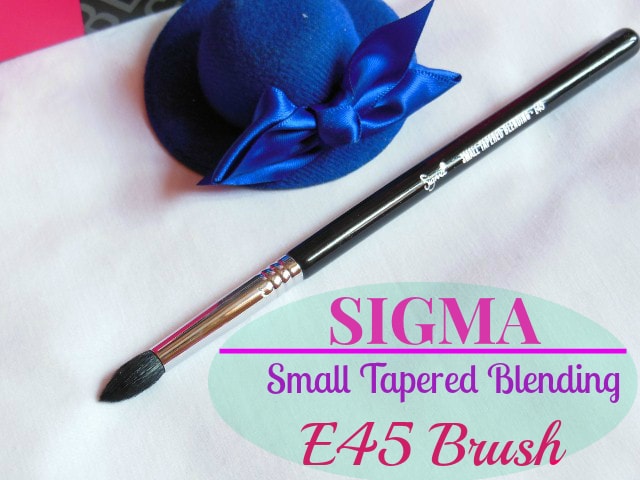 Product Claims:
Unique Feature: Very tapered and pointed with precise tip
Function: Precise color application onto the crease
Recommended Use: Picking up color with just the tip of the brush, apply intense colors to the crease to add depth and dimension to the eye.
Length: 6 1/4 in. (15.8 cm)
Price:- $12
Packaging:- The brush has a all black wooden handle and silver metallic ferrule( that holds the bristles together) . The glossy black handle has the name and purpose of the brush is carved on it for easy identification. SIGMA insignia is also engraved on the metallic ferrule.
My Experience with SIGMA E 45 Small Tapered Blending Brush: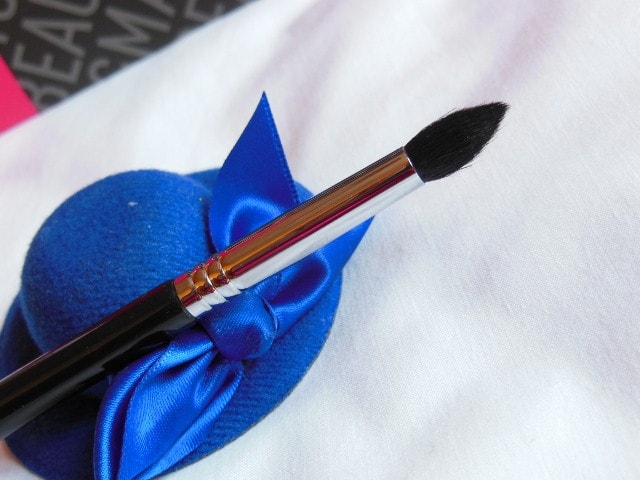 E 45 is small dome shaped brush with pointed tip. The bristles are highly tapered at the top to get that perfect pointed tip which will place the color right in place and then the fluffier shape towards the bottom which will help in blending out any harsh lines. The bristles are densely packed which gives brush a firm shape but it is fluffier enough to do blending job with ease.
The pointed tip fits really well on my small hooded eyes and aids depositing color precisely in the crease or Outer-V corners. The fluffier bottom helps in blending the color to the extent you would like to achieve and there is absolutely no chance of getting the color over blended or reaching the unwanted areas due to its tapered shape. The control and precision provided by this brush is marvelous.
I have washed it 3-4 times and hadn't faced any problem with shedding or the bristles loosing its shape. It stays pretty much the same just a bit fluffier after wash for the first time.
As you may already know that I love trying and mixing colors on the lids to create a amalgamation of shades on the crease and all of this can be achieved with his blending brush made in an effortless way and give a beautiful 3-d finish.
Comparison with Other Blending Brushes:
Don't Miss to checkout:
E40: It is a large round shaped brush which doesn't allow precision but is great for blending the color all over, I prefer it more for highlighter application on cheeks.
E25: It has a straight cut bristles with slightly fluffy shape which works nicely for crease blending but getting precision will not be easy.
Each of these blending brushes performs an entirely different job on the lids but with these 3 brushes I can any of the desired look with ease. The eye shadows are blended out so precisely that the color to give that soft color shift effect merging the shades in such a way that I didn't come to know when the new color started
It is raved to be a Dupe of MAC 226 brush but cant actually compare the price is however almost half of MAC with comparable quality. Also some have liked SIGMA more than MAC
Pros of SIGMA E 45 Small Tapered Blending Brush:
Applies eye shadow precisely in crease
Hassle free blending
Extremely soft bristles
Value for money
Classy packaging
Works wonderfully for small eyes
Doesn't loose its shape with washing
No shedding even after multiple washes
Cons of SIGMA E 45 Small Tapered Blending Brush:
None 🙂
Recommendation: SIGMA E 45 Small Tapered Blending brush fits comfortably in the crease area to deposit color with its pointed tip and and then blend it out easily due it its fluffy shape. I really love using this to apply color to the crease and achieve a color mix of 2-3 shades in the crease with this brush in an effortless manner. I cant stop raving about this, it is such a versatile brush which applies precisely and blend colors to the crease area adding depth, dimension and smoothing out the lines. It is the best brush to achieve precision blending especially for small hooded eyes and I reach for this the most. Must have blending Brush, Highly recommended!
I want more of this.. 🙂 😛
Quick Tip:
For an intense effect, place the color with SIGMA E35 pointed pencil brush and then follow up E 45 to blend everything together.
The pointed tip makes it best pick for achieving the cut crease' look with precision and without smearing the color all over.
Rating:- 5/5
Have you tried SIGMA E 45 Small Tapered Blending Brush? Which is your favorite Blending brush?