SIGMA Eye Makeup Brush – E 25 Blending Brush Review
Blending is the most important part of doing an eye makeup, so today I will be reviewing a Blending Brush from SIGMA Eye Makeup brush collection, the E 25 Blending Brush which I received as a free gift along with my purchase and the cherry on the cake is I managed to get two of these for free. 🙂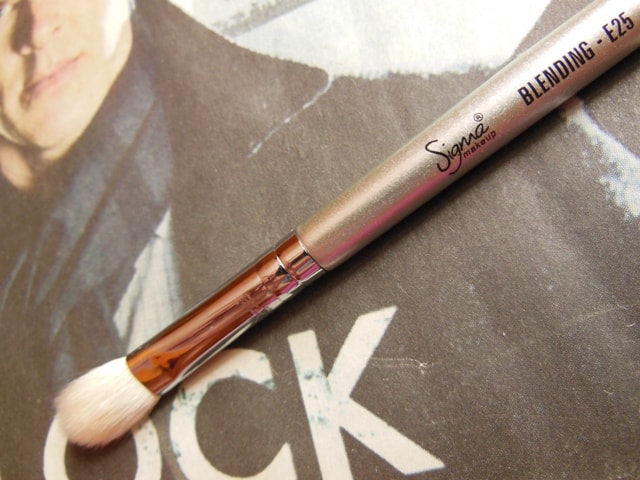 Product Claims:
Unique Feature: Wide and slightly flat, firmer bristle blender
Function: Controlled blending
Recommended Use: Blend colors together onto the lid with added control. Buff out harsh lines for a well-blended effect.
Price:- $10
Packaging:- The brush is much shorter compared to the regular brushed from Sigma and has silver-gray handle which are otherwise glossy black. The bristles are also creamy-white in color which looks pretty than the flat black bristles. This travel-sized brush is much easier to carry along and work with, especially if you have the habit of going close to the mirror so much that the brush hit it, which makes it slightly uneasy to do the job with longer handles.
My experience with SIGMA Makeup E 25 Blending Brush:-
SIGMA E 25 Blending Brush as the name dictates is an eye shadow blending brush. The brush has fluffy shape with lightly packed bristles and slightly tapered (U-Shaped) top which fits nicely into the crease area. The beautiful white bristles are feathery soft and feel gentle across the lids while working with it. It is so soft that it feels like I am swiping a soft-velvety thing on my lids to blend in the colors.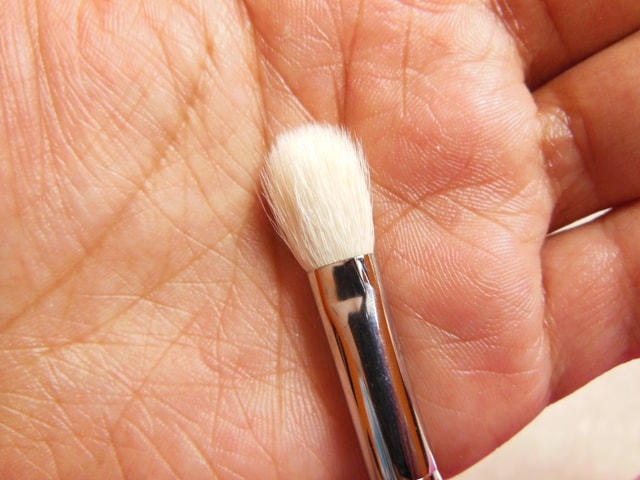 It is great at blending those harsh edges/lines at the crease when I am working with dark or bright colors. I pick a light taupe brown shade and lightly swipe the brush along the contours of my eyes for blending in the colors and give a give a soft crease look. Use a long sweeing stroke or small semi-circle strokes at the crease for achieving the desired effect. It is also my first pick when I just want to go for natural, toned-down look with earthy-brown shades.
The flat side of the brush is also useful to pat on colors to the lids but in a lighter/softer manner. Whenever, I ran short of brushes and want to use similar looking colors, I do the look using this brush only.
I have been using this brush for almost two month now and I have not seen it loose any of its bristles.
The bristles are white in color so it gets stained pretty easily. They get removed and you get those ultra clean creamy-white bristles post-wash but with regular use they are bound to stain back. After almost 2 months of usage at the tip I can notice a faint brownish patch, so in the long run ( 1-2 years) it may get all stained and dirty
Word of Caution:- What not to do with this E 25 Blending Brush
No doubt the brush is mainly for blending but you got to use it very carefully and with soft strokes.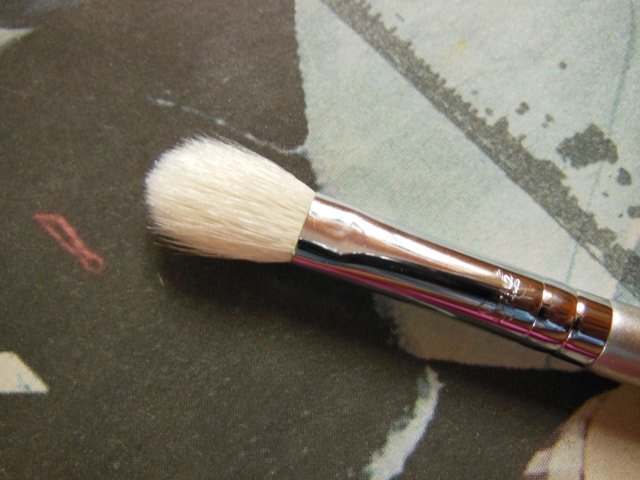 For my deep-socketed eyes, the brush is a tad fluffier than the prefect size. While working on the crease, it is easy to make mistakes. I can easily go over-board with blending or make the color reach above the crease if I use it carelessly.
As blending is the most important part in eye makeup, make sure you start with a clean brush otherwise you got to see the residue color of your last eye makeup look on your crease this time. Keep a brush cleanser/ makeup remover handy to remove the colors residue from bristles.
The brush is not made to work on outer-V corner of the eyes so avoid using it there. The shape of the bristle tends to extend the colors to the unwanted areas and you will need to do lost of corrections and cleaning after that.
Pros of SIGMA E 25 Blending Brush:-
Super Soft bristles
Travel-friendly size
Blends the eye shadows easily
Flat side can be used to pat color on lids
Can be used to do a full eye makeup (Softer earthy/browns)
Doesn't Shed or flare
Decently priced
Cons of SIGMA E 25 Blending Brush:-
Difficult to work on small eyes due to its fluffier shape
Can easily over-blend the crease color
Should not be used in outer-V corners for blending
Due to its creamy white bristles it stains easily
Recommendation:- SIGMA E 25 Blending Brush is a fluffy blending brush for working on the crease area. It is made with extremely soft bristles which blend in the eye shadow beautifully. The silver handle and the creamy-white bristles add to the beauty of it. E 25 blending brush can rescue you if you have only this one to do the full eye makeup and you can use it to deposit color on lid using the lateral side and then blend it in at the crease with the fluffy oval tip. It is made of excellent quality and hasn't shed any bristle. It has retained its shape and looks almost new even after multiple washes.

It is a good brush for crease area but you should be cautious while using this as you can easily mess up by over-blending the crease color.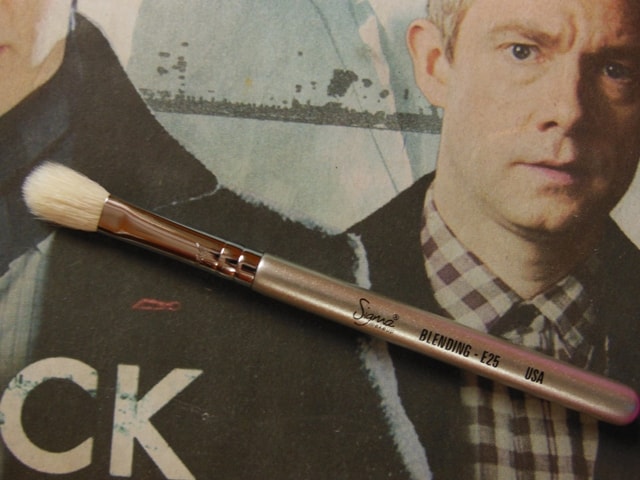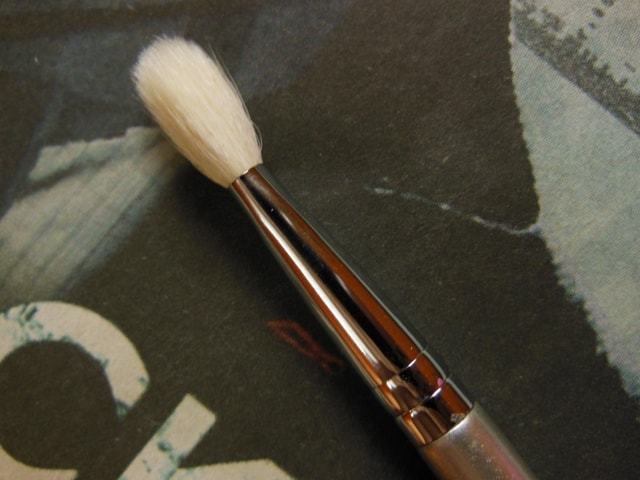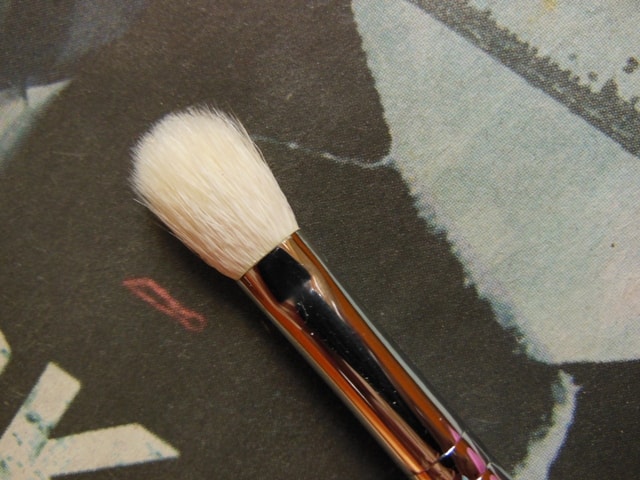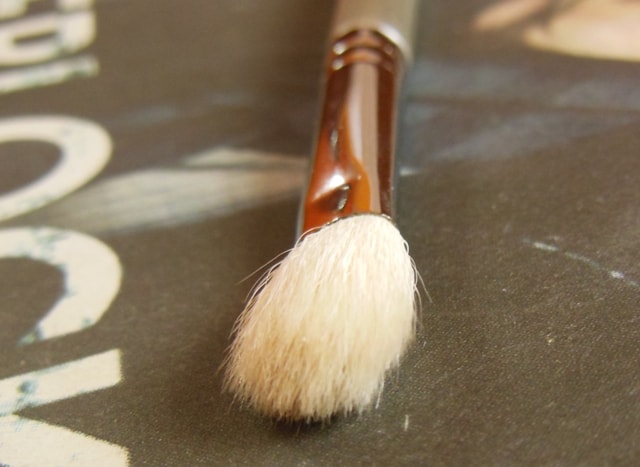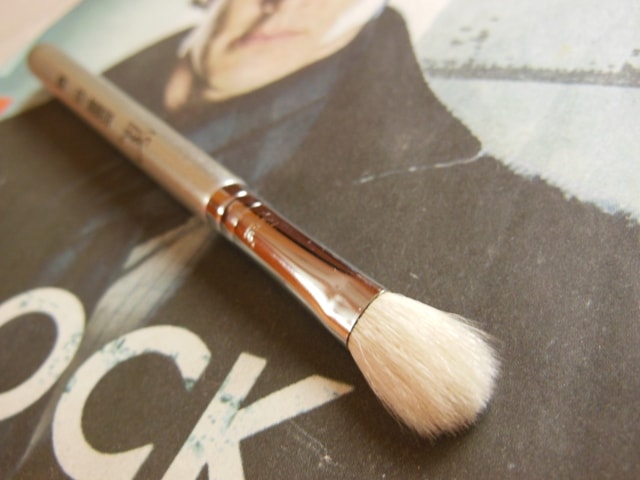 Rating:- 3.8/5
Have you tried SIGMA Eye Makeup Brush – E 25 Blending Brush? Which is your favorite Blending Brush?
TIPS:  

Pick very little amount at a time of the eye shadow used for blending
Move the brush in short stroke and with light hands across the crease area.

Comparison-It is often compared with MAC 217 but if you don't have the budget to splurge on MAC brushes give this a shot. This has become a must have brush for me, I cannot do eye makeup without this brush. Recommended!
PS- You can order and find more information about Sigma Makeup and on their website Sigmabeauty.com just click on the SIGMA banner in the sidebar. It is an affiliate link and if you make a purchase , you will help me support my blog.