Show Your Glam Self with Be A Bombshell Poker Face Lip Gloss
Hello Everyone,
I received this lip gloss in my October Fab Bag and I was one of the items that I have picked up from the options given by Fab Bag. Be A Bombshell I freaking love the name of the brand!! Its like crazy me.. self obsessed and just an inch away from looking Bomb.. Silly Me I know.. :P. Lets See how this product works for me, Be A Bombshell Poker Face Lip Gloss.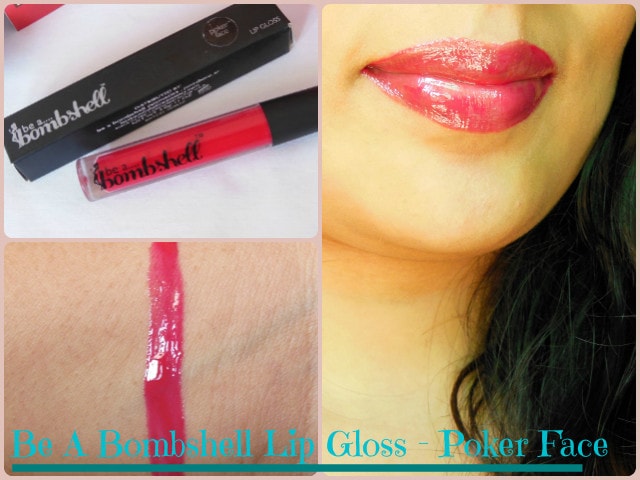 Product Claims: A lip gloss formula that offers long lasting color and high shine.
Direction For Use: Apply to top and bottom lips for full coverage. For sheer coverage, apply to lower lip only and blot lips together. For more color, apply several coats until you receive desired results.
Bombshell Tip: Start applying lip gloss in the middle of your mouth and blend the lip gloss outward, stopping just short of the edge to prevent bleeding and make lips appear fuller.
Price:- Rs.1200
Shelf Life: 3 years from the Mfg date.
Packaging: Be A Bombshell Lip Gloss comes in a chubby round tube type packaging with a matte black handle. It has a sleek doe foot applicator which I really like as it gives some control over the application.
My experience with Be A Bombshell Poker Face Lip Gloss:
Shade: Poker Face is a dark reddish pink gloss with Fuchsia undertones. I feel it will pull more pink on fairer skin tones but my medium-dark complexion it looks more of a cool-toned red. The lip gloss has a glossy creamy shine.. or you can term it as a watery glossy shine. The lip gloss is free from shimmers and that's why I love it even more!
Texture: I am really amazed by the texture of this lip gloss… the formula is super thin which glides on nicely on skin and it doesn't have the usual stickiness or heaviness that comes with gloss. It is slightly sticky but feels super comfortable on lips and sometime I even forget that I have it on lips.. it is that amazing!!
Pigmentation: Poker Face is not like that super duper intense gloss but has more than average color payoff which covers the lip pigmentation to a good extent.. though I can still peek through the lips owing to the slight translucency it has.
Staying Power: The shine stays for 1-2 hours depending on what you are doing but the color lasts for as long as 4 hours if you don't have any meals or snacks in between which is pretty good for a lip gloss! It doesn't look goopy or accumulates around the corners unlike some of the lip glosses. Also, I feel my lips are hydrated all the time when the lip gloss is on and they don't feel dry even, after when it is long gone.
Recommendation: Be A Bombshell Poker Face Lip Gloss is a gorgeous reddish pink gloss with smooth, creamy and non-sticky texture. The formula feels super comfy on lips and is beautifully pigmented to give a good coverage on pigmented lips. The shade also lasts pretty long for a lip gloss which is awesome but all of this comes with a hefty price tag.. seriously I feel I can get a similar quality with Maybelline Lip glosses. Overall, this is a good lip gloss with lots of shades to choose from and if you want to give them a try and don't mind the price.. go ahead!! 
Rating: 4/5
Have you tried Be A Bombshell Poker Face Lip Gloss? Which is your favorite lip gloss formula?