Shimmery Brown Eye Liners Comparison – L'Oreal, Bourjois and Faces
Hello,
I have given a break to all the black liners in my vanity whether matte or shimmery and totally digging brown eye liners these days. Today I am going share with you the three Shimmery Metallic finish Brown eye liners that I own.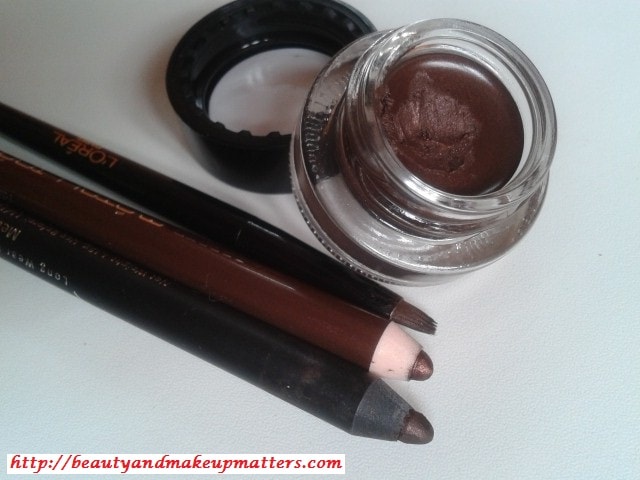 1. Faces Canada Long Wear Eye Pencil in Metal Brown which is a gorgeous dark brown shade with smooth copper shimmers that looks absolutely stunning on eyes. After a bummer like Lakme Nine to five Intense Shine Eye Liner in Brown, Faces came as a pleasant surprise. The liner goes absolutely opaque in a single swipe and gives rich brown color to the eyes and shimmers provide a beautiful metallic sheen to it. It is one of my all-time favorite.
EOTD with Faces Canada Long Wear Eye Pencil in Metal Brown:-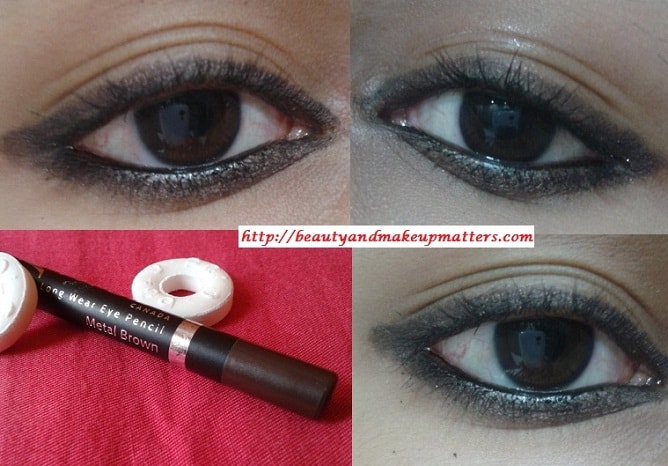 2. Bourjois Regard Effet Metallise Metallic Eye liner in Brun Oxydable:- Brun Oxydable isn't deep brown but a light shimmery copperish gold eye liner with smooth creamy texture. The obvious golden shimmers make it look like a shimmery copper colored liner on eyes with golden sheen.
The pencil is well pigmented but I need at least 2-3 swipes to get a good enough color on my eyes. The liner stays long without fading and I love its smudge-resistant formula.
EOTD with Bourjois Paris Regard Effet Metallise Metallic Eye Liner – Brun Inoxydable:-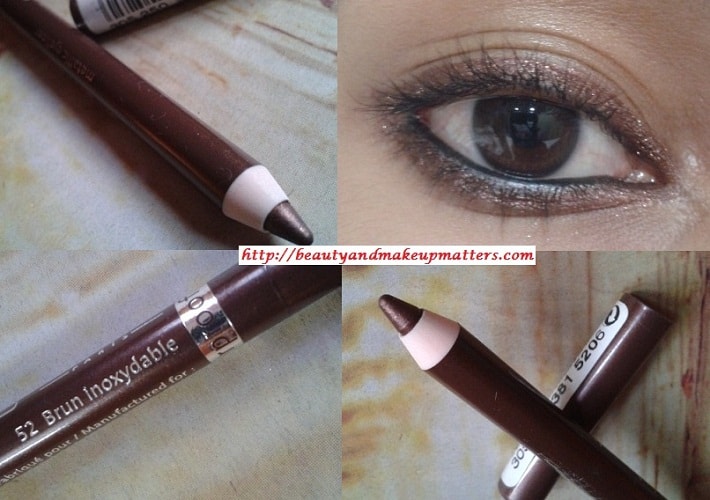 3. L'Oreal Paris 24 Hr Super Liner Gel Eye liner Brown:- It is a rich copper toned brown eye liner in metallic finish. The pigmentation is somewhere between the Faces Metal Brown and Bourjois Metallise Brun InOxydable. The color is richly pigmented but doesn't go as Dark Brown as Faces metal Brown.  The texture of this Gel liner is extremely creamy and glides like butter on lids. Earlier, I had tried only Maybelline Gel Liner and that too in black. I liked Maybelline Gel Liner for its finish and long staying power but comparing to L'Oreal Paris I would say L'Oreal Paris is creamier, softer, smoother and much easier to apply but you have to pay almost double for the same. I was itching to get my hands on these L'Oreal Gel liners and finally got my first Gel Liner from L'Oreal Paris at a hefty discount from medplusbeauty.com.
EOTD with L'Oreal Paris Super Gel Liner in Brown:-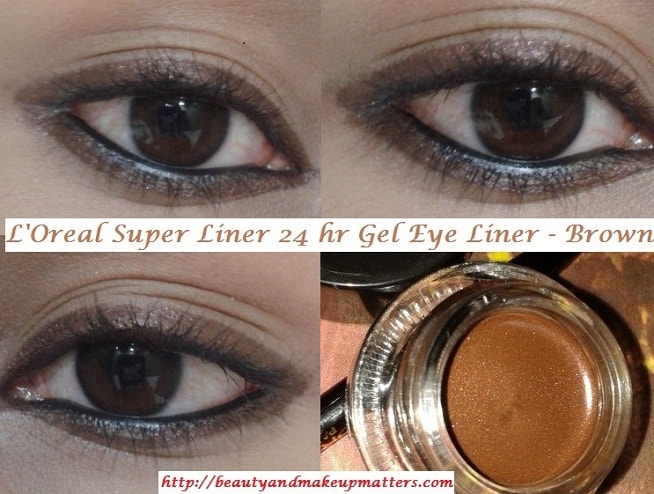 The quality is superb and totally love it light creamy texture.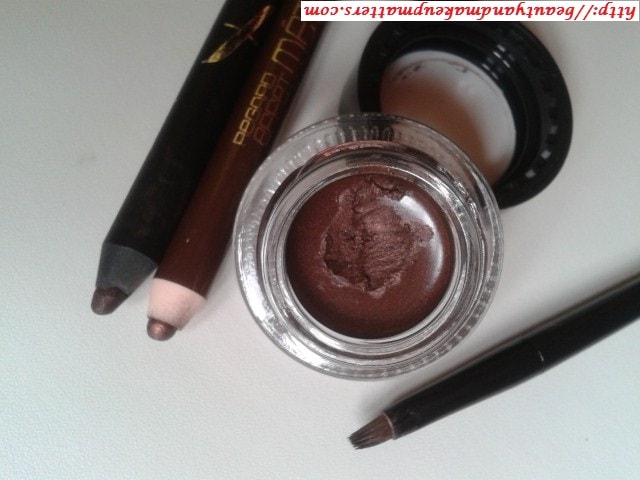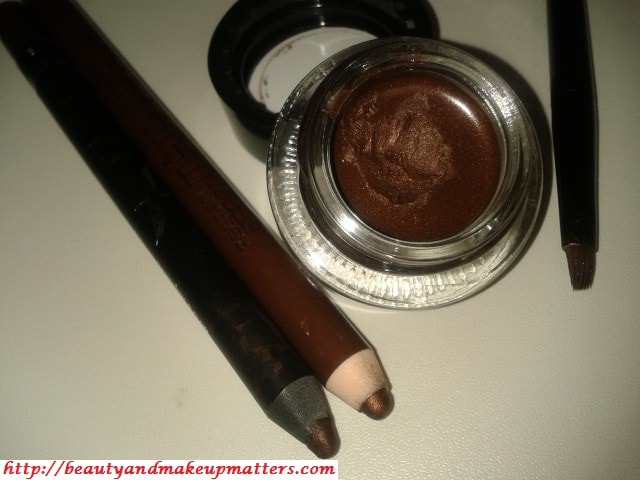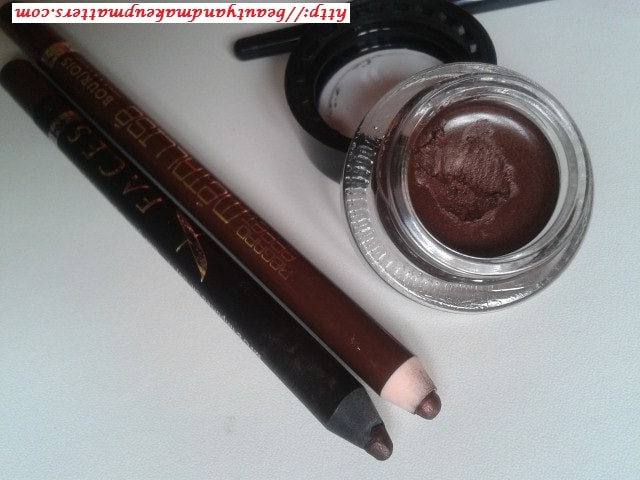 Swatches:-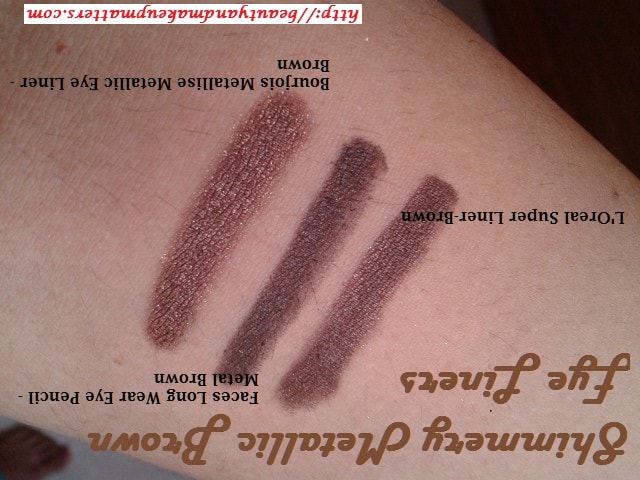 With Flash:-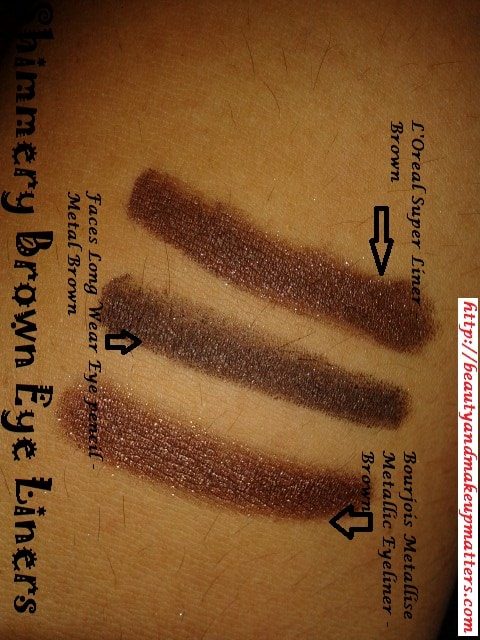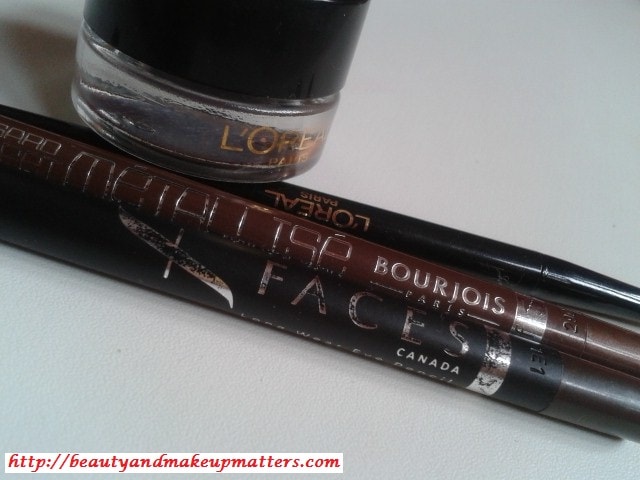 Don't Miss to Checkout:
Have you tried any of these brown liners? Do you prefer Brown  or Black to define your eyes?