Shape it with Glass: Aveniro Glass Files
Hello Gorgeous,
Today,
I will be talking about these beautiful nail files from Aveniro. Aveniro is a Czech Republic based company which makes handmade crystal glass nail files both for manicure and pedicure purposes.
I have started using Glass files last year and since then I have never looked back and these are the only kind of files I use for my nails. These are way better than any other nail files available in the market and you must know that the Glass files made in Czech are the best kinds and nothing can beat them in terms of quality and performance.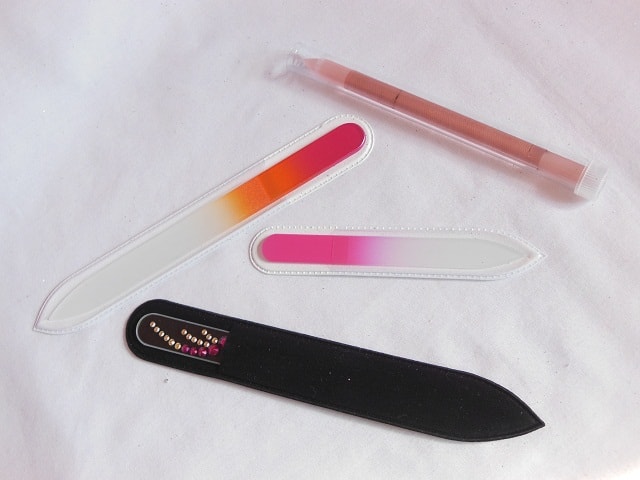 Products received:
Glass Nail File with Rhinestones
Coloured Glass Nail File
Small Coloured Glass Nail File
Glass Manicure Stick
My Experience with Aveniro Glass Nail Tools:
What are Glass Nail Files:
Glass Nail Files are basically etched glass where the texture of the glass file helps in shaping and trimming nails. It is the best kind of files that you can use on your nails because they do the job of filing with super ease and with absolutely no damage done to nails.
These nail files are double sided, so you use both the surfaces to achieve same results. The files are thin enough to fit in the small nail corners and give that perfect shape. The smaller ones makes a good option for carrying along to address any nail emergencies and travel purposes.
Packaging and Maintenance:
They come with a pouch to store and protect the surface. The etched surface is easy to clean and maintain as well and the files is going to last a lifetime because the texture is going to be there always and will never wear off. Just wash them in running water and you get your file cleaned.
I love that the surface doesn't get clogged with the nail residue so I can use it for all nails in a go and don't have to clean it midway. Also I have noticed that compared to metallic files there are no splinters or remains on the nails after filing.
Designs:
There are multiple designs and patterns available in files where some are colored, decorated with Swarovski stones, laser designs, hand painted, hand-engraved and many more. These not only look pretty but are more durable than any metal file you have used in the past. They also make a beautiful gifts especially the decorated ones and you can even personalize them by getting their names Initials etched on top.
Glass Nail File with Rhinestones: Prettiest nail file of all with the handle beign decorated with colored crystals. The crystals aka rhinestones of high quality and wont come off like that as they are fixed perfectly on the handle. It comes with a velevt sleeve which makes it even more pretty.
Coloured Glass Nail File: It has a colored gradient / ombre effect on the top with a similar dual sided etched surface down below. Comes with a plastic sleeve to store and secure the surface.
Small Coloured Glass Nail File: It is a smaller version of the colored one and perfect for travel.
Glass Manicure Stick: It is again a gorgeous nail tool with two working areas. There is a pointed tip on one side and a slanted flat tip on the other with etched surfaces. The pointed end is rounded on top so that it doesn't cause any injury. It can be used to clean the under the nail area from any accumulated dirt or even the dead cuticle skin.  The slanted flat side is good for pushing the cuticles back around the fingernails with being harsh on skin. It comes with a plastic case to store it.
I am in love with these Nail tools and have been using them bi-weekly to keep my nails in shape.. or can I say just to flaunt these beauties. You can find more of these on Aveniro website. They make a variety of beautiful files of all different shapes and sizes.
Have you tried Glass Nail Files/ Tools? How was your experience?
PS: Product sent by brand for consideration