Secret to Long and Dramatic Lashes But..: LiLash Purified Eyelash Serum
Hello Dolls,
I have been receiving a lot of compliments on my lashes lately and I am absolutely loving that because I am obsessed with lashes and that is probably the first I notice in anyone.. trust me I do that!! I have tried many things ( Almond Oil, Castor Oil… u name it) in the past to make my lashes grow longer and thicker but nothing seemed to gave me noticeable results. I have seen a lot of people claiming to get longer lashes with Lash Serums but I never seemed to believe it but then LiLash Serum came to my life. So, I tested it myself to see if it does any good and here is my experience with LiLash Purified Eyelash Serum and LiBrow Purified Eyebrow Serum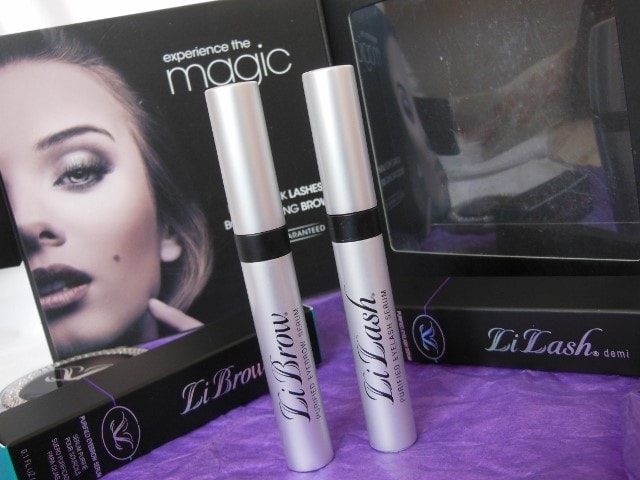 Product Claims:
LiLash Purified Eyelash Serum was created to redefine how long, lush lashes can power a woman's look. Formulated by a physician to safely and effectively enhance the length and curl of natural eyelashes, LiLash has become a global beauty obsession with a sincere cult-like following. LiLash's award-winning advanced formula remains unchanged since its pioneering introduction in 2007.
Ophthalmologist tested
Safe for sensitive eyes and contact lens wearers
No parabens
Conditions lash follicles, leading to stronger lashes and less lash breakage (Extension wearers love this!)
Never tested on animals
Direction for Use: Use once daily on clean, dry skin. Apply the serum along the lash line of the upper eyelid, similar to liquid eyeliner. Wait three minutes before using other cosmetics.
LiBrow Purified Eyebrow Serum was developed from the same physician-formulated pedigree that gave the world LiLash. Anyone looking to restore thin or sparse eyebrows to their original splendor will obsess over LiBrow's magical ability to transform. LiBrow has also become a global beauty obsession now that there is real hope for eyebrow restoration.
Safe for sensitive skin
No harsh dyes. No parabens.
Botanically-enriched tinting agent gently tints eyebrow hairs
Never tested on animals
Direction for Use: Use once daily on clean, dry skin. Apply the serum on the skin under the arch of your eyebrow, or directly onto sparse or patchy areas. Wait three minutes before using other products.
Price: RS 9280 (full), Rs 5303 (demi)
Packaging: LiLash and Librow purifies serums comes in a sleek gray colored tube and looks almost identical. I guess if you get them both you will receive them in a box packaging with a gorgeous studded mirror inside. The LiLash Serum has a thin liner kinda brush which makes the application super easy while the LiBrow serum brush is thicker and bigger, a smaller version of nail paint brushes.
My experience with LiLash Purified Eyelash Serum and LiBrow Purified Eyebrow Serum:-
LiLash Purified Eyelash Serum: It is a clear gel line liquid with a thin liquid liner like consistency which applies very nicely with the thin applicator. I didn't experience any itching or burning sensation on application except sometimes when I get it inside my eyes accidently though it isn't very hurtful.
I apply this LiLash serum on my eyes like I am lining them with a clear eye liner. I have been using this LiLash serum in my night skin care regime for 2-3 months now and I can tell you that I started seeing slight difference after 4 weeks of usage. After almost 8 weeks I see a visible difference in my lashes because they grew so longer and thicker that I feel I don't need a falsies if I go heavy with mascara.. especially for the length 😉
After 2 months I have become irregular with this and I see that the results stay as they doesn't vanish when I discontinued using it. My lashes now look like long spider legs  ;), I am absolutely impressed with the results
LiBrow Purified Eyebrow Serum: It is again a clear gel and with a wider brush which make it easy to cover large areas in a single stroke. I normally have fuller brows just a tiny little patch towards the arch so I basically used it for that.
The serum was very effective in making my hair grow faster and I have to do my brows in every 3 days but if I consider the patch on my brows.. it is still there.  So it does work in growing out your eye brows if you have smaller or thinner brows but won't do much on covering bald patches.
But: I have noticed that there are hair just under my lower lash liner and they never used to be there… I feel so hairy now with those hair and they don't look nice at all.. I am pretty sure they grew because of these Serums and now  can do nothing about it :(. I wish they go away on their own in some time. This is because the formula is very concentrated and only a minimal amount is used for application but If I had know about this side effect of using these lash serums earlier I might have been more careful about the application and wouldn't let the formula spread anywhere else.. but that's that !
Recommendation: LiLash Purified Eyelash Serum and LiBrow Purified Eyebrow Serum are something that really help in growing longer and thicker lashes and brows. I saw visible results in 2 months and faced no irritation or sensitivity to the formula. I haven't tried any other eye lash serum so cant actually compare but trust me I have tried many other methods and all sorts of oil to make my lashes fuller but nothing worked as good as Lilash Serum. Forgot to mention they are pretty expensive but effective too.

BUT they made my under eye area hairy which is something I am not happy with.. I would have rather had short lashes then hair on unwanted place.. So if you go ahead and use these for hair growth on lashes and brows be extra careful and not let the formula run around.
Rating: 4.5/5 (for the results).
Have you tried LiLash Purified Eyelash Serum? Would you like to give it a go?
PS: Products sent by brand for consideration