Scholl Rough Skin Remover Review
Today I am going to review my recent pick from my random trip to Gurgaon Central Mall.
We were waiting there for a friend and what could be better than having a mall at the back to kill the time. I hastily started checking out stuff when I saw the Scholl's counter lying orphaned near escalators. As, we were short of time and had only few minutes in my hand., I could only managed to pick up Scholl Rough Skin Remover.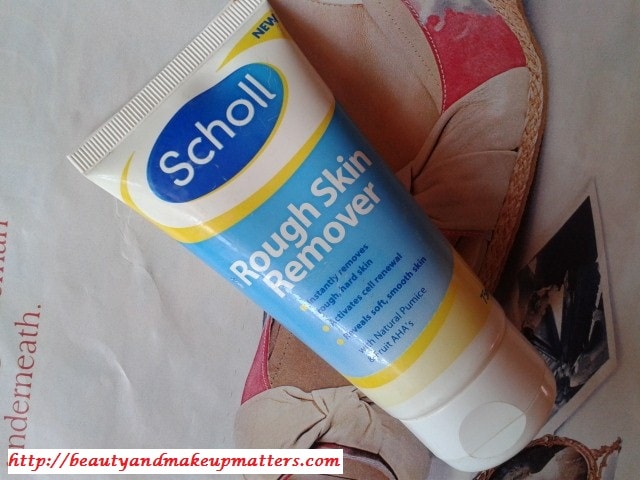 Product Claims: Scholl Rough Skin Remover has an intensive exfoliating action. Clinically proven to remove rough, hard skin and promote natural cell renewal, Leaving your feet soft smooth and conditioned.
Instant visible results
80% of users reports good/excellent results in 7 days.
Dermatologically tested
Direction for Use:-Apply to clean, dry skin. Massage over feet in a circular motion, then rinse. For best results use 2-3 times a week and follow with Scholl foot & Nail Cream Or Scholl Foot Cream Mousse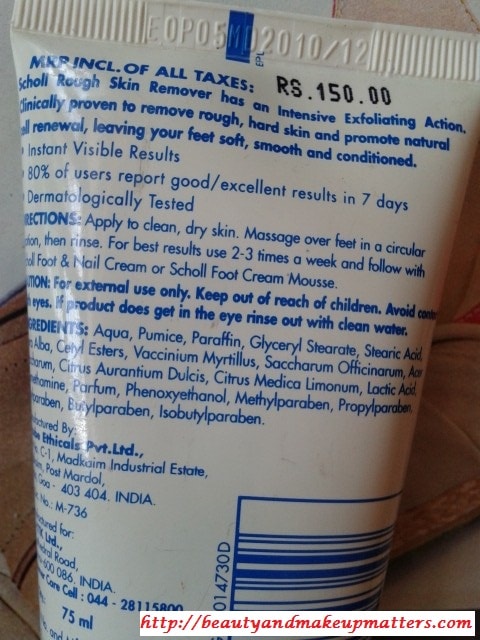 Ingredients:- Aqua, Pumice, Paraffin, Glyceryl Stearate, Stearic Acid, Cera Alba, Cetyl Esters, Vaccinium Myrtillus, Saccharum Officinarum, Acer Saccharum, Citrus Aurantium Dulcis, Citrus MEdica Limonium, Lactic Acid, Tromethamine, Parfum, phenoxyethanol, Methyl Paraben, Propyl Paraben, EthylParaben, ButylParaben, IsobutylParaben
Price:- Rs.150 for 75 ml
Shelf Life:- 3 years from the Mfg date.
Packaging:- The rough skin remover aka scrub comes in chubby squeeze tube type packaging. The tube comes with a white flip-open cap with a small opening to dispense the product. All the details about the scrub are mentioned at the back of tube in blue.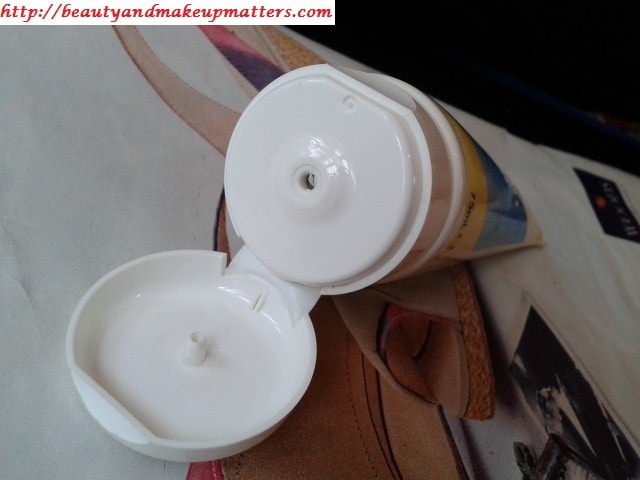 My experience with Scholl Rough Skin Remover:-
As opposed to the normal creamy Apricot and walnut based scrubs which have smooth peachy granules this one is overloaded with white colored particles which are extremely scratchy. The white granules look just like salt particles with a slight difference in size as they are somewhat larger.
The scrub is laden with such an enormous amount of abrasive scrubbing granules that it doesn't leave any space for the creamy or buttery feel.
I tried using regular body scrubs for feet but the skin there is relatively thick and hard and the normal scrubs failed to deliver the expected results. Scholl is well-known for its foot care items and Scholl Rough Skin Remover is the first thing that I got to give this brand a try.
Swatch:-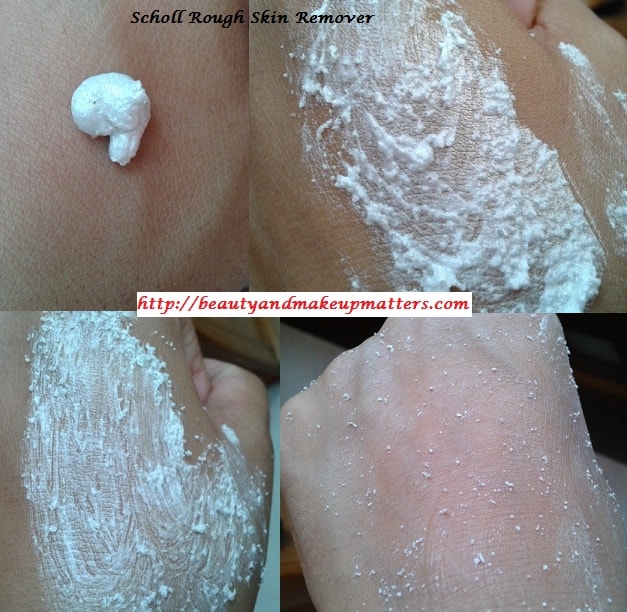 I used it in many ways so to find out which way it works the best.
Doesn't work good when used:-
Directly on dry skin as the granules turns powdery and starts falling within few seconds of application and scrubbing action due to the lack of any creamy binding agent.
When used over wet skin, it worked better but the roughness reduced a little and it kind of dissolved in the moisture which made me to reapply it again and again to get the desired result.
It works best when
Mixed with any creamy scrub like Everyuth Walnut Scrub orLotus Herbals Apricot Scrub which it provides the necessary binding that is required for holding the granules on to the skin and the roughness of the coarse Scholl's Skin Remover granules does a great job at removing the dead cells from the hard skin areas like feet, knees, elbows.
Don't Miss to Checkout: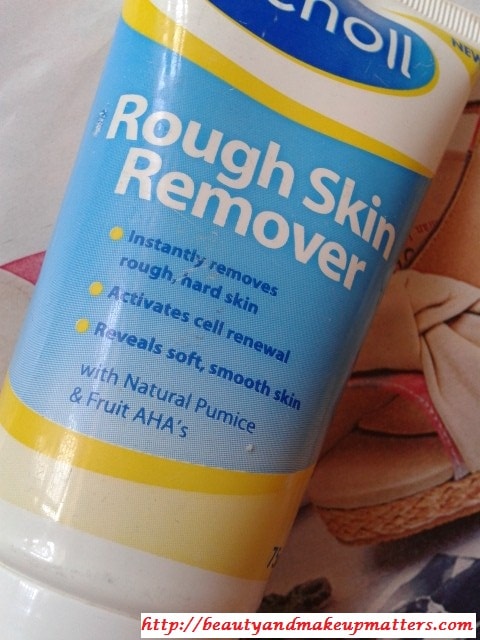 Pros of Scholl Rough Skin Remover:-
Hygienic and handy tube type packaging
Decently priced
Abrasive scrubbing granules which works well for rough areas like feet, elbows, knees
Only a small amount is sufficient to scrub away the dead skin cells.
Rinses off quickly leaving behind a clean and soft skin.
Has a peculiar smell but can be easily overlooked
Cons of Scholl Rough Skin Remover:-
Turns powdery when used on dry skin.
Requires a creamy base to give the desired result.
Recommendation:- Scholl Rough Skin Remover makes an excellent skin exfoliator when mixed with any creamy scrub. It is a bit harsh and powdery when used alone but after providing it the much needed creamy base its coarse scrubbing granules do a good job in removing dead skin cells from the skin. Only small amount of the Scholl Rough Skin Remover is required to make the perfect Feet & Body scrub. Recommended!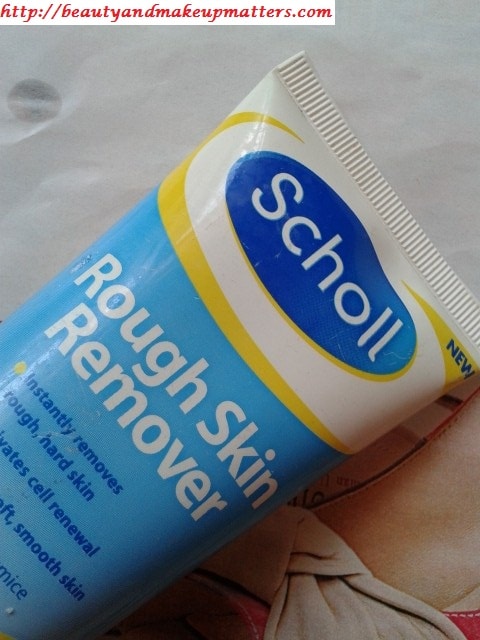 Rating:- 3.5/5
Have you tried Scholl Rough Skin Remover? Do you use a separate scrub for your feet?