Satthwa Premium Hair Oil Review and Giveaway!
I have been suffering from hair fall and dandruff since months now. So, I was on the lookout for a solution to my hair issue when I got to know about Satthwa Premium Hair Oil. Satthwa Premium Hair Oil claims of slowing down the premature greying, promoting hair growth, preventing dandruff and stopping hair fall. So, Today I will be sharing a premium hair oil Satthwa Premium Hair Oil Review and if it lives up to its claims or not!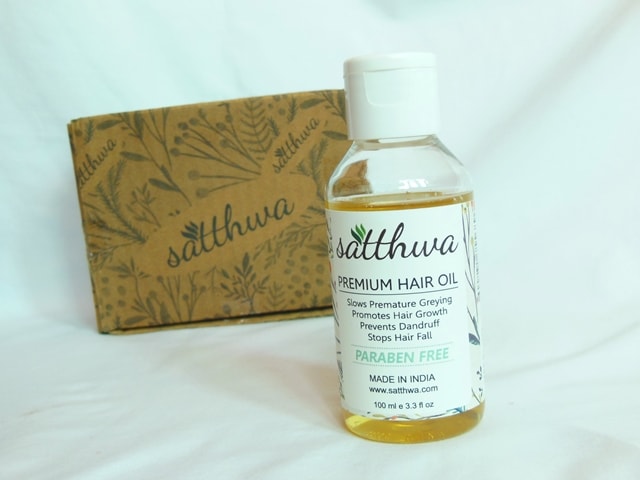 Product Claims: Satthwa premium hair oil is formulated from a blend of over 9 oils which help control hair fall, fight dandruff and promote hair regrowth.
The oil should be applied 2 times a week over night or 1-2 hours before shampoo.
Give your scalp a gentle 3-4 minute massage with the oil and use the oil for 3 to 4 months for best results.
Ingredients: Almond oil, Coconut oil, Castor oil, Jojoba oil, Vitamin E, Olive oil, Amla oil, Grapeseed oil, Emu oil
Details:
Contains Omega 6 & 9, Iron, Calcium, Magnesium and rare Vitamin K from Sweet Almond oil.
Ricinoleic acid from Castor oil which makes hair darker and stops premature greying.
Has Lauric acid from E.V Coconut oil.
Jojoba oil which is Anti-fungal & cleanses the scalp by unclogging pores.
Vitamin E contains d-alpha Tocopherol.
Amla oil which is rich in Vitamin C.
Grapeseed oil which delays skin aging.
Emu oil stimulates dormant hair follicles and helps in new hair growth.
Olive oil treats dry and damaged hair.
Specifications
All Hair Types
Applied For: Anti-hair Fall, Hair Growth, Hair Thickening, Anti-dandruff, Prevents Greying, Lustre & Shine, Healthy Scalp
Price:  Rs. 599 for 100ml (Buy on Flipkart)
My experience with Satthwa Premium Hair Oil:
Satthwa Premium Hair Oil comes in a simple clear plastic bottle with a white colored flip cap. The packaging is fuss-free, sturdy and easy to use.
It is yellow colored hair oil with a medium thin consistency that applies easily. It has a very mild scent that I hardly notice. Satthwa Hair Oil is a blend of premium oils like olive oil, castor oil ,almond oil, vitamin E, grape seed oil, coconut oil, jojoba oil, amla oil and emu oil which will rejuvenate scalp and hair.
I take small amount in my palms and rub it on the roots section by section. The oil doesn't feel heavy or sticky but it is still oil so it does have that Oily feeling. I keep it overnight for maximum benefits and then wash hair next day with a regular shampoo.
The oil is claimed to work on hair problems like hair fall, dandruff, scalp infections, itching and premature greying. I have been using this oil for almost a month now and I can surely say that I have noticed difference in Hair fall and dandruff. The oil takes its time to show results as it contains only natural ingredients and to see a significant difference have to use it for at least 3-4 months.
The thing that sets it apart from other hair Oils is that it doesn't contain any mineral oils or preservatives and is also free from Parabens. Overall, a great natural solution for the hair problems.
Reccommendation: Satthwa Premium Hair Oil is an all-natural hair oil enriched with the goodness of multiple oils that will work on improving the scalp condition and the hair texture. It contains Castor oil which works on hair fall and stops premature greying. Emu oil stimulates dormant hair follicles and helps in new hair growth. And many more oils that nourishes scalp while addressing other hair issues. The formula is 100% natural and is free from all sorts of chemicals like Mineral Oils, Parabens. It is slightly pricey for the quantity but absolutely worth the price. It will start showing results within a month of regular usage. If you are looking a natural hair oil that works on hair fall and dandruff give this a  try. Recommended!
Don't Miss to Checkout:
Have you tried Satthwa Premium Hair Oil? Which is your favorite Hair Oil?
PS: Product sent by Brand but honest and unbiased opinion!
Coming to the Giveaway.. 😀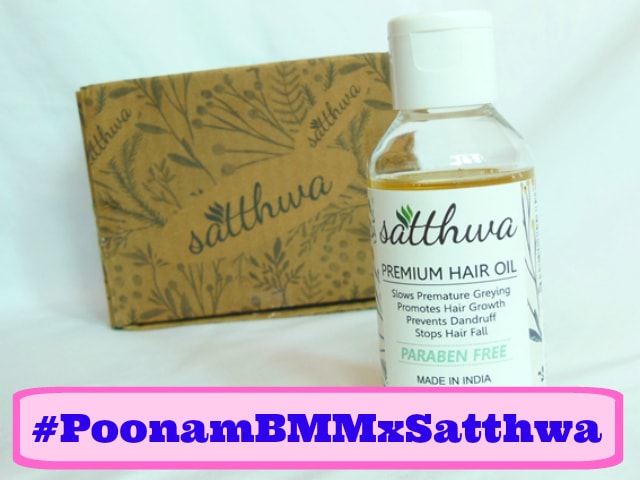 ❤Giveaway Details❤
Giveaway Rules:
There will 2 winners
Contest starts today and ends on 2nd October
Open to Indian residents only
Rules for participation:
Subscribe to my channel.
Follow me on Instagram @Poonam_BMM and Twitter @Poonam_BMM

Share on Facebook/twitter/Instagram using hastag 

#PoonamBMMxSatthwa 

and tagging 3 of your friends and invite them to join this giveaway party . (Maximum 2 repost per day on Instagram)

Comment below: Your favorite Home Remedy for Hairfall